Kamala Harris, Nancy Pelosi Get  Compared to 'Dumb & Dumber' Duo and You Won't Unsee This
April 29, 2021
It's a cliche to say, but the internet really is undefeated.
Joe Biden rambled his way through an address to a joint session of Congress Wednesday night. No doubt confused about where he was and wondering what all these people were doing in his kitchen. Those of you not outraged about the socialist soggy dreams President Puddingbrain laid out were most likely bored to tears. Maybe you flipped over to AEW Dynamite. Maybe you checked the latest NFL Draft predictions. One person was so bored they ignored Biden and noticed something familiar about the two sitting behind him, Kamala Harris and Nancy Pelosi. It wasn't them presumably having the same lady parts. Or being two of the most shrill and obnoxious hacks the left has to offer. It was how they bore a striking resemblance to Lloyd and Harry from Dumb & Dumber.
I mean, when I think of what the most annoying sound in the world is, it's usually a tie between Kamala laughing and the last time Pelosi lectured reporters. The analogy works!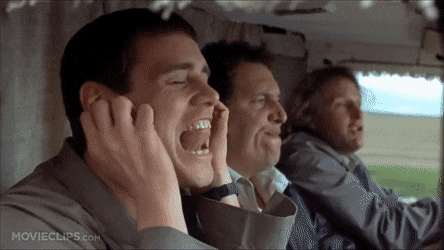 For you youngbloods confused right now, Dumb & Dumber was a popular movie in the 1990s starring Jim Carrey and Jeff Daniels. It harkens back to a bygone era. Way before Jim Carrey was a demented artist who shared his internal torment with watercolors and canvas. Back when he was just criminally overrated and nowhere near as funny as people thought he was. It was also before Jeff Daniels became the poster child insufferable leftist douchelords have modeled their lives after ever since.
Now, Dumb & Dumber can forever be associated with Kamala Harris and Nancy Pelosi. Which I guess makes Harris dumb, Pelosi dumber, and Biden the corpse that got dragged around in Weekend at Bernie's. To be clear, I'm NOT SAYING Joe Biden is currently deceased and is being dragged around by leftists pretending he's alive just to hatch an evil scheme. That would be an insane conspiracy theory. I'm only saying Joe Biden LOOKS like someone who died.
God, I love the internet.
Get your content free from Big Tech's filter. Bookmark this website and sign up for our newsletter!
Calling Out Biden's BLATANT Lying About The Trump Economy & Taxes! | Louder With Crowderyoutu.be