Each day we overwhelm your brains with the content you've come to love from the Louder with Crowder Dot Com website.
But Facebook is...you know, Facebook. Their algorithm hides our ranting and raving as best it can. The best way to stick it to Zuckerface?
Sign up for the LWC News Blast! Get your favorite right-wing commentary delivered directly to your inbox!
Joe Biden confuses Ukraine for Russia, Zelenskyy for Putin in another derptastic appearance on the world stage
July 13, 2023
Previously on the Louder with Crowder Dot Com website, MSNBC's Mika Brzezinski lashed out at Joe Biden's handlers for not handling Biden in a way that doesn't make him look like a confused and senile old coot. Her scolding did not make its way to the NATO conference, where Biden proceeded to confuse warring countries and the leaders of those warring countries. Or, to appease the "independent" "fact" checkers, CRITICS SAY that's what happened.
By "critics say" I mean hi. It's me. I'm the critics. It's me.
You may not know this, but Ukraine and Russia are at war. Zelenskyy vs Putin. And somewhere between "this makes for good content" and "golly, maybe this Zelenskyy guy is a douche," America has given Ukraine a sh*tton of money without any strings attached. For that reason alone, the guy giving them the money should get the other guy's name right.
A charitable person might say Biden was saying "Volodymyr" and his childhood stutter no one heard about until 2020 got in the way. And that he didn't confuse Zelenskyy with Vladimir Putin. That would require ignoring the fact Biden stumbling is the rule more than the exception, he gets confused by things like "words" on the regular, and when you are the president of the United States you should try harder to not confuse our friends from our enemies.
But at least, Joe Biden did NOT confuse Russia with Iraq, which he's done multiple times recently. He only confused Russia for... Ukraine. The country Russia is at war with.
You almost feel bad for Zelenskyy. Knowing that his country is at war and THIS is the guy he needs to beg for money.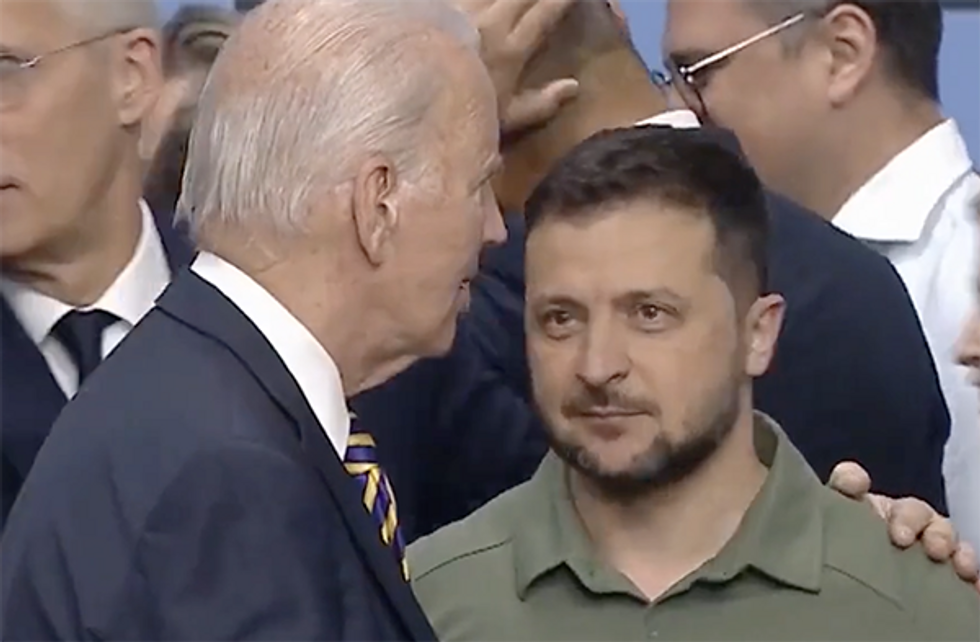 But the indignities are not done.
Joe Biden will return to America and, if I were to guess, head right to an extended weekend break after having to work for a few days in a row. No doubt ignoring questions about cocaine and the granddaughter he refuses to speak of. On a related note, the 2024 election is in 480 days,
><><><><><><
Brodigan is Grand Poobah of this here website and when he isn't writing words about things enjoys day drinking, pro-wrestling, and country music. You can find him on the Twitter too.
Facebook doesn't want you reading this post or any others lately. Their algorithm hides our stories and shenanigans as best it can. The best way to stick it to Zuckerface? Sign up for our DAILY EMAIL BLASTS! They can't stop us from delivering our content straight to your inbox. Yet.