Each day we overwhelm your brains with the content you've come to love from the Louder with Crowder Dot Com website.
But Facebook is...you know, Facebook. Their algorithm hides our ranting and raving as best it can. The best way to stick it to Zuckerface?
Sign up for the LWC News Blast! Get your favorite right-wing commentary delivered directly to your inbox!
USA Today's sad attempt to cover for Joe Biden confusing "Ukraine" for "Iraq" gets fact-checked into oblivion
June 29, 2023
When you're country stands on the precipice of World War III, it would be nice if your Commander-in-Chief could remember the side he keeps sending our tax dollars to. Sadly, our president's brain is less cerebellum as much as it is tapioca pudding. Joe Biden once again confused "Ukraine" for "Iraq." But don't you worry! The lapdog media is there to cover for him and pretend it didn't happen.
First, Joey's latest derp. He has really been racking the derp moments up this week. Of the Russian coup: "Putin's clearly losing the war in IRAQ, he's losing the war at home."
And here is the content USA Today journalismers created based on it. I'll give you the screen capture so as not to spoil the fact-check yet. Also, I think the tweet will be deleted with an "apology" they went with the quote given to them by Biden's handlers.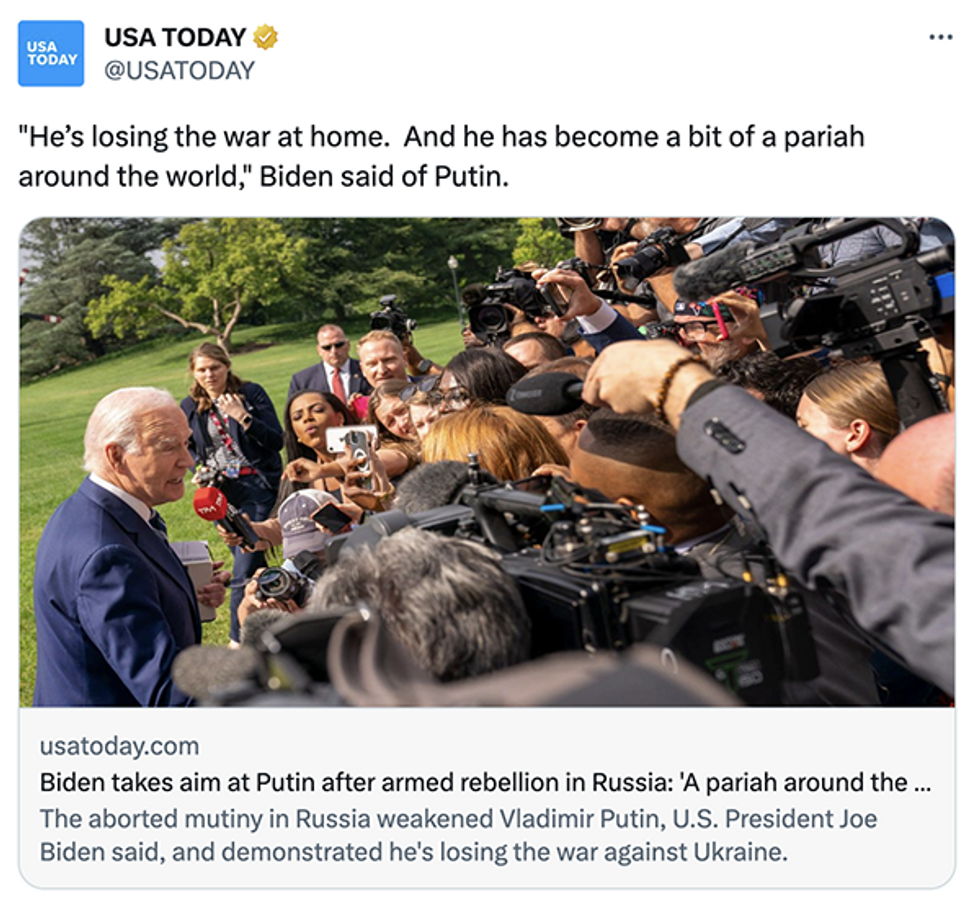 It's not even the only time Biden made the mistake this week. Yahoo News reports on Tuesday night, Biden referred to the "onslaught on Iraq" at a fundraiser in Maryland. It makes you wonder if this is just Biden having a senior moment (or what critics call his dementia) and getting wars confused. Or, has Biden been told something about Iraq and he can't remember what he's allowed to talk about and what his staff said, "Whatever you do, DON'T talk about this."
That's a next week problem. For now, come catch these Community Notes: While presented as a direct quote from the president, he actually said Putin was "losing the war in Iraq, losing the war at home."
This is what you get when you elected elderly presidents who are in their seventies and eighties. They get confused on important details. 44-year-old Ron DeSantis wouldn't make this mistake. Just sayin'.
><><><><><><
Brodigan is Grand Poobah of this here website and when he isn't writing words about things enjoys day drinking, pro-wrestling, and country music. You can find him on the Twitter too.
Facebook doesn't want you reading this post or any others lately. Their algorithm hides our stories and shenanigans as best it can. The best way to stick it to Zuckerface? Sign up for our DAILY EMAIL BLASTS! They can't stop us from delivering our content straight to your inbox. Yet.