Each day we overwhelm your brains with the content you've come to love from the Louder with Crowder Dot Com website.
But Facebook is...you know, Facebook. Their algorithm hides our ranting and raving as best it can. The best way to stick it to Zuckerface?
Sign up for the LWC News Blast! Get your favorite right-wing commentary delivered directly to your inbox!
joe biden
Hunter Biden Jokes With Therapist About Joe Biden Suffering From Dementia, According to New Book
December 02, 2021
Hunter Biden is the gift that keeps on giving. Or he is if you hate his father Joe Biden, the puddingheaded president of the United States. Hunter Biden is like Christmas, Hanukkah, and Kwanza all rolled into one and uploaded on the same laptop. "The Laptop from Hell," as the new book by New York Post reporter Miranda Devine describes it. According to this tome, we here at the Louder with Crowder Dot Com website are NOT the only ones who joke about Joe Biden having dementia. (h/t The Post Millennial)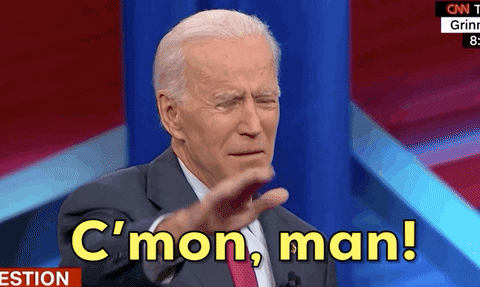 The book recalls an alleged text conversation between #1 Son and his therapist. Not to be confused with his white lawyer who Hunter Biden allegedly calls the n-word. Or the hooker Hunter banged and tried impressing by bragging that his dad was running for president. The following conversation is said to have taken place in January 2019, PRIOR to Joe Biden announcing his run for president. It is between Hunter Biden and Hunter Biden's therapist, with whom, you would assume, Hunter is brutally honest about his family. You know, in a doctor/patient confidentiality way.
THERAPIST: Any man who can triumph over dementia is a giant. Think what he could do for our nation's needed recovery.
#1 SON: You're such an as*hole, but that made me laugh out loud.
THERAPIST: Perhaps he can help us remember all we intended to be as a people since he can now remember his address.
#1 SON: Dad doesn't need to know where he lives that's the only thing the secret service gets right at least 75% of the time.
A month later the therapist asked Hunter if his dad could remember any details "with the dementia and all." #1 son said that his father can't remember much these days "but since its all fake news anyway I don't see the problem."
Do all political tell-all's need to be treated with a grain of salt? Of course. This book is no different. This book that was written by a New York Post reporter. The New York Post that broke the story about the laptop. The story that we all know now is 100% true, despite Big Tech's best effort to censor the story. I forgot where i was going with this.
Get your content free from Big Tech's filter. Bookmark this website and sign up for our newsletter!
Cuomo Suspended: Careful, There's Nothing More Dangerous Than an Uppity Fredo | Louder With Crowderyoutu.be