Each day we overwhelm your brains with the content you've come to love from the Louder with Crowder Dot Com website.
But Facebook is...you know, Facebook. Their algorithm hides our ranting and raving as best it can. The best way to stick it to Zuckerface?
Sign up for the LWC News Blast! Get your favorite right-wing commentary delivered directly to your inbox!
joe biden
Hunter Biden Hearts Systemic Racism? POTUS' Son Texts N-Bombs to White Lawyer
June 09, 2021
Joe Biden, our president, claims to see systemic racism everywhere. It's in every nook and cranny of America, according to the old coot. Or, according to the people who tell Biden what to say. Mind you, this is the same Joe Biden who thinks black Americans can't hire accountants or use the internet without his white liberal help. If Joe was serious about rooting out systemic racism, he should have started with H*nt*r Biden's phone. The Daily Mail has uncovered text messages between Joe's least favorite child and his equally white lawyer George Mesires, using a certain N-word that if Donald Trump Jr. was found using, it would be all CNN talked about.
The Daily Mail has the — alleged (?) — screen captures. Here are some of the highlights.
"I only love you because you're a black ... true dat n****."
For context, H*nt*r is using a soft "g" and not a hard "r," should that matter to you or any Facebook algorithms that are reading this. Also, his lawyer is not, quote, "a black."
"How much money do I owe you. Because (sic) n**** you better not be charging me Hennessy rates."

"OMG n***a did you just a fictional character from the imagination of the collective frightened and my dead brothers unconditional love is what I should rely on and my kids aren't children George."

"My penis as of late has been un conditional."
Hunter also enjoyed talking about his penis.
"Its big penis George. They always find it. And I only love you because you're black."
Again, his lawyer? Not black. But as the saying goes, cocaine is a hell of a drug.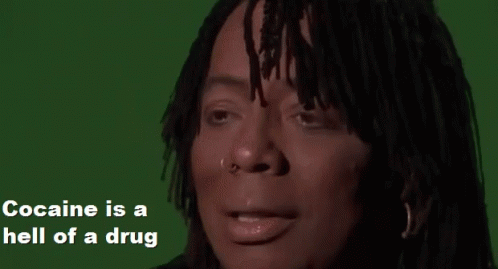 This is funk legend Rick James and NOT H*nt*r or his lawyer, both of whom who are white.
We know the game if H*nt*r's father was a Republican. First, this would have dropped the October before the election and not the June after. CNN would be ragging Republican senators out of their homes to denounce the president's son. The president's son would be entering rehab. The president would have to apologize. Anyone who voted for the president would have to apologize. Nancy Pelosi would launch an impeachment inquiry. Robin DiAngelo would breakdance with Ibram X. Kendi.

Instead, because all parties involved are Democrat, nothing will happen. That's not even factoring in Big Tech throttling the story so that nothing can happen. You tell me if you were able to see this on the book of faces. Comment in that post's comment section "Cocaine is a hell of a drug."
Looking for a fashionable way to support Louder with Crowder? Get your swag at Crowdershop today!
Open-Borders-Kamala Tells Latinos NOT TO COME!? | Louder With Crowderyoutu.be