Each day we overwhelm your brains with the content you've come to love from the Louder with Crowder Dot Com website.
But Facebook is...you know, Facebook. Their algorithm hides our ranting and raving as best it can. The best way to stick it to Zuckerface?
Sign up for the LWC News Blast! Get your favorite right-wing commentary delivered directly to your inbox!
Featured
SHOW NOTES: Crowder FACT CHECKS Biden's Joint Session of Congress
April 29, 2021
Crowder fact-checks Joe Biden's joint session of Congress LIVE so that you don't have to! Of course, with the infamous Crowder drinking game as well. How many lies will Biden tell? How many masks will he be wearing? Tune in to find out!
LIVE FACT-CHECK! Biden's First Address Before The Joint Session of Congress | Louder with Crowderyoutu.be
KEY DETAILS

Biden is addressing Congress on the 99th day of his presidency. SOURCE: USA Today
Presidents usually give their first address in February, a precedent established by Reagan. SOURCE: Yahoo News
Trump gave his first address on February 27, 2017 (five weeks into his presidency). SOURCE: White House
Because of January 6, the event has been designated a national special security event. The National Guard will be present.
Negative COVID tests or proof of vaccination are required for entry.
Only 200 people will be in the audience, compared to the typical 1,600.
Biden is expected to try to build support for his "American Jobs" and "American Families" "infrastructure" plans.
Senator Tim Scott of South Carolina is giving the GOP rebuttal. SOURCE: New York Times
AMERICAN FAMILIES PLAN
CLAIM: We need to pass the American Families Plan to revitalize the economy! It's "human infrastructure!"

The plan is expected to (SOURCE Washington Post):

Cost $1T
Allocate $225B to child care
$225B to paid family and medical leave
$200B for universal pre-K
Hundreds of billions in education funding
Tuition-free community college
"Other sums" for nutrition assistance

There's no such thing as "human infrastructure." This is a massive expansion of the federal government and welfare state, comparable to FDR's New Deal and LBJ's Great Society.
AMERICAN JOBS PLAN
CLAIM: We need to pass the American Jobs Plan to revitalize the economy!

Here is what the bill includes (SOURCE White House):

Costs $2.5 trillion
Corporate tax rate of 28%
Public sector unions
Provides universal access to broadband internet
Spends $45M to eliminate all lead pipes/drinking water
Only 6% goes toward traditional infrastructure of roads and bridges. SOURCE: Newsweek

It fundamentally redefines "infrastructure" as a massive expansion of the federal government.
CLAIM: This bill will create 19 million jobs!

TRUTH: Even the Washington Post fact-checked this, because only 2.7 million jobs could be attributed to the bill. SOURCE: Washington Post
Most of those jobs are "clean energy" jobs, which never pan out since the government has to manufacture demand for "green" products. SOURCE: Slate
Dollar for dollar, "green" energy produces less energy than traditional sources. SOURCE: YouTube
CLAIM: Biden is on track to add 1 million jobs in his first 100 days.

This seems to be true, but 1 million jobs in 3 months is a pretty low bar. SOURCE: Washington Examiner
By contrast, Trump added 11.4M jobs in 4 months, May-September 2020. SOURCE: Snopes
CLAIM: The passage of this bill is one of Biden's greatest victories, and provides desperately needed aid to the American people!

The bill costs $1.9T.
Only 21% of the bill is related to COVID-19. SOURCE: Newsweek
The other 79% is going to… SOURCE: Congress.gov

Farmer reparations.
Bridges in NY and CA.
Funding specifically to Howard University (HBCU), Gallaudet University (College for deaf people), and the National Technical Institute for the Deaf.
And only $50 Billion is allocated to support small businesses while over $166 Billion is going to Education.
POLICE REFORM
CLAIM: Congress needs to pass the George Floyd Policing Bill.

This bill makes policing impossible and is a path to federalize the police.
WHAT'S IN THE BILL (SOURCE: Congress.gov):

Withholds funds from departments that do not ban chokeholds
Labels chokeholds "civil rights violations"
Prohibits racial profiling
Establishes a training program to cover racial profiling, implicit bias, and procedural justice
Limits less lethal force
Ends qualified immunity/good faith clause
Redirects federal funds to "community-based" oversight organizations
National police misconduct registry available to the public
Requires states to send quarterly reports to the AG on misconduct
Noncompliance from state=10% decrease in funds

The police killings used to justify the passage of this bill are BS

GEORGE FLOYD:

High on fentanyl
Chauvin's knee did not damage Floyd's neck
Hennepin County Medical Examiner Andrew Baker said if Floyd were found anywhere else, his death would have been ruled an overdose.

MA'KHIA BRYANT: Was attempting to stab another girl
DAUNTE WRIGHT:

Accidental discharge,
He had a warrant for possessing an illegal firearm,
And he was actively fleeing arrest.

And the bill's focus on race doesn't compute with police killing data.

So far this year, police have killed: SOURCE: Washington Post

114 white people
62 black people
COVID
CLAIM: When Biden took office, only 8% of Americans over 65 had gotten the vaccine.

When Biden took office, vaccinations had only been given for about a month. SOURCE: Washington Post
Health care workers, essential workers, and people over the age of 75 were vaccinated first, which explains why there were fewer vaccinated people over 65.
And remember, TRUMP'S DOESN'T clot your blood.
CLAIM: At the pace of vaccinations under Trump, we wouldn't have reached 200M shots until September.

If you look at the graph of vaccinations administered per day, it follows a curve similar to COVID cases.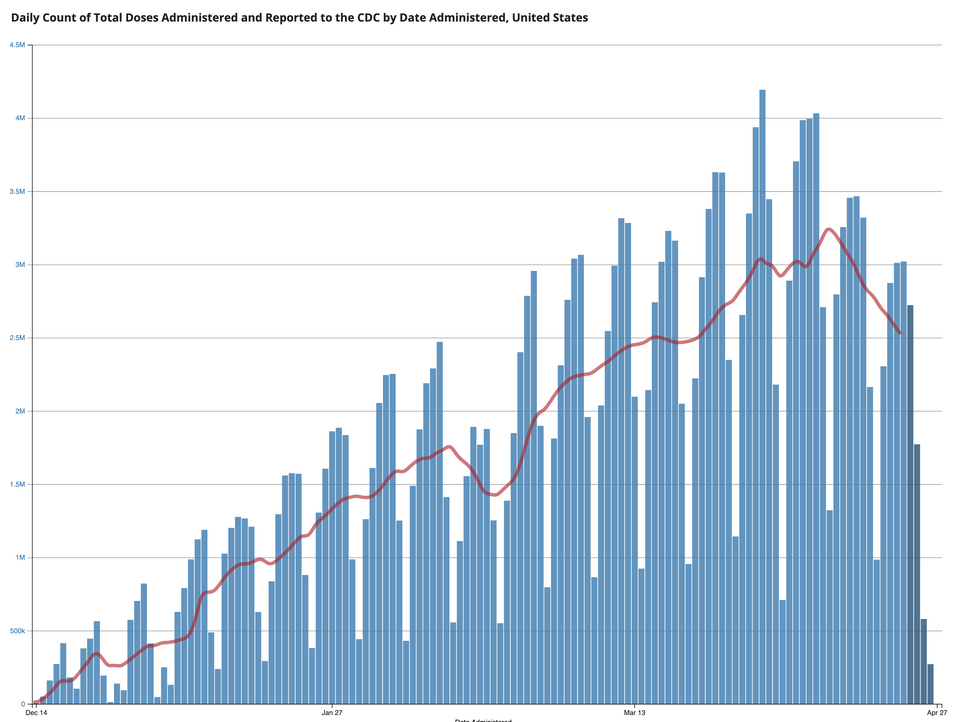 It's plausible that more vaccines were administered as they became available to more groups of people.
And on April 26, only 270,780 vaccines were administered.
Not to mention, vaccination was left up to the states, not the federal government.
GUN REFORM
CLAIM: Congress needs to pass HR 127 to stop mass shootings.

This bill has ALREADY PASSED in the House of Representatives, so if it passes in the Senate and is signed by the president, it becomes law.
What's in the bill: SOURCE: Congress.gov

A database of nationwide licensing for possession of firearms and ammunition shall be made accessible to law enforcement and the public.
Obtaining a license would require a psychological evaluation involving members of your household and any ex-spouses.
One must submit notice to the Bureau of Alcohol, Tobacco, Firearms & Explosives and notify the Attorney General when one wants to "loan" a firearm.
Mandatory 24-hour training for obtaining a gun license.
Annual $800 gun insurance fee required.
Additional license for "military style weapons."
Ban on 10+ round magazines.
Ban on 50 cal.
Penalties in the range of $5K-75k.
CLAIM: We need all states to instate their own Red Flag Laws.

Red flag laws are based on the subjective measure "a danger to yourself or others."
Convicted felons or domestic violence offenders already cannot possess firearms. SOURCE: Cornell
There's no due process. You don't even need to be charged with a crime! SOURCE: Pew
It would discourage people from seeking help for mental health.
CLAIM: "Nobody needs a gun with 100 bullets"/ "We need to limit magazine rounds"

It's estimated to take about 12 shots to incapacitate an intruder. SOURCE: Orange County Register
The assault weapons ban banned capacities over 10. SOURCE: NPR
But the use of high-capacity guns has stayed steady or increased since the assault weapons ban. SOURCE: UPenn
CLAIM: The gun show loophole is a thing!

This has been so debunked ad nauseum. Crowder went into a gun show and tested the theory years ago. SOURCE: YouTube
The Washington Post even gave this claim two Pinocchios when Obama made it. SOURCE: Washington Post
CLAIM: "We need to remove immunity for gun manufacturers."
Looking for a fashionable way to support Louder with Crowder? Get your swag at Crowdershop today!