Each day we overwhelm your brains with the content you've come to love from the Louder with Crowder Dot Com website.
But Facebook is...you know, Facebook. Their algorithm hides our ranting and raving as best it can. The best way to stick it to Zuckerface?
Sign up for the LWC News Blast! Get your favorite right-wing commentary delivered directly to your inbox!
joe biden
Joe Biden Masks Up for Zoom Call with 16 Other World Leaders. He's the Only One.
April 23, 2021
Please review the CDC mask guidelines at your convenience. It lays out when, where, and how we're supposed to wear masks for totally unarguable sciencey reasons. At no point does it say you should mask up while on a conference call. Yet that's what Joe Biden did on Thursday during a video conference with other world leaders, even after getting both his jabs. If you were wondering why Democrats are so uninformed about the 'rona, wonder no more. It may very well be because this is their intellectual superior. Just a hunch.
They say a picture is worth a thousand words. It has to be twice as many in the world leader group text they don't let Biden on.
Let's zoom in on the Zoom.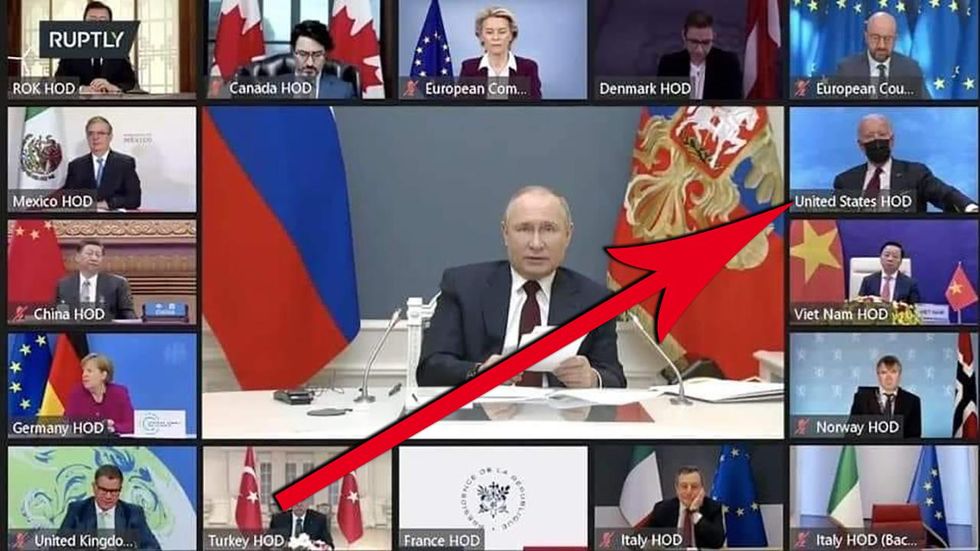 It's unclear if he was masked up for the entire call, and that this was just a snapshot when he was. But you can see in this news report he's masked up with only two other people sitting at a table with him, in what looks like a six-foot or so safety distance away.
I will give Joe Biden one thing. It takes a special brand of idiot to look like more of a virtue-signaling douche than Justin Trudeau. Yet Biden pulls it off with panache. And Trudeau is someone who views the pandemic as an excuse to reset greatly.
What's hysterical to me is how the Biden administration keeps carrying on about vaccine hesitancy and how to address it. They want to blame Tucker Carlson being allowed a Facebook account. I'd suggest two more effective ideas. The first would be to send Anthony Fauci to his room and take away his cable news privileges. The other would be to take a look in the mirror. If this is what the White House considers leadership, no wonder so many Americans aren't listening to him.
I have trouble imagining that there are people around Biden who think THIS is a good look. That someone thinks this shows leadership. All of the people in this call have been dealing with the same global pandemic. They've all been following the same science. Or at the very least, the same "science." They've all gotten their shots. Yet every other world leader is on this call looking like a leader. Our leader is there looking like a buffoon.
The people around Biden CAN'T possibly think this doesn't make Biden look like a dick. That the photo ops of him alone, outdoors, with no one around, yet still wearing a mask, are inspiring Americans to say "much leadership, very science." I guess we'll find out next week when we see how many masks he's wearing to his joint session of Congress.
Looking for a fashionable way to support Louder with Crowder? Get your swag at Crowdershop today!
Medical FASCISM! Why Can't We Talk About Vaccines Anymore? | Louder With Crowderyoutu.be