Psaki Offers Horrible Excuse for Biden's Now Infamous Zoom Call: 'He Was Sending a Message to the World ...'
April 26, 2021
Our pandering buffoon in chief Joe Biden looked silly in front of all his "friends" last week. All the world leaders got together for a kibitz on Zoom, where Biden was the only one masked up. In case your noggin' needs a reminder:
All world leaders have been vaccinated. All world leaders were sitting in presumably empty rooms. Biden was the only one who virtue-signaled by wearing at least one mask. Though, I guess, better him signaling his virtue via looking like an idiot than going full-on police state like some other countries have been doing. I guess.

Still, the optics were a bit off. It made him look weak. When you're on a conference call with Justin Trudeau and YOU'RE the one who looks like a p***y, someone on your team messed up. Jen Psaki was questioned on the decision to let our commander in chief go out looking like that. Psaki says it was to "send a message to the world." Oh, it sent a message, all right ...
Peter Doocy calls out Biden for still wearing a mask even though he was the only world leader on Zoom wearing one (and since he's long been vaccinated).

Jen Psaki insists he "was sending a message the world that he is putting in place precautions" as he was working.

Really. pic.twitter.com/EtcIaoPZsi
— Curtis Houck (@CurtisHouck) April 26, 2021
REPORTER: Why was President Biden the only one masked up out of all the world leaders on last Thursday's Zoom call?

PSAKI: He was sending a message to the world that he's a leader leading and doing leadery things.

REPORTER: Even though he was vaccinated.

PSAKI: Yep.

REPORTER: And on a Zoom call.

PSAKI: Yep

REPORTER: But he looked like a dick.

PSAKI: YOU LOOK LIKE A DICK!
Here's the thing. Psaki alluded to "other people in the room" and Biden following guidelines. Yet, judging by this video, it was only Biden and two other people seated well over six feet apart.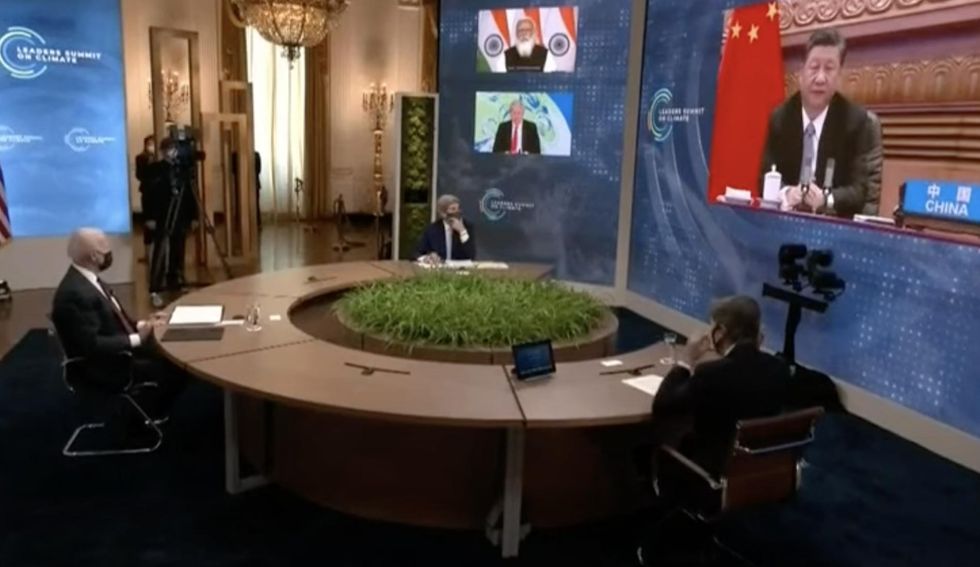 It goes to the recent studies showing Democrats to be the least informed about pandemic measures. They're so addicted to either being told what to do or telling people what to do, they can't let it go. The answer to everything is "shut up and mask." If it means ignoring the science so that they feel superior, so be it. Yet these same chuckleheads don't understand why so many Americans aren't rushing out to get their "shots." Here's a hunch: it's because the president makes people feel like there's no point.
Vaccinated Joe Biden is sitting in a predominately empty room far away from another human. He doesn't need to wear a mask. He's only doing so because his senile pudding-brain thinks it makes him look like a leader. When it all it does is make him look weak compared to the other world leaders. Again, he looks like Trudeau's b!tch. I didn't think that was possible.
Looking for a fashionable way to support Louder with Crowder? Get your swag at Crowdershop today!
NO COPS! The Future Leftists Gave America! | Louder With Crowderyoutu.be