Each day we overwhelm your brains with the content you've come to love from the Louder with Crowder Dot Com website.
But Facebook is...you know, Facebook. Their algorithm hides our ranting and raving as best it can. The best way to stick it to Zuckerface?
Sign up for the LWC News Blast! Get your favorite right-wing commentary delivered directly to your inbox!
Education
Psaki Gets Called Out Over In-Person Learning for Migrants Before Schools Reopen in California
March 30, 2021
Earlier today, it was reported that some San Diego teachers have gone back to in-person teaching. No, not any of the 130,000 or so students in the San Diego United School District. It's only the migrant children who are in the country illegally. Those 130,000 who have been locked out of their schools for over a year still have to wait a few more weeks. White House Bride of Chucky Stand-In Jen Psaki was asked about this at today's press brefing. What follows is a video and a loose transcript of what I heard.
Biden Press Sec Defends In-Person Learning For Illegal Immigrants Before Schools Reopening In CAyoutu.be
REPORTER: What does the White House think about San Diego? Where some public school teachers are providing in-person instruction at the San Diego convention center to migrant children before their own public school students. And these kids, of course, about 130,000 of them have been at home, doing online learning, for a about a year now. So what does the White House think about that?

PSAKI: Meh.

REPORTER: The San Diego County supervisor said, "I think it's great that there's in-person learning for unaccompanied minors from Central America, but I wish every child in San Diego Country was allowed the same opportunity for in-person teaching." ... Does the White House think this sends the right message to these 130,000 kids in San Diego and their parents who've been stuck at home for the last year?

PSAKI: Meh.

REPORTER: Okay, I ...

PSAKI: I said MEH!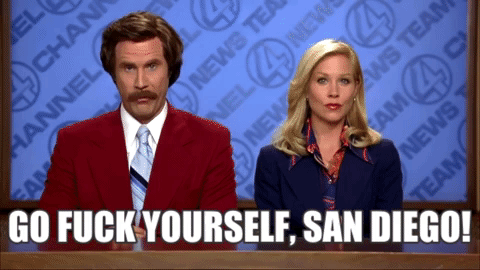 Yes, context matters. The context is as follows. Unions have been fighting to keep teachers out of schools, claiming it's unsafe with so much coronavirus out there. Parents have been struggling for over a year; they are at their wits' end. Students have been struggling for over a year, some of whom have tragically killed themselves. And teachers, instead of helping those students because it's too dangerous to go back to the classroom, are teaching migrant students who are here because of a border crisis of the White House's making. And the crap we've been hearing about it being too dangerous for teachers to return to the classroom? Not so much.
That's the context that matters. Jen Psaki should have at least pretended to care that it looked bad.
I've been banned from YouTube. Beware #Adpocalypse2...youtu.be
Need a quick laugh? Check out and subscribe to our CrowderBits YouTube channel for Louder with Crowder skits, opens, and parody videos!