Each day we overwhelm your brains with the content you've come to love from the Louder with Crowder Dot Com website.
But Facebook is...you know, Facebook. Their algorithm hides our ranting and raving as best it can. The best way to stick it to Zuckerface?
Sign up for the LWC News Blast! Get your favorite right-wing commentary delivered directly to your inbox!
Sources
Show Notes: Why Isn't Hunter Biden's Corruption the BIGGEST STORY in America?!
April 18, 2022
The Hunter Biden story isn't going away, try as corporate media might. We go deep into Hunter's corruption and how it involves his entire family. Also, Florida liberals hate math. And don't you hate it when that one guy pulls out a guitar and starts singing?
Why isn't Hunter Biden Corruption the BIGGEST STORY in America?! | Louder with Crowderwww.youtube.com
FLORIDA HATES MATH?!
The Florida Department of Education rejected 41% of new math textbooks, citing issues like CRT inclusion, and the teacher's unions are big mad! SOURCE: YouTube
The teacher in this clip seems perplexed about what kind of indoctrinating material could be found in math books.

Well, what about this entire program called "A Pathway to Equitable Math Instruction." SOURCE: EquitableMath
The program was promoted by the Oregon Dept. of Education to teachers last year. SOURCE: KATU
One part of the program is titled "Dismantling Racism in Mathematics Instruction."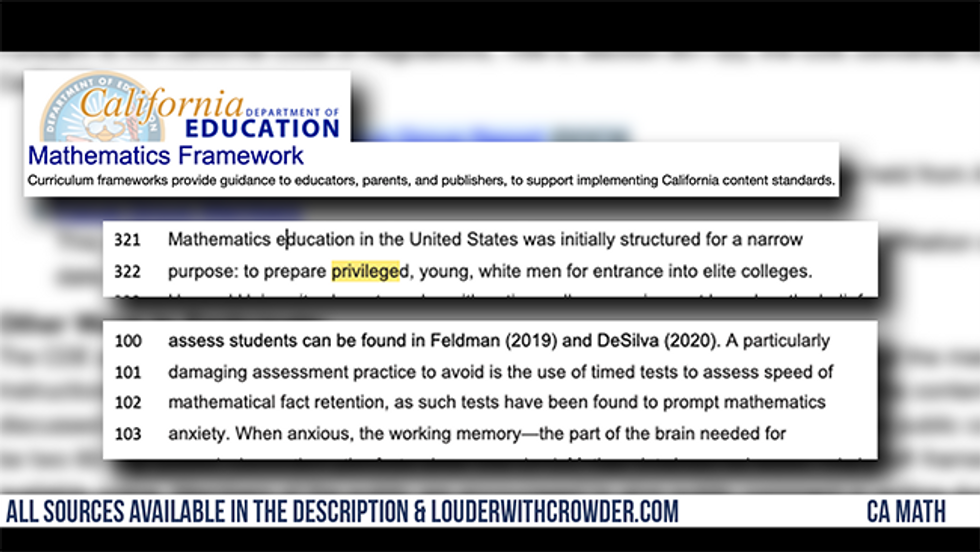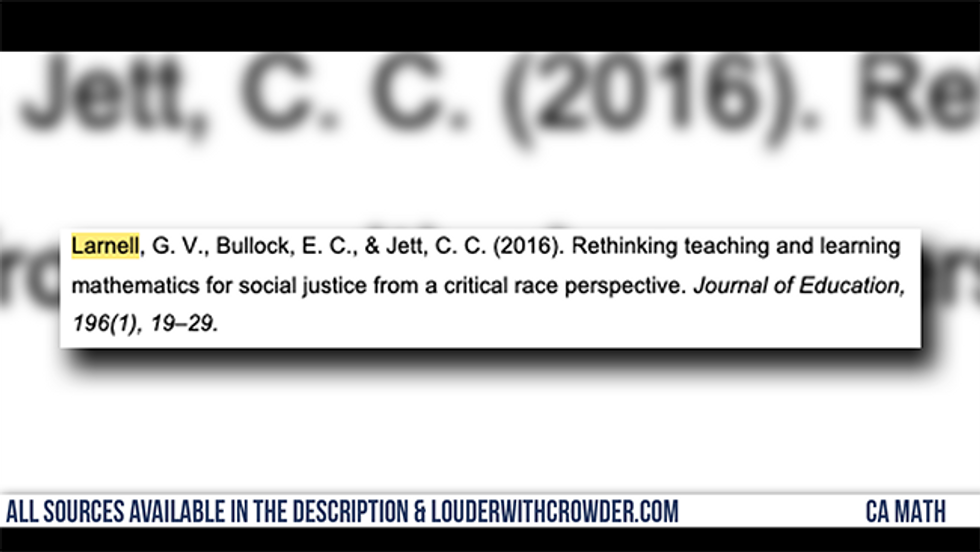 BIDEN FAMILY FINANCES
So, we know how liberal media has wanted to build distance between Joe Biden and his son Hunter since 2020. SOURCE: YouTube
Hunter has been profiting off his father's name for decades, but he's apparently such a caring son that he gave a LOT of that money to the "Big Guy." SOURCE: NYPost

Text messages from Hunter to his daughter Naiomi found on the infamous laptop revealed that Joe was pretty dependent on his son's good will:

"I hope you all can do what I did and pay for everything for this entire family for 30 years."

"It's really hard. But don't worry, unlike pop, I won't make you give me half your salary."

LOW-LEVEL EXPENSES: E-mails to business partner Eric Schwerin titled "JRB Bills" lay out where some of that money was going.

Air Conditioner Repair - $1,239
Painter - $1,475
Fixing a Stone Wall - $2,600

Schwerin, who at the time was president of Rosemont Seneca Partners, Hunter Biden's Chinese-linked investment firm, also had access to Joe's finances and his tax return.

BIG TICKET ITEMS: It's not just these low-level expenses where Hunter and his "Pop" are connected, either.

Over the course of 11 years, Hunter paid Joe's cell phone bill totaling $25,000. SOURCE: WaPo
And that's not the ONLY $25k expense–in 2018, Hunter accidentally transferred $25,000 to an escort called Gulnora.
This prompted the secret service to show up at Hunter's hotel.
A former agent sent him messages telling him to come out, reminding him the hotel room was linked to "Celtic's" account.

It seems like Hunter is doing pretty well, enough so that he's able to live in a swanky Malibu mansion and that secret service detail is only costing the American taxpayer a cool $30,000 per month. SOURCES: YouTube, ABCNews
MISC
The Louder with Crowder Dot Com Website is on Instagram now!Follow us at @lwcnewswire and tell a friend!