Each day we overwhelm your brains with the content you've come to love from the Louder with Crowder Dot Com website.
But Facebook is...you know, Facebook. Their algorithm hides our ranting and raving as best it can. The best way to stick it to Zuckerface?
Sign up for the LWC News Blast! Get your favorite right-wing commentary delivered directly to your inbox!
Former Zelenskyy Spokeswoman Attacks Laughing Kamala Harris, Deletes Tweet But the Internet is Forever
March 11, 2022
Kamala Harris had another awkward case of the gigs on Thursday during a joint press conference with Polish President Andrzej Duda. To be clear, as was reported by the Louder with Crowder Dot Com website, Kamala was NOT laughing at the plight of Ukrainian refugees fleeing for their lives. She was laughing because she didn't know who should answer a question first. While still inappropriate for the situation and unbecoming of her position, it wasn't AS inappropriate had she been laughing at refugees. Which she wasn't doing.
Iuliia Mendel, former press secretary to Ukraine President Volodymyr Zelenskyy, was less than impressed with Harris' performance. She expressed her disgust in this now-deleted tweet.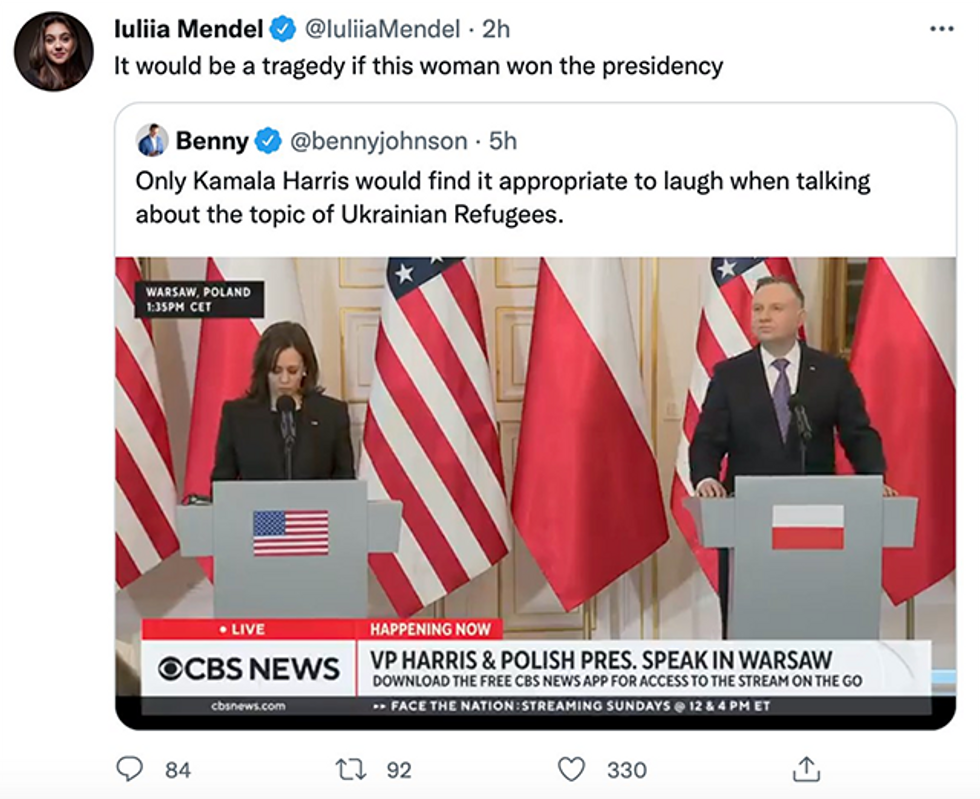 "It would be a tragedy if this woman won the presidency."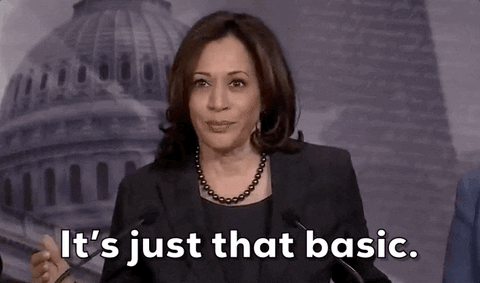 It is unclear why Mendel deleted her accurate assessment of a Harris Administration. The former spokeswoman has yet to address the matter on her Twitter account. There's a very good chance her tweet was deleted once Mendel realized she was spreading misinformation. The last thing anyone wants would be to spread misinformation having to do with Russia's invasion of Ukraine.
In Mendel's defense, she's obviously savvy about American politics. No doubt she knows about the times Kamala laughed about the border crisis, struggling families during the pandemic, and Americans trapped in Afghanistan. Also, all of these other cringey times:
There is also a possibility that Iuliia Mendel knows Kamala Harris wasn't laughing at the plight of refugees fleeing for their lives. It is clear that wasn't what happened from watching the video Mendel retweeted. Mendel could have felt the laughing was disrespectful of the gravity of the situation regardless of WHY Kamala Harris was laughing.
Perhaps she deleted the tweet because too many people assumed she was spreading the false narrative. Which while not being her intention, is what wound up happening. Iuliia Mendel is the only person who can answer that.
The Louder with Crowder Dot Com Website is on Instagram now!Follow us at @lwcnewswire and tell a friend!
Tess Holliday B(EATS) Anorexia! | Louder With Crowderyoutu.be