Each day we overwhelm your brains with the content you've come to love from the Louder with Crowder Dot Com website.
But Facebook is...you know, Facebook. Their algorithm hides our ranting and raving as best it can. The best way to stick it to Zuckerface?
Sign up for the LWC News Blast! Get your favorite right-wing commentary delivered directly to your inbox!
Politics
Restaurant Refuses to Apologize for 'Misogynistic' Nancy Pelosi Sign... That's Actually Pretty Darn Funny
January 07, 2022
It was a rough 2021 for restaurants. Joe Biden's inflation is causing prices to go up on everything restaurants need. His agenda is paying people not to work. On top of that, the media keeps scaring people into not going out to eat and, instead, staying home and watching the media. Just a few weeks ago, Anthony "The Science" Fauci told Americans there was too much Omicron out there to be safe. Restaurant owners are expressing their displeasure with our alleged leaders. Including Preslee's, a Houston area restaurant that is not a fan of Nancy Pelosi.
"Why yes, I'd like a side of misogyny and Covid protocol defiance with my chicken-fried steak. Also, could we fold in some ageism with that? perfect! "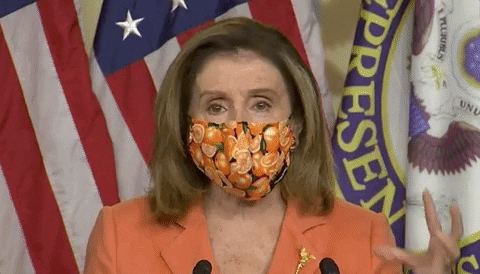 The sign says "no mask needed unless you look like Nancy Pelosi." What the sign implies is that Nancy Pelosi has a less than desirable face. One that scares small children and puppies. A face that, if you were enjoying a chicken fried steak, you'd lose your appetite. One look at it makes you exclaim, "dear God, what is that thing!" Eating out should be a pleasant experience. A face that looks like Nancy Pelosi's is unpleasant. Plus, Nancy Pelosi is a booster of mask mandates. It's actually a very well thought out and scientifically accurate sign. The owner should be commended.
Unfortunately, not everyone sees the brilliance. Some people find it inappropriate to imply the outward fugliness of Nancy Pelosi, which doesn't even get into how wretched she is inside. The owner tells Fox Business that they've never been busier, and they can all stick their crawfish somewhere uncomfortable: "More than 150,000 small businesses have shut down from mandates, but this is not about politics. It's about basic rights that some have seem to have forgotten."
Speaker Pelosi has yet to respond to the controversy.
Get your content free from Big Tech's filter. Bookmark this website and sign up for our newsletter!
I'm Coming Back With a Vengeance. Watch Out YouTube. See You Tuesdayyoutu.be