Those AOC Photos of Her Crying for Detained Children are Completely Staged
June 26, 2019
Sit down for this revelation. Alexandria Ocasio-Cortez staged those tearful photos where she supposedly visited a southern border "concentration camp" detention center. Specifically, these ones:
I'll never forget this, because it was the moment I saw with my own eyes that the America I love was becoming a nat… https://t.co/fbbgzGxfZN

— Alexandria Ocasio-Cortez (@Alexandria Ocasio-Cortez) 1561437951.0
Well, turns out they're staged. As in fake. As in not real. As in not genuine. As in the "genuine" AOC is a lying sack of pandering, narrative pushing fecal matter.
Newly uncovered photos (I'm not sure who originally uncovered them as we're entering the time of memes, but I read Paul Joseph Watson's take), show different angles of this photoshoot, revealing the tearful AOC was actually "crying" in front of an empty parking lot. Here's a new meme making its way around the internetz.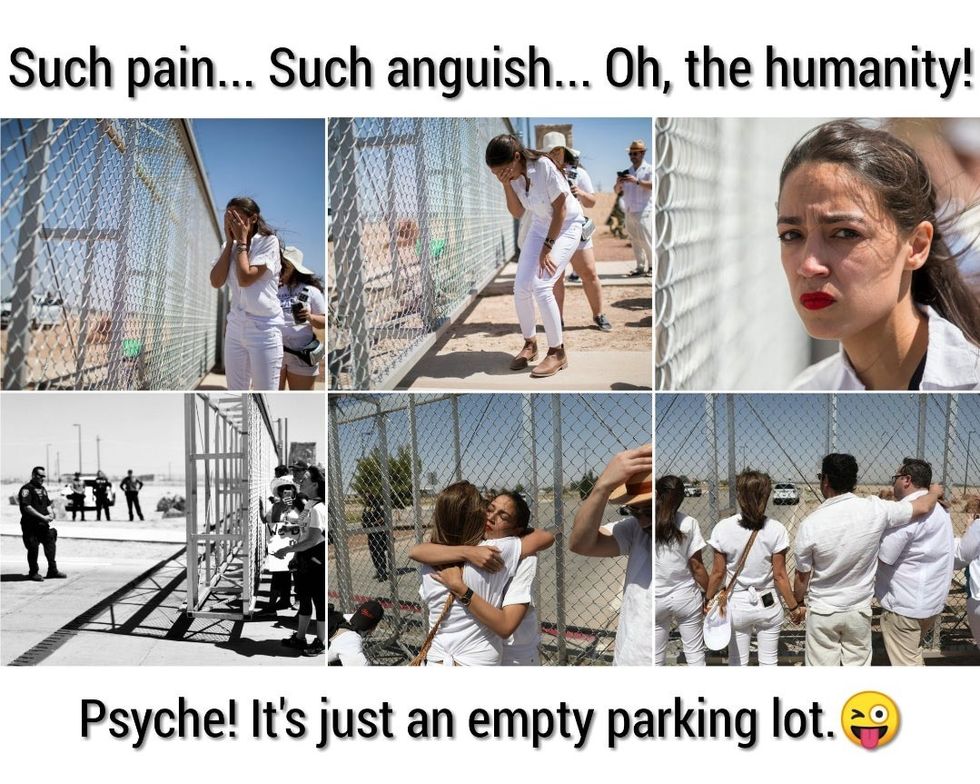 Paul Joseph Watson also has an image on his site (don't want to copyright infringe) of a photographer carefully shooting AOC so as to avoid the EMPTY PARKING LOT.
So... what kids? She said in the tweet this was the time she saw it with her "own eyes." Saw what, exactly? Cars made before 2010?
Don't expect AOC to even acknowledge these photos are fake. Don't expect her to apologize. Remember, in liberalism, just because something was faked doesn't mean the real thing isn't happening somewhere. The real thing here is, it's always a tragedy when there's... cars? I'm not clear. I'll get back to you.
NOT SUBSCRIBED TO THE PODCAST? FIX THAT! IT'S COMPLETELY FREE ON BOTH ITUNES HERE AND SOUNDCLOUD HERE.