Each day we overwhelm your brains with the content you've come to love from the Louder with Crowder Dot Com website.
But Facebook is...you know, Facebook. Their algorithm hides our ranting and raving as best it can. The best way to stick it to Zuckerface?
Sign up for the LWC News Blast! Get your favorite right-wing commentary delivered directly to your inbox!
Creepy Alexandria Ocasio-Cortez Mural Appears in NYC
February 14, 2019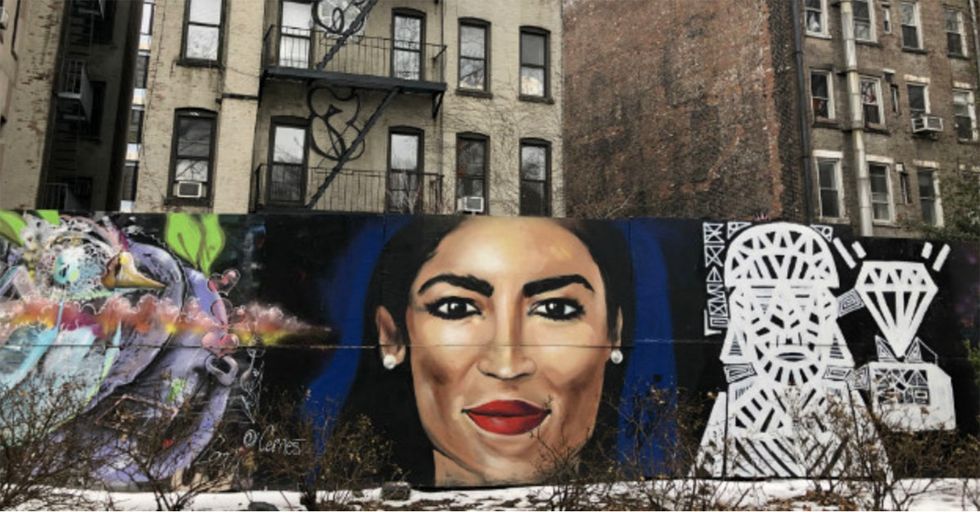 Leftists often criticize the right saying we, conservatives in media, conservatives in politics, are obsessed with the Notorious AOC. Which I understand, sure. These are the games we play when we build up the other side's dumbest and silliest (see WATCH: Alexandria Ocasio-Cortez, Like, Knows When Climate Change will Kill Us All and Alexandria Ocasio-Cortez Puts Being 'Morally Right' Over Factual Accuracy). But I'm not sure "obsessed" is the right word here. As no one in conservative media has painted a mural of Alexandria Ocasio-Cortez.
Yes, a mural. You do you, Lower East Side.
Passersby had a range of reactions to the mural. Fabian from New Jersey told Gothamist that, "She hasn't really done anything yet" to warrant her own mural. One woman speeding by shouted, "AOC!" with a raised fist. Another person named Bridget said she absolutely deserved the mural because "she's a wonderful local hero!" Even Ted from the Lower East Side had to agree: "Yeah, that's AOC. She's probably the stupidest person in Congress, so I don't know whether she deserves a mural but people should know who she is."
A mural is what happens when you try to spin someone calling Cortez "the stupidest person in Congress" into a positive.
Let's talk about obsession. Blog posts mocking someone the left and most of the media (but I repeat myself) have built up as the new intellectual thought leader of the Democratic Party is more pushback than it is an obsession. Also, easy. Fun. Hard to pass up. Okay, nearly impossible to pass up. An axiom about easy to reach fruit comes to mind.
Real obsession is street art which somehow elevates "the stupidest person in Congress" to the same level as people like Martin Luther King Jr. Or Biggie Smalls. Snoopy.
Really, Alexandria Ocasio-Cortez should be painted next to advertisements for "special" schools.
Get your content free from Big Tech's filter. Bookmark this website and sign up for our newsletter!