Each day we overwhelm your brains with the content you've come to love from the Louder with Crowder Dot Com website.
But Facebook is...you know, Facebook. Their algorithm hides our ranting and raving as best it can. The best way to stick it to Zuckerface?
Sign up for the LWC News Blast! Get your favorite right-wing commentary delivered directly to your inbox!
Guys, AOC Doesn't Know What a Garbage Disposal Is
May 07, 2019
Inside baseball moment: we have an unofficial Alexandria Ocasio-Cortez policy around this here website -- only mock AOC when she truly deserves it, but let the little stuff go. The problem is Alexandria is a brazen idiot. We all make mistakes, we all do and say stupid things. But most of us take a moment after doing a stupid thing to assess and acknowledge the inherent dumbness of the stupid in which we engaged. AOC doesn't every admit she did a silly. Instead, she doubles down and I have to crack my knuckles and address it. To let such wanton dumb go by unchecked would leave me in physical pain. With that, Alexandria Ocasio-Cortez got on Instagram to inquire about that black hole in her kitchen sink was. Check this out: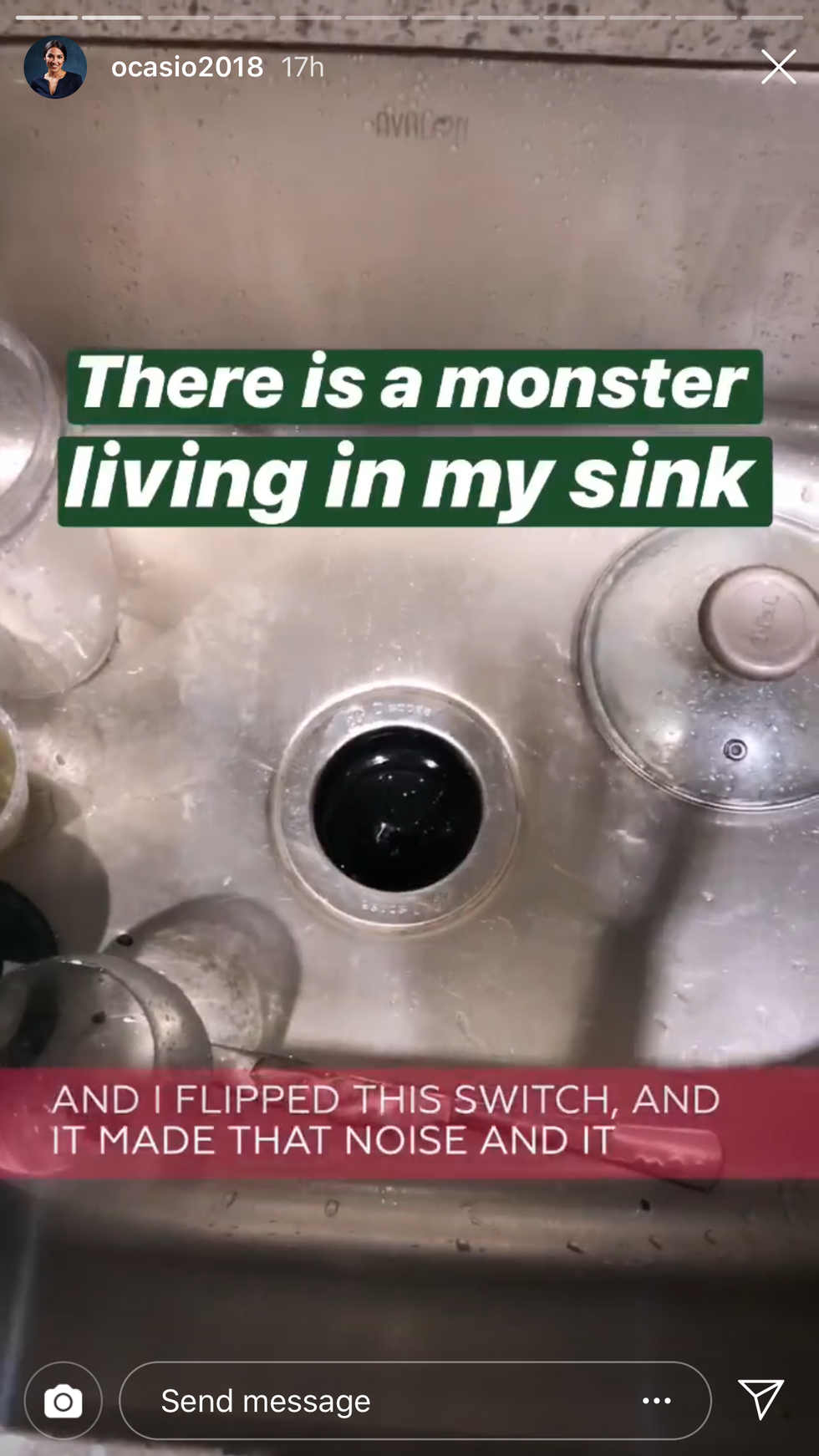 Thank goodness she didn't put her hand in there first and then flipped the switch. Imagine the carnage.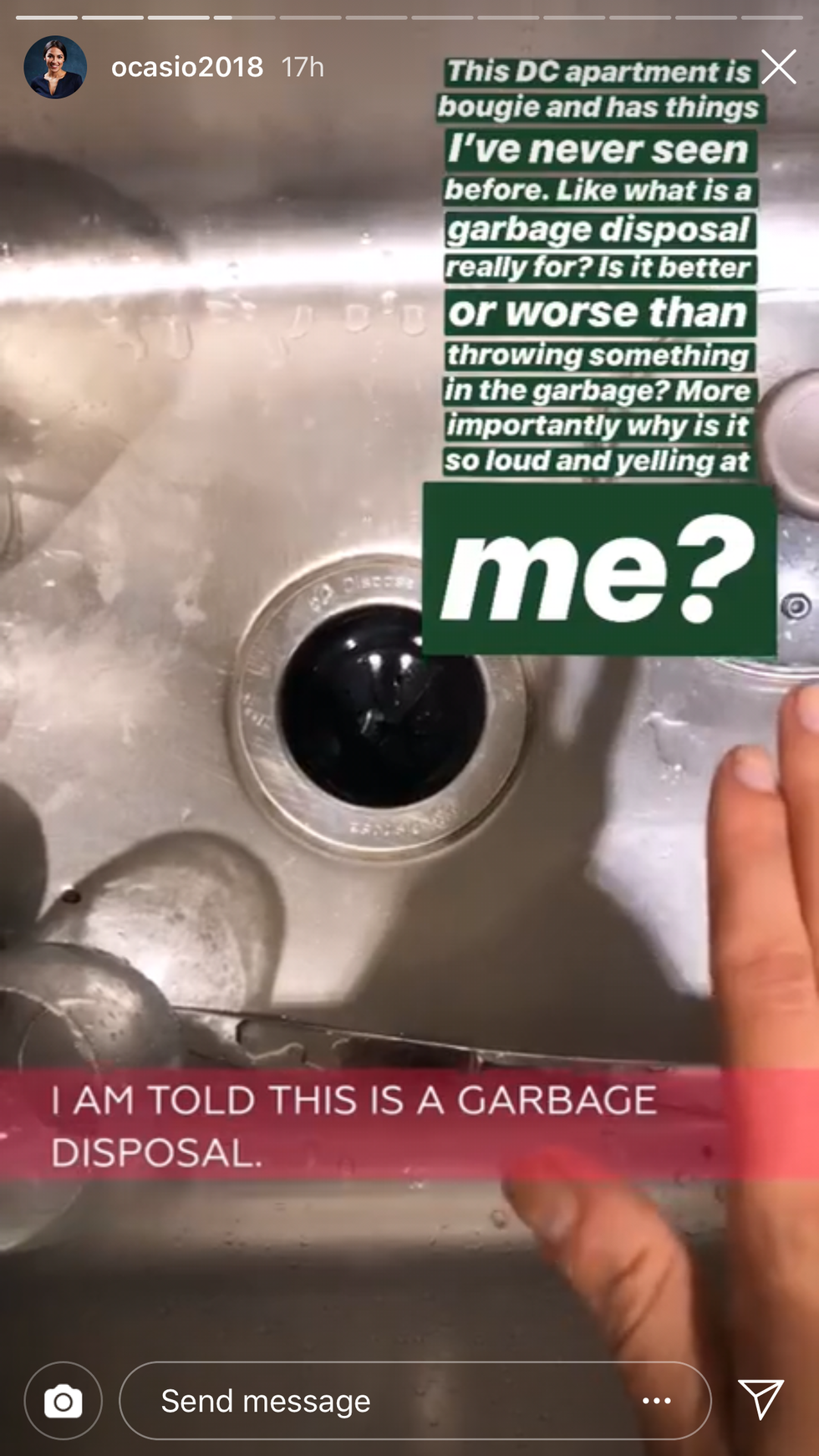 Yes, a garbage disposal it be. They're nice when you're washing dishes and need to dispose of the little crumbies, sauces, and other goo which won't go into the garbage without first power washing it off the dish. It's a modern-day convenience which was apparently denied to New Yorkers up until recently.
AOC's Instagram stories are amazing, I don't care who you are. I usually get annoyed when people ask questions on Twitter or Instagram like this, because people who don't understand there's a website called GOOGLE are the worst kind of people. But Alexandria is different. She considers herself a boss. An expert. As such a boss and such an expert, she should know it's okay to not know what something is, but then take it upon herself to figure out what it is. Instead, she marveled at a kitchen utility like Ariel combing her hair at the dinner table with a dinglehopper.
It's precious.
Based on her story update, either someone clued her in, or she figured it all out by herself. Like a big girl wearing big girl pants.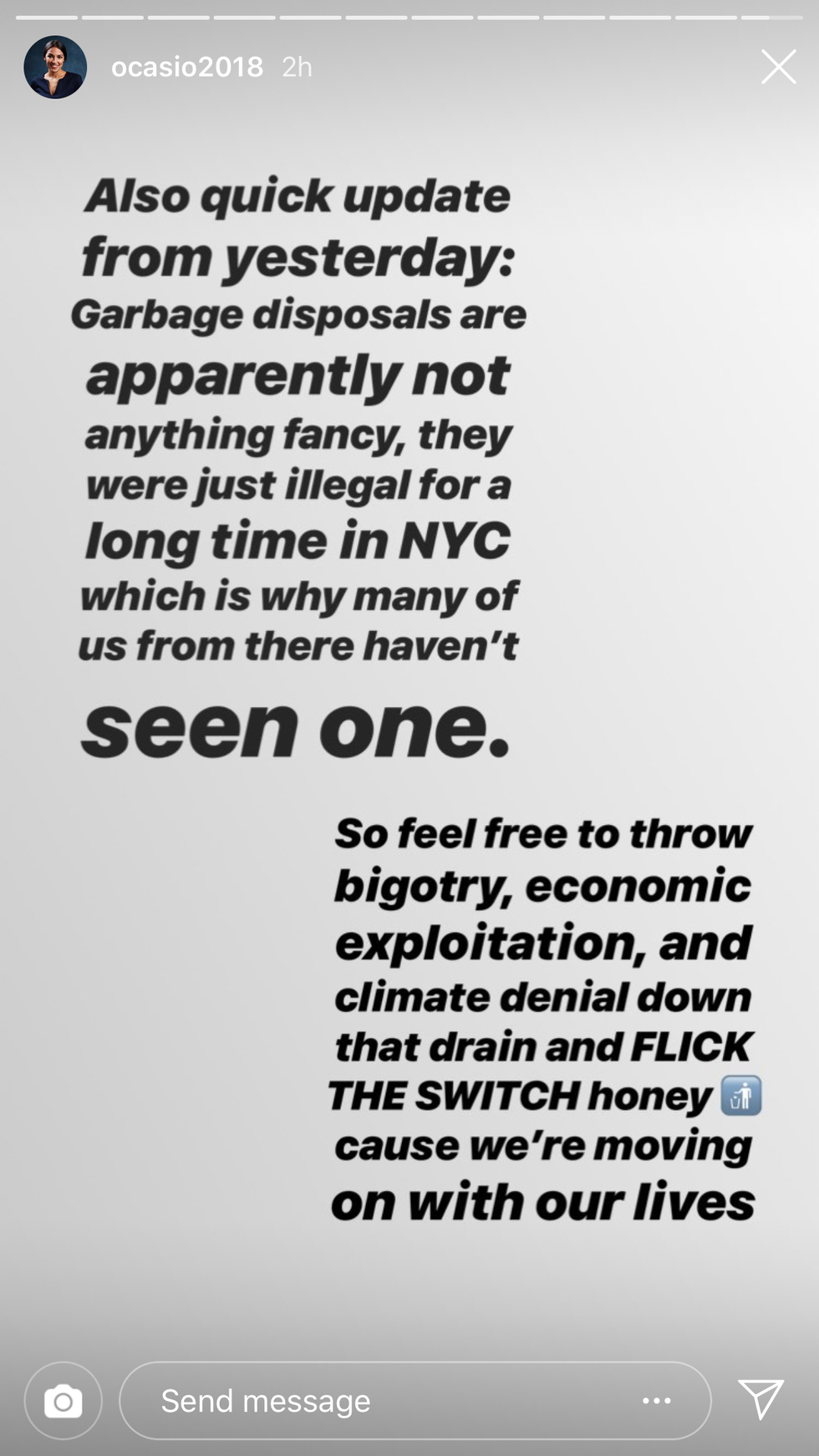 So if I had been AOC and I had asked my millions of followers WTF that growling thing in the sink is, only to find out garbage disposals have been around for eons, I'd laugh at myself. Like an "OMG you guys what planet have I been living on?" If not post a Little Mermaid gif of blowing a pipe into someone's face.
It's okay not to know what something is. It's a little tone deaf to use that ignorance, innocent or not, to then try and leverage that ignorance, innocent or not, into a rallying cry to push an agenda: bigotry, economic exploitation, and climate denial. Remember, AOC considers herself a leader. Leader's make mistakes. Maybe she should shrug those shoulders once in a while and admit she did a whoopsie. Until she does, we have to keep mocking her fight against cow farts and scary sink monsters.
Also, how can we trust someone like AOC to lead Planet Earth into a new, more technologically robust time if she looks at a garbage disposal like a husky tilts its head at a chirping fire alarm?
NOT SUBSCRIBED TO THE PODCAST? FIX THAT! IT'S COMPLETELY FREE ON BOTH ITUNES HERE AND SOUNDCLOUD HERE.