Each day we overwhelm your brains with the content you've come to love from the Louder with Crowder Dot Com website.
But Facebook is...you know, Facebook. Their algorithm hides our ranting and raving as best it can. The best way to stick it to Zuckerface?
Sign up for the LWC News Blast! Get your favorite right-wing commentary delivered directly to your inbox!
Politics
Tucker Carlson Draws Visual Comparison Between Nancy Pelosi and Michael Jackson That You Will Never Unsee
January 11, 2022
Go right to the video. We'll discuss it after.
"Let's be clear this wasn't video of Michael Jackson performing his hit songs of the 1990's. This appeared to be a living version of the international pop star that news reports claim died of a drug OD more than a dozen years ago."
"If you've ever seen Michael Jackson you cannot forget the face. Though, admittedly, he's had a lot of work done since we saw him last."
A few of you Zoomers may be confused right now. While my fellow oldheads squirted their morning coffee out of their noses.
Michael Jackson was the "King of Pop." At one point, he WAS pop music. "Thriller" and "Bad" both, to this day, hold up as classic albums. However, as the years went on, he too was known for getting work done. Here's a side-by-side comparison between the King of Pop and the Queen of Old Lady Boofs.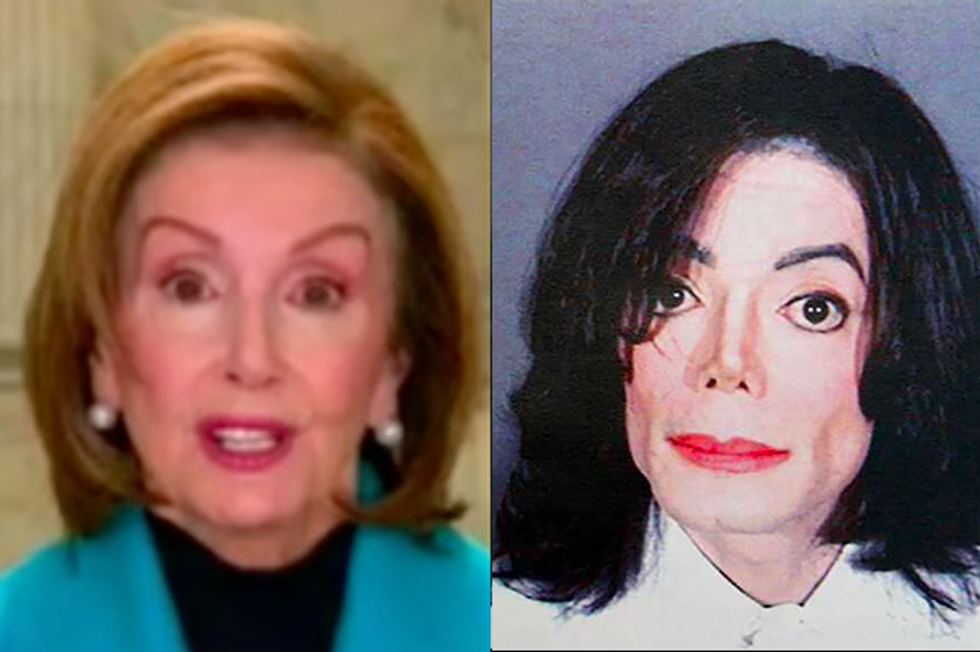 Tucker Carlson was making fun of Nancy Pelosi's face. Is it appropriate for a man to ever criticize a woman's face? An argument can be made that no, it is not and that Tucker should respect his elders. An argument can also be made, however, that in the case of someone like Nancy Pelosi, mocking her in any way is hilarious. It all depends on your mood.
Tucker also implied that Pelosi got more work done. "Work," implying plastic and/or reconstructive surgery. "More," implying Pelosi has done this more than once. Rumors of going under the knife have dogged Pelosi for years now, however, there is no evidence. Nancy Pelosi has never said the words "I had work done," so to claim otherwise would never pass the stringent fact-checking standards of the Associated Press. If Pelosi HAD gotten work done, the number of times she has been short-circuiting lately in front of the cameras could be explained by Botox leaking into her brain. There's just no confirmation at the present time.
Looking for a fashionable way to support Louder with Crowder? Get your swag at Crowdershop today!
I'm Coming Back With a Vengeance. Watch Out YouTube. See You Tuesdayyoutu.be