Each day we overwhelm your brains with the content you've come to love from the Louder with Crowder Dot Com website.
But Facebook is...you know, Facebook. Their algorithm hides our ranting and raving as best it can. The best way to stick it to Zuckerface?
Sign up for the LWC News Blast! Get your favorite right-wing commentary delivered directly to your inbox!
Big Tech
Bird App Strikes Again: Twitter Deletes Tucker Carlson's Tweet About Biden Admin Official Rachel Levine
March 23, 2022
This is getting absurd. It started with Twitter suspending the Babylon Bee over a satirical post about Biden Administration Official Rachel Levine. Levine is the Assistant Secretary of Health and some kind of an admiral in Joe Biden's government. Since then, Twitter suspended the Bee's founder, their CEO, and Charlie Kirk. Now, they've deleted a Tucker Carlson tweet about the suspensions. All about the same Biden Administration official.
So that we're on the same page, this is the satirical post that got everyone's period panties in a bind:
Tucker sent a tweet that shared screen captures of the suspended accounts, and said "But wait. Both these tweets are true." Twitter removed the tweet claiming "This Tweet violated the Twitter Rules." Post Millennial had a screen capture.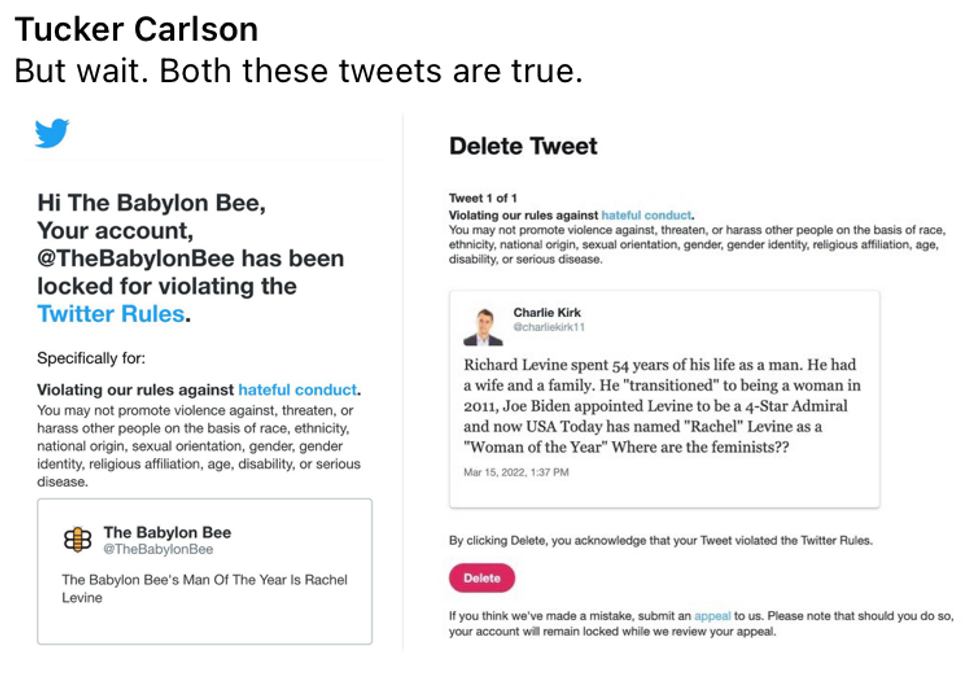 There are a number of absurd aspects to Twitter blocking facts that the people who write their community guidelines consider "transphobic." But one of the main ones is how frantic Twitter is circling the wagons around an official of the Biden Administration. Levine was born a man and went through puberty as a man. Levine was also married with two kids before deciding he was really a she. Pointing out any of those factually true statements earns one an instant yeeting by Twitter.
Though, I think you can still point out how Levine was most known for leading one of the worst COVID vaccine rollout plans in the country and a Cuomo-esque nursing home scandal, though not as high of a body count. But only as long as you use the preferred pronouns.
I just find it curious how super sensitive Twitter is about protecting a Biden Administration Official. It must be nice.
The Louder with Crowder Dot Com Website is on Instagram now!Follow us at @lwcnewswire and tell a friend!
Rand Paul SHUTS DOWN "Dr." Rachel Levine | Louder With Crowderyoutu.be