Each day we overwhelm your brains with the content you've come to love from the Louder with Crowder Dot Com website.
But Facebook is...you know, Facebook. Their algorithm hides our ranting and raving as best it can. The best way to stick it to Zuckerface?
Sign up for the LWC News Blast! Get your favorite right-wing commentary delivered directly to your inbox!
Tucker Carlson Compares Brian Stelter to 'Sweaty, Stupid' Character From '1984' and It's Remarkably Accurate
May 24, 2022
Tucker Carlson emasculating Brian Stelter at every opportunity is the best Tucker Carlson. So when Stelter blamed right-wing misinformation for putting an end to Joe Biden's "Disinformation Governance Board,"--what critics called "The Ministry of Truth," referencing George Orwell's 1984--Carlson noticed a comparison. Orwell's Ministry of Truth had a spokesman named Tom Parsons. Tell me if he reminds you of anyone.
Let's take a quick jaunt through 11th grade English class. 1984 is a dystopian tale where the government is in total control of the people (the people who control Joe Biden's soggiest dreams). The Ministry of Truth controlled the information the government allowed the people to know. Tom Parsons was the Ministry's spokesperson. Here's how Orwell described him:
"He was a fat but active man of paralyzing stupidity, a mass of imbecile enthusiasms--one of those completely unquestioning, devoted drudges on whom, more even than on the thought police, the stability of the Party depended."
Suddenly, me calling Brian Stelter a potato seems inadequate.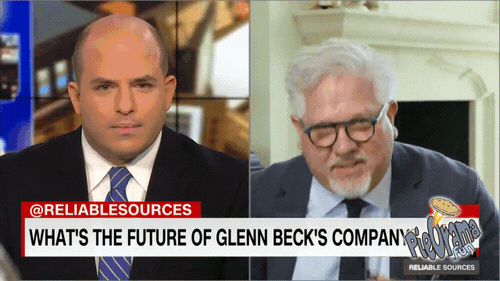 So, the White House and the ultra-radical left in this country think any opinion they disagree with is "disinformation" as they spread disinformation themselves. The government puts together a "Disinformation Governance Board." They put a person in charge of it who spreads disinformation. Then when the board was shut down over Americans calling it creepy AF, "right-wing disinformation" was blamed for the federal government no longer having a Disinformation Governance Board. A talking point that the mass of imbecile enthusiasms was more than willing to spread.
George Orwell was a Time Lord. That's the only explination.
The Louder with Crowder Dot Com Website is on Instagram now!Follow us at @lwcnewswire and tell a friend!
Kyle Rittenhouse Trial TWISTED by Media/State Disinformation! | Louder With Crowderyoutu.be