Each day we overwhelm your brains with the content you've come to love from the Louder with Crowder Dot Com website.
But Facebook is...you know, Facebook. Their algorithm hides our ranting and raving as best it can. The best way to stick it to Zuckerface?
Sign up for the LWC News Blast! Get your favorite right-wing commentary delivered directly to your inbox!
Disney CEO Calls Ron DeSantis to Complain About 'Don't Say Gay' Bill, DeSantis Responds with Perfection
March 09, 2022
Florida just passed the "Parental Rights in Education Bill." Opponents were upset Disney didn't speak out against it. Opponents of common sense voter integrity reform never had a problem getting corporations to speak out against bills they never read. Yet Disney wouldn't speak out against a bill to provide parents with more rights in their child's education. Until today, when Disney CEO Bob Chapek called Gov. Ron DeSantis to express his displeasure.
If you're confused why a family company like Disney would oppose a bill for parents, it's because Bob Chapek was confused about the bill. He keeps calling it the "Don't Say Gay" bill. You would think before getting on the phone with America's Governor, he would have known that DeSantis went viral on two different occasions for a) correcting reporters calling it the "Don't Say Gay" bill when the bill doesn't say gay, b) blasting reporters for using the language of partisan activists, and c) explaining what the bill actually does. HINT: Telling teachers they can't talk about sex to five-year-olds.
Chapek must have missed those two videos. But he is donating a bunch of money to the Human Rights Campaign and says he'll be meeting with DeSantis to discuss further.
DeSantis's office responded. Note to other governors: when activists and the media (but I repeat myself) lie about legislation and corporations call you to complain, this is how you respond:
"Anyone who has questions or concerns about the 'Parental Rights in Education' bill is encouraged to read the bill, rather than the distorted coverage in mainstream media, which regurgitates false partisan talking points."
NOTE: The White House too.
"Disney is a family-friendly company that creates wholesome entertainment for kids. The same Florida parents who take their families to Disney also support parental rights in education, because they do not want their young children exposed to inappropriate content about sex and gender theory at school."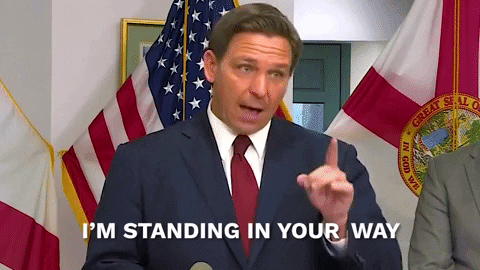 Methinks Disney CEO Bob Chapek won't actually be scheduling the meeting. Other governors might play nice to let the CEO save face. Ron DeSantis, who has the truth on his side, will only make Chapek look bad. Someone should have taken the time to read all seven pages of the bill before attempting to impress his shareholders with a phone call.
The Louder with Crowder Dot Com Website is on Instagram now!Follow us at @lwcnewswire and tell a friend!
Insane in the Ukraine: Joy Reid and Trevor Noah Think Something is Racist!?! | Louder With Crowderyoutu.be