Each day we overwhelm your brains with the content you've come to love from the Louder with Crowder Dot Com website.
But Facebook is...you know, Facebook. Their algorithm hides our ranting and raving as best it can. The best way to stick it to Zuckerface?
Sign up for the LWC News Blast! Get your favorite right-wing commentary delivered directly to your inbox!
Politics
Watch: Ron DeSantis responds to Trump insults, says 'go check out the scoreboard' from Tuesday night
November 15, 2022
America's Governor Ron DeSantis gave his first press conference since his record-setting election night, and since Donald Trump started calling him names. Trump is in DeSantis' state to give a big announcement, where he is expected to announce he is running for president again. DeSantis is also rumored to be considering a run for president.
The question is if DeSantis has any thoughts on anything that has been said about him lately:
"One of the things I've learned in this job is when you're leading and you're getting things done, you take incoming fire. That's just the nature of it."
Doesn't even mention Trump's name.
Desantis went on to say, "I have corporate media outlets having a spasm just because I'm getting out of bed in the morning. I don't think any governor has gotten attacked more than me during my four-year term. I think what you learn is, all that's just noise. Are you leading, are you getting in front of issues, are you delivering for people, and are you standing up for folks? If you do that, none of [that other] stuff matters. That's what we've done. We've focused on results and leadership."
This next line I think will leave a mark. Because a number of prominent conservatives have pointed to election night (and Trump's behavior) as a key reason why the GOP needs a change:
"At the end of the day, I would just go tell people to check out the scoreboard from last Tuesday night. The fact of the matter is it was the greatest Republican history in the state of Florida. "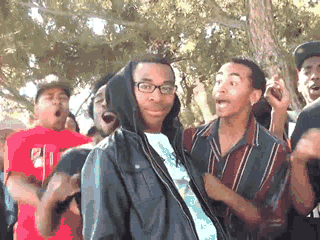 Here's the thing in all this... DeSantis HAS to run now. He can't make the Chris Christie 2016 mistake where he doesn't strike while the iron is hot. Then turn into... well, what Chris Christie has turned into.
If DeSantis DOESN'T decide to run for president in THIS primary, it's going to look like he was mean-girled out it. By the time 2028 rolls around, conservatives will have moved on to something else.
He's obviously not going to be at Trump;s announcement today. This was a clear elbow throw at the former president. Now what?
Editor's Note
LwC is on Substack now! Each day we overwhelm your brains with the content you've come to love from the Louder with Crowder Dot Com website.. but algorithms hide our ranting and raving as best they can. The best way to stick it to Big Tech? Subscribe to For the Content!