Each day we overwhelm your brains with the content you've come to love from the Louder with Crowder Dot Com website.
But Facebook is...you know, Facebook. Their algorithm hides our ranting and raving as best it can. The best way to stick it to Zuckerface?
Sign up for the LWC News Blast! Get your favorite right-wing commentary delivered directly to your inbox!
Ron DeSantis roasts Gavin Newsom so hard for accusing him of 'kidnapping,' it leaves audience in hysterics
September 16, 2022
There are a lot of dumb criticisms of Ron DeSantis' move to redistribute migrants to Martha's Vineyard. A lot of dumb criticisms. And while the intolerant Vineyardians have already kicked the migrants out of the upper-class white liberal neighborhood, the dumb comments keep rolling in. Top of the list was California Governor Gavin Newsom. He wants you to think he's running for president against DeSantis.
DeSantis had no time for such silliness.
"All I can say is I think his hair gel is interfering with his brain function."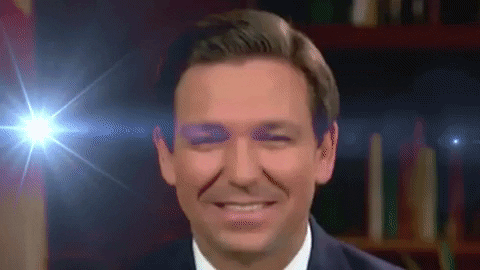 Newsom wrote an angry letter calling on Attorney General Merrick Garland to prosecute DeSantis for, among other things, kidnapping. The thought process is that DeSantis kidnapped fifty people who entered the country illegally by *checks notes* driving them to an airport, helping them onto a private plane, and sending them to one of the richest areas in America. Come to think of it, the only thought process is Newsom repeating the talking points handed out by leftist PR firms. "Human trafficking" was already done to death, so Newsom went with "kidnapping."
Not that Garland isn't above going after people for political reasons. This is the same guy who (allegedly) thinks parents who raise their voices at school board meetings are domestic terrorists.
All the letter does is add Newsom to the list of people proving DeSantis' point. People like this founding member of a foundation that helps refugees by comparing those refugees to "me taking my trash out and just driving to different areas where I live and just throwing my trash there."
Florida Gov. DeSantis sending asylum-seekers to Martha's Vineyard is like "me taking my trash out and just driving to different areas where I live and just throwing my trash there," a founding member of a foundation which helps refugees says. - @NBCLatino https://t.co/bCHlHlFzqV
— NBC News (@NBCNews) September 16, 2022
Well, would you look at that! They deleted the tweet while I was writing this.
The next group of migrants needs to be redistributed to Delaware. I'll start popping popcorn now.
The Louder with Crowder Dot Com Website is on Instagram now!Follow us at @lwcnewswire and tell a friend!
EXPLAINED: How the Left Infiltrated Public Schools | Louder With Crowderyoutu.be