Each day we overwhelm your brains with the content you've come to love from the Louder with Crowder Dot Com website.
But Facebook is...you know, Facebook. Their algorithm hides our ranting and raving as best it can. The best way to stick it to Zuckerface?
Sign up for the LWC News Blast! Get your favorite right-wing commentary delivered directly to your inbox!
Politics
'I Am Cornholio': Twitter has a field day mocking visual of Joe Biden's angry rant against half of America
September 02, 2022
I have nothing to say about Joe Biden's speech Thursday night because it would require me taking him seriously. Biden wants our angry overreaction. He gets nothing but mockery and ridicule. It was an unhinged rant that only happened on cable news, which no one watches, and will only be discussed on Twitter, which most of America doesn't use. I'm saving my outrage for the left's gaslighting over school closures.
Here's a brief recap of Thursday night's derp.
Not that Twitter didn't have fun with the visuals. Biden's handlers propped Ol' Puddinghead up and sent him out to say half of America is a threat to democracy. They did this with an eerily lit dark red backdrop that looked like Hitler and Stalin hate-f*cked and gave birth to the First Order from Disney's version of a Star Wars movie. Maybe the people who run Biden never heard of "staging" or "advance work" or even "competence." If they did, they need to be blacklisted from ever working in politics again.
Meme away, friends. Meme away!
I tend to avoid calling my opponents Hitler or Hitler-adjacent. But the White House asked for this.
Though there was a more accurate comparison.
You may have heard about the shadowy forces controlling Joe Biden like a puppet. "Independent" "fact" checkers say it's a conspiracy. But we here at the Louder with Crowder Dot Com website can now confirm the identities of those shadowy forces.
It would be wrong to mock Biden without at least one poop joke.
Someone working in the White House is a huge fan of The Office. Also, that person hates the president. For some reason, Twitter decided this one was "sensitive material."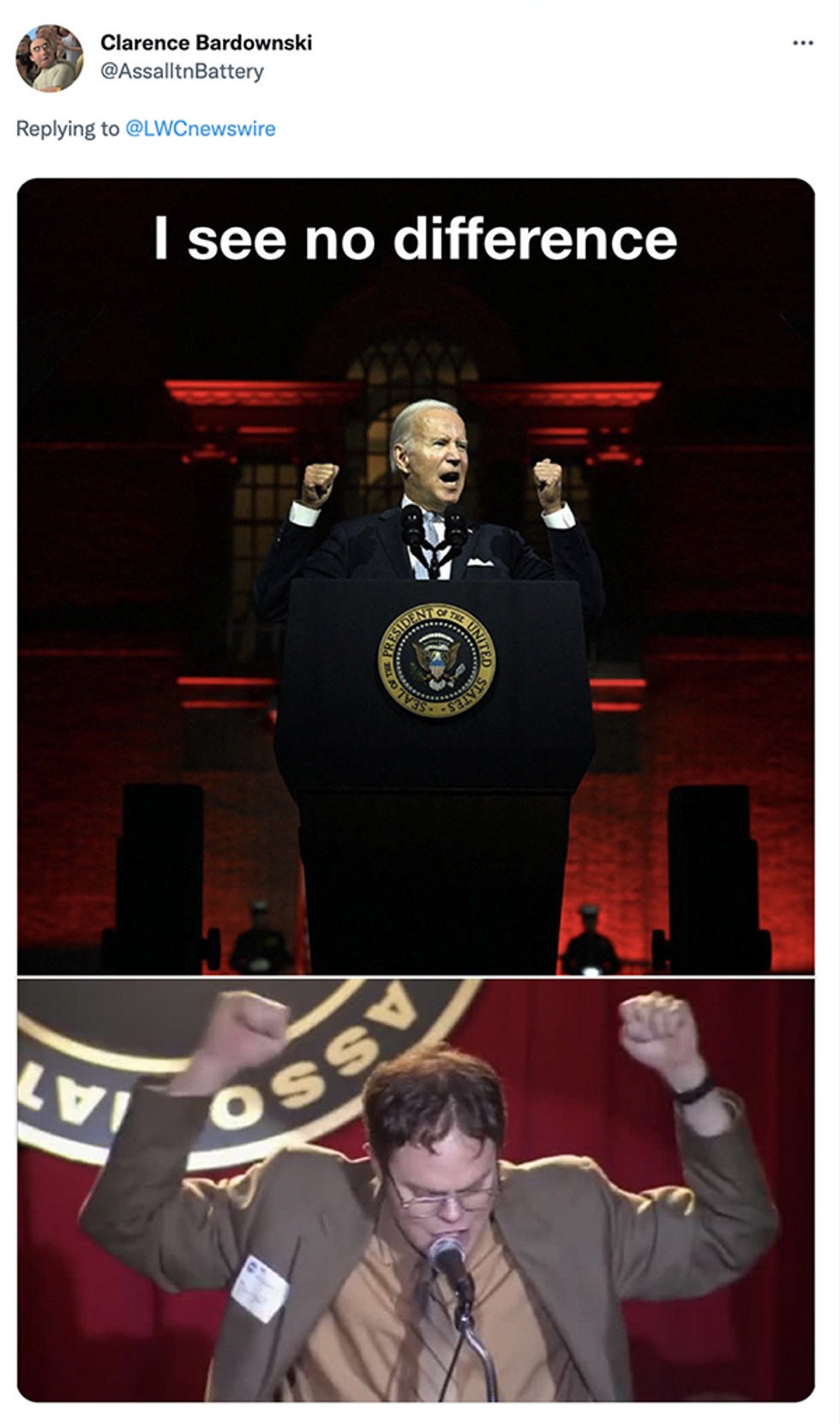 Finally, while we're referencing The Office, if there's an opportunity for a graffiti artist to work in a… phallic shape, interacting with the artwork, it'll happen, and Joe Biden gave them that opportunity.
Message received, Mr. President. Message received.
The Louder with Crowder Dot Com Website is on Instagram now!Follow us at @lwcnewswire and tell a friend!
Biden's Gun Control Push Is MALARKEY! I'm Serious. | Louder With Crowderyoutu.be