'Karen' Freaks Out Over 'F*** Joe Biden' at MLB Game, Attacks Dudes Expressing Their Free Speech
October 07, 2021
It was only a matter of time. People were having too much fun expressing their patriotic dissent against our puddingheaded president. Eventually, Biden supporters were going to get chirpy. They were going to wild out. They were going to "clap back," if you will. It happened to these kings at a Major League Baseball game. Oh yeah, add baseball stadiums to the list of "F*ck Joe Biden" sightings.
One woman, we'll call her "Karen," freaked out the dudes. She even called them racist. Yes, racist. Karen could have gotten upset over the vulgarity. Maybe the bros should have chanted "Let's Go, Brandon." Instead, she went right to RAAAAAAAAAACIST! Because she's a liberal Karen and what else would she call them?
Every so often, stereotypes are spot on. Only a white liberal would call white dudes making fun of a white president ... RAAAAAAAAACIST! It's almost a little too on the nose. All she needed was one of those pink crocheted pussy hats. Karen could have called them cis sexists as well.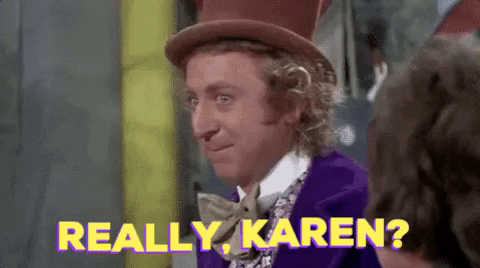 The best part is the dudebros doubling down. "Who gives a f*ck? F*ck Joe Biden. He f*cking sucks!" Karen can't argue with that logic. She can only call them racist. Which, again, LITERALLY EVERYONE INVOLVED IS WHITE! I'd tell the crazy lady to calm down with a beer. But even the "beer companies" are getting in on #FJB shenanigans.
CNN has done a great job ignoring this story. Unlike, when one dude filmed himself booing Trump at a UFC show. But if they can find out Karen's contact information, I'm sure she'll be on with Brian Stelter. They can split a cheesecake.
Get your content free from Big Tech's filter. Bookmark this website and sign up for our newsletter!
When ASIANS strike back! TikTok Dad Goes CRAZY Over MASK! | Louder With Crowderyoutu.be