Each day we overwhelm your brains with the content you've come to love from the Louder with Crowder Dot Com website.
But Facebook is...you know, Facebook. Their algorithm hides our ranting and raving as best it can. The best way to stick it to Zuckerface?
Sign up for the LWC News Blast! Get your favorite right-wing commentary delivered directly to your inbox!
Watch: Joe Biden's Old Man Gibberish About Running for Reelection Implies... Maybe Not?
December 23, 2021
Joe Biden, if he runs for reelection in 2024, is going to be old AF. He was old AF when ran in 2020, with his alleged dementia and all that. In 2024, that will be after four years of the presidency and nature turning his brain into porridge. Just saying, if I were the people who control Joe Biden, I might be updating my resume. Unless Weekend-at-Berniesing him is part of the plan.
For now, Biden is left trying to answer the question of whether or not he is going to run again. On ABC News, he didn't say yes or no. It was more of a "well, kinda."
On the prospect of running for a second term, Biden says that'll be determined by fate and his health: "Fate has intervened in my life many, many times. If I'm in the health I'm in now, if I'm in good health then, in fact, I would run again." pic.twitter.com/BJHmShIbFq
— Nicholas Fondacaro (@NickFondacaro) December 23, 2021
"I'm a great respecter of fate. Fate has intervened in my life many, many times. If I'm in the health I'm in now..."
NARRATOR: He is not in good health now.
"... if I'm in good health...
NARRATOR: Which you are not. Like, at all.
... then in fact I would run again."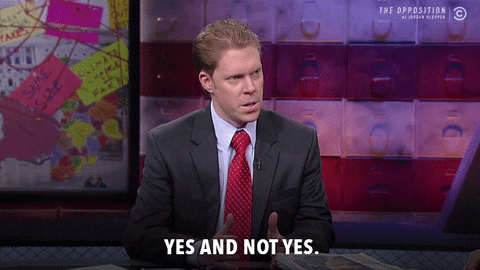 In the humble opinion of a guy who likes to have fun at the most popular president ever's expense? I think there are definitely conversations about him NOT running. Both Kamala Harris and Pete Buttigieg are getting their affairs in order to run. You can tell, because of all the anti-Kamala Harris and anti-Pete Buttigieg news that Democrat insiders are leaking to the press. Harris and Buttigieg can at least campaign on telling Americans if you don't vote for them, you're a racist, sexist, homophobe. All Biden has is "sure, everything is worse now than it was when the last guy was president, but he's still a jerk-face."
All I'm saying is that there has been a lot of coughing and a lot of old man outbursts from Biden lately. It would not surprise me if there's an "after discussing with my family during the holidays" speech saved on a thumb drive somewhere.
Get your content free from Big Tech's filter. Bookmark this website and sign up for our newsletter!