Each day we overwhelm your brains with the content you've come to love from the Louder with Crowder Dot Com website.
But Facebook is...you know, Facebook. Their algorithm hides our ranting and raving as best it can. The best way to stick it to Zuckerface?
Sign up for the LWC News Blast! Get your favorite right-wing commentary delivered directly to your inbox!
Jen Psaki Bombs: Calls on Spotify, Big Tech to Censor Joe Rogan Even Harder
February 02, 2022
You knew it was coming. If Jen Psaki wasn't going to be asked about the Joe Rogan/Spotify kerfuffle, she was going to make sure she was asked about it. The White House Soulesspokesginger and her pudding-headed boss have been calling on Big Tech to censor opposing viewpoints they deem "misinformation" since last year. When Big Tech complies, the White House screams "MORE! BETTER!". It's not new to hear these demands coming from the White House podium to censor dissent. But it's still every bit terrifying.
Here's the exchange from Tuesday's press briefing, followed by a dramatic interpretation.
Jen Psaki urges Spotify to take further action on Joe Rogan: 'More can be done'youtu.be
REPORTER: So, Spotify is going to put a disclaimer before Joe Rogan's podcast that says he isn't a doctor, and provide a link to all the COVID information that the CDC is allowing us to know this week. Is that good enough?
PSAKI: Not even close. If Joe Rogan says anything we've decided is misinformation and still has a platform, it is the position of this White House that he should not have a platform.
REPORTER: What specific "misinformation" from Joe Rogan do you have a problem with?
PSAKI: Everything he says that isn't the word "mask" or "vaccine."
REPORTER: What about when he says people may want to lose weight and be healthy?
PSAKI: The White House opposes that so, so hard.
REPORTER: What about if Joe Rogan expresses the opinion that it is wrong for five-year-olds to be forced to eat lunch outside in the rain and cold?
PSAKI: My five-year-old says she loves it.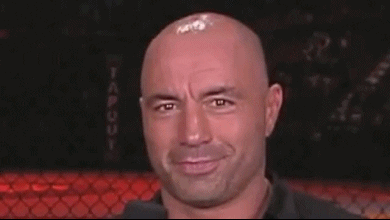 The worse thing about all this is... we see what they're doing. We see leftists trying to turn Joe Rogan into the new boogeyman. We see an ALARMING amount of people in the media who are now vocal in their opposition to free speech. The White House isn't upset with Joe Rogan's "misinformation." They're upset he's popular and disagrees with them about a lot of things. That's more dangerous to the leftist agenda than Rogan interviewing a doctor or two.
We see what they're doing. They know we see what they're doing. They keep doing it, and they aren't afraid to stand in THE WHITE HOUSE and call for censoring opposing viewpoints. That's more terrifying than someone deciding not to stick a needle in their arm.
The Louder with Crowder Dot Com Website is on Instagram now!Follow us at @lwcnewswire and tell a friend!
Colbert Attempts to Dunk on Rogan With Terrible Sketch: Fails HARD | Louder With Crowderyoutu.be