Team DeSantis drops laugh-out-loud Bud Light parody mocking "real men of genius" in women's sports
April 18, 2023
Team DeSantis has entered the game. After translager Bud Light made the unfortunate decision to prioritize a temporary ESG boost over their customers, there have been calls for boycotts. Cans are being spiked like footballs. Twelve packs are getting Swiss cheese'd up. Coors is making sure they monitor their low-level marketing staffers to prevent this from happening to them. It's chaos out on these streets.
For their contribution to the culture war, Team DeSantis has offered up a parody of a classic Bud Light commercial saluting the real men of genius...who have rigged the system in women's sports.
In Florida, girls play girls' sports and boys play boys' sports.

That's why we are replacing Bud Light with FREEDOM HEAVY 🍻🐊 … made 100% woke-free. pic.twitter.com/UD39AQnAui
— DeSantis War Room 🐊 (@DeSantisWarRoom) April 18, 2023
Today, we recognize the men who have hacked the system. Once mediocre in the men's division, now the cream of the crop in the women's. You couldn't cut it with the boys, so you pished women off the podium. Because without you, sports would be fair. Without you, women's sports would be for...well, women.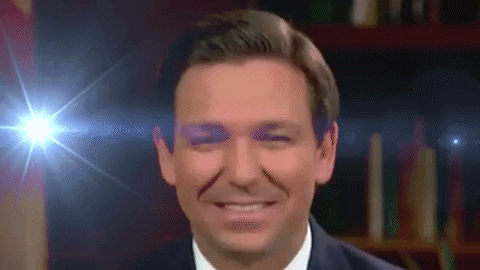 All of our favorites are there. Smasher of orbital bones Fallon Fox. Laurel Hubbard, who shattered the glass ceiling becoming the first transwoman to choke in the Olympics. NCAA swimming champion Lia Thomas who while now a woman was born male, went through puberty as a male, still has male genitalia, and still dates women just like those who were born male and went through puberty as males with male genitalia have been traditionally known to do.
I can tell some of you youngbloods are confused right now. This is what Bud Light ads used to be:
Real Men of Genius - Mr. (College) Fantasy Football Manager Guyyoutu.be
Of course, the GOP establishment is starting to cave on the boycott. Governor Ron DeSantis, instead, is doubling down and explaining why the boycott matters.
The companies that do this, if they don't have any response, they're just going to keep doing it. ... We have the power as consumers to make our voices heard. And not on every company because sometimes conservative consumers aren't going to make a dent in some companies. [Bud Light] is one, if you don't have conservative beer drinkers, you're going to feel that.
EXCLUSIVE: Gov. DeSantis On Bud Light Boycott:

"Why would you want to drink Bud Light?

If we don't push back they're gonna keep doing it. If you don't have conservative beer drinkers, they're gonna feel that.

It's a righteous. Pushback is in order.

I'll never drink Bud again" pic.twitter.com/tIOI1W8c1J
— Benny Johnson (@bennyjohnson) April 17, 2023
Ron DeSantis is expected to be entering the GOP presidential race soon. Current candidate Donald Trump is leading in the polls as of this writing.
><><><><><><
Brodigan is Grand Poobah of this here website and when he isn't writing words about things enjoys day drinking, pro-wrestling, and country music. You can find him on the Twitter too.
Facebook doesn't want you reading this post or any others lately. Their algorithm hides our stories and shenanigans as best it can. The best way to stick it to Zuckerface? Bookmark LouderWithCrowder.com and check us out throughout the day! Also, follow us on Instagram and Twitter.