Anheuser-Busch issues another statement on Bud Light disaster, claims it was "just one can"
May 04, 2023
Anheuser-Busch is at it again with another excuse. The company is still trying to fix the disaster stemming from the brand ambassadorship given to TikTok ingénue and titface performer Dylan Mulvaney. As well as the Vice President of Marketing's comments insulting the beer's fan base.
That free beer A-B is sending out to distributors? It comes with a note. The St. Louis Post Dispatch reports the company claims in the letter it was only "one single can given to one social media influencer," that it "was not made for production or sale to the general public," and the can "is not a formal campaign or advertisement."
There was also some buck-passing, and it sounds like the former VP of marketing is on much more than a leave of absence as we expected.
"In reality, the Bud Light can posted by a social media influencer that sparked all the conversation was provided by an outside agency without Anheuser-Busch management awareness or approval,. Since that time, the lack of oversight and control over marketing decisions has been addressed and a new VP of Bud Light marketing has been announced."
So, we're supposed to believe Dylan Mulvaney bought a case of Bud Light himself, recorded a video promoting Bud Light's March Madness coverage, and second more produced a video in a bathtub on her own, and they did this WITHOUT the endorsement of Anheuser-Busch.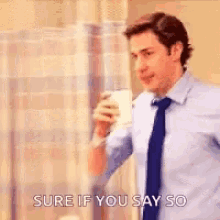 Former A-B Chief Creative Officer Robert Lachky doesn't think the company realizes HOW big they screwed up.
The minute you step into the political or religious spectrum, when you know your target audience is going to have a real issue with this, you know you've alienated at least half of your target audience. In the end, people don't like getting preached to, especially when it comes to drinking beer.
Other companies are starting to get the message too. We see you, Coca-Cola.
A-B should try three simple words to their customers: "we" and "f*cked" and "up."
><><><><><><
Brodigan is Grand Poobah of this here website and when he isn't writing words about things enjoys day drinking, pro-wrestling, and country music. You can find him on the Twitter too.
Facebook doesn't want you reading this post or any others lately. Their algorithm hides our stories and shenanigans as best it can. The best way to stick it to Zuckerface? Bookmark LouderWithCrowder.com and check us out throughout the day! Also, follow us on Instagram and Twitter.