Rumor surfaces that the shop teacher with those enormous fake knockers might be an elaborate political stunt
September 25, 2022
The internet has become enamored with Kayla Lemieux, the beautiful and brave shop teacher now living his best wife as a woman. Not only as a woman but as a woman who is comically endowed with ginormous brestistists. She/he/they have been seen strutting around the public pool and attempting to show confused teenage boys how to operate a circular saw. The school district proclaims it's about tolerance. But according to a rumor floating around the internet, it could all be an elaborate political point made by a based dude.
First things first...
Heavy emphasis on RUMOR. I am presenting this RUMOR as it is working its way around Twitter and allowing you, the loyal Louder with Crowder Dot Com website readers, to draw your own conclusions while I go drink beer and watch football.
The anonymous poster said the teacher was almost fired for "toxic masculinity" and would tell his shop class of impressional young boys how silly the idea of things like gender-neutral bathrooms are. That wasn't redpilling enough, so "Kayla" was born.
He's now upping the ante to exploit the very clown world the school and society itself has created. His long game is most likely to get fired, then sue for discrimination.
IF TRUE, it falls under what I had said when -- in hoping that I was falling for a hoax -- I compared Kayla to the South Park episode The Death Camp of Tolerance. Mr. Garrison wanted to get himself fired so he could sue for discrimination, so he shoved a hampster up Mr. Slave's ass in front of his classroom. The students thought it was wrong, so their woke parents sent them to tolerance camp while praising Mr. Garrison's lifestyle choice.
The episode ends with Garrison screaming at the parents "this kind of behavior should not be acceptable from a teacher" and about being "tolerant, but not stupid."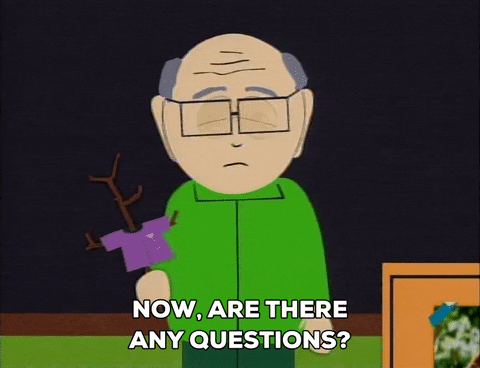 But again, this is just a rumor. And like most rumors such as this, it gets spread because the rumor is less offensive than the reality. If "Kayla Lemieux" is not an elaborate political stunt, it would mean there are adults living in North America who legit expect people to find this acceptable.
Facebook doesn't want you reading this post or any others lately. Their algorithm hides our stories and shenanigans as best it can. The best way to stick it to Zuckerface? Bookmark LouderWithCrowder.com and check us out throughout the day!
Also follow us on Instagram, Twitter and Gettr!
The Problem with Living In a Godless Society... | Louder With Crowderyoutu.be