Each day we overwhelm your brains with the content you've come to love from the Louder with Crowder Dot Com website.
But Facebook is...you know, Facebook. Their algorithm hides our ranting and raving as best it can. The best way to stick it to Zuckerface?
Sign up for the LWC News Blast! Get your favorite right-wing commentary delivered directly to your inbox!
Education
Shop teacher goes viral for enormous breasts, turns out to be a dude identifying as a woman and wearing falsies
September 16, 2022
There is an episode of South Park where Mr. Garrison went over the top, inappropriately sexual in order to get fired and school the school, only to discover while the kids were creeped out, the parents were so tolerant they celebrated everything he did. That episode was playing in the back of my mind as I saw this viral video of a shop teacher with comically enormous fake boobs. Dangerously enormous, too, when they're bouncing around power tools
I want this to be a hoax I'm falling for. I really do, and I will never be happier to have to edit a post if it is.
As we discover from Reduxx, this is a high school in Ontario, Canada, and the teacher's name is manufacturing technology instructor Kayla Lemieux. Kayla started identifying as a woman last year. I don't know who Kayla used to be, which is fine because we all know deadnaming someone is the worst thing anyone can ever do to anyone ever.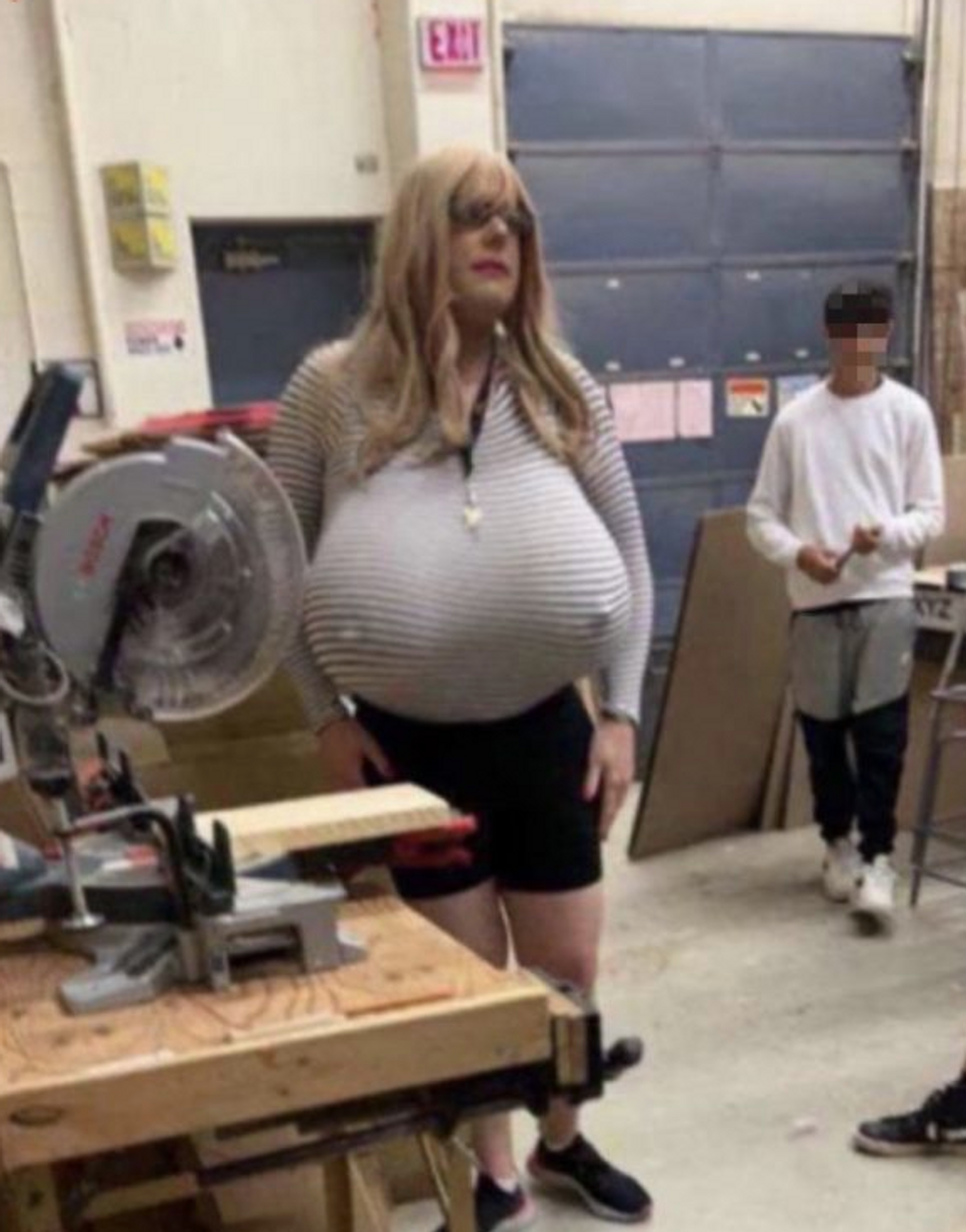 Why, yes. Those ARE fake nipples at the tips of fake breasts protruding through the teacher's sweater as he teaches high school students. He chose the fake titties with the fake rock-hard nipples.
The students are not amused. One commented on Twitter, "The kids here most definitely don't think it's normal… but realistically we can't say anything. Last year, the teacher was a man. I don't think the school can fire him." Which brings me back to that episode of South Park I keep thinking about.
At the end of the day, thank God you live with American parents! In America, you are only expected to ignore teachers who indoctrinate students into their worldview via sex-based and gender-based education or straight-up Marxism. And then be treated as a domestic terrorist if you raise your voice at school board meetings.
In Canada, you are expected to do all that AND have to tolerate your kids' teacher living their best life, hard fake nipples and all, in front of school children. You'd think there could be common ground and say the teacher couldn't go any bigger than a fake D-cup, but that's not the world we live in anymore.
The Louder with Crowder Dot Com Website is on Instagram now!Follow us at @lwcnewswire and tell a friend!
I Found Common Ground with a Young Black Socialist | Louder With Crowderyoutu.be