Each day we overwhelm your brains with the content you've come to love from the Louder with Crowder Dot Com website.
But Facebook is...you know, Facebook. Their algorithm hides our ranting and raving as best it can. The best way to stick it to Zuckerface?
Sign up for the LWC News Blast! Get your favorite right-wing commentary delivered directly to your inbox!
Politics
Activist teacher displays 'defund the police' sign after student's brother was killed in the line of duty
August 20, 2022
Indiana Police Officer Noah Shahnavaz was shot and killed at a traffic stop in July. It's a tragedy for the community. It caused unimaginable pain for the family. So, you can imagine Noah's young brother's shock on the first day of school at Fishers High School when he went to his creative writing class and saw a "defund the police" sign hanging in his teacher's classroom.
The Chalkboard Review shared the photo: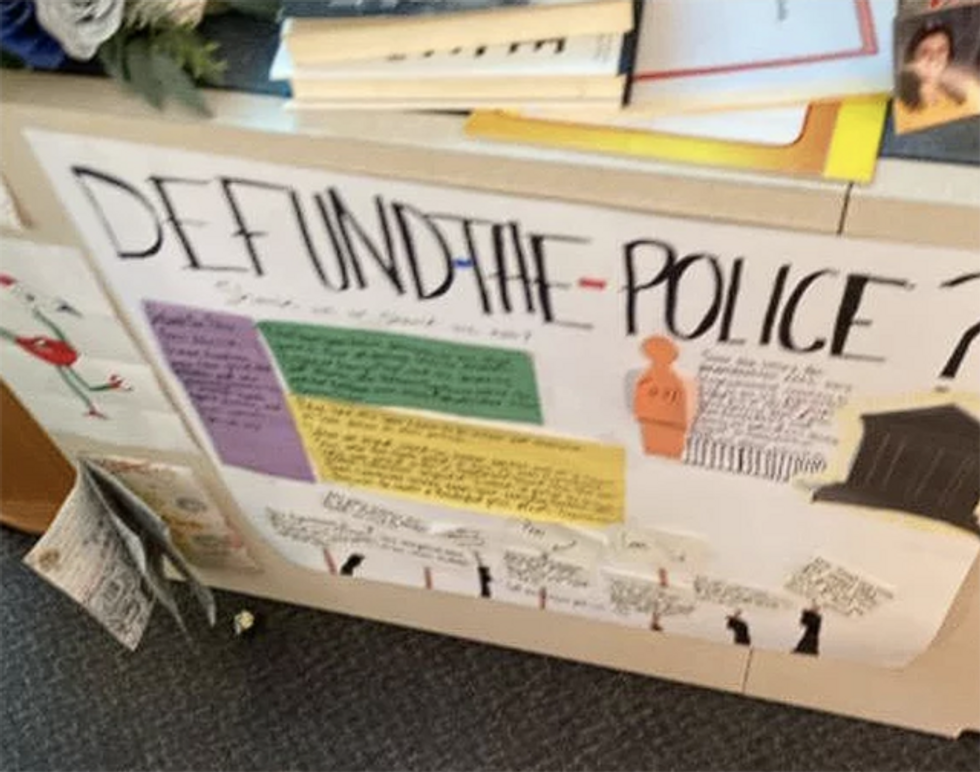 Marina Gibson, the activist teacher whose classroom it was, says the poster was up from last year and she forgot it was there. Yes, when the Democratic Party was still campaigning on defunding the police before they saw the poll numbers, this teacher had this project displayed in her public school classroom.
The teacher also allegedly, according to a student, has a problem with the police. When one student was being investigated for drug use, Gibson--the teacher at the school--reportedly "yelled 'George Floyd' and 'police brutality' as the officers were attempting to detain the suspect."
Gibson is also the sponsor for the school's "mental-health club." It is unclear how, after a tragedy that rocked an entire community, this teacher forgot about this one particular sign that caused a student so much mental health distress.
The teacher maintains it was an accident, a microaggression if you will. Microaggressions are something progressives--like this activist teacher seems to be--use for when you don't mean to offend someone but they want to punish you anyway for political or social justice reasons. The school has a no-microaggressions policy:
"Issues regarding microaggressions may be addressed through restorative conversations led by school administration, teachers, and/or guidance counselors rather than punitive measures."
What's unclear is if Marina Gibson will be punished for her microaggression. Or if she even feels bad about it.
The Louder with Crowder Dot Com Website is on Instagram now!Follow us at @lwcnewswire and tell a friend!
WHITE TEACHERS Are On the Chopping Block! | Louder With Crowderyoutu.be