'Let's check with Senator Schumer before we run it': New York Times allegedly spiked Sen. Tim Scott OpEd
August 12, 2022
Right away, to those of you who clicked this link even though it said "Sen. Tim Scott" in the title, I wasn't impressed with his statement about the Mar-a-Lago raid, either. This is less about him as much as it is a glaring (alleged) example of how much corporate media hates us and is nothing more than the PR arm of the Democratic Party. Scott was on Bari Weiss' podcast, where Weiss told a story of when she was at the New York Times and they wouldn't run a Scott Op-Ed.
A quick jaunt back in time. It's 2020. Sen. Tim Scott had bipartisan police reform legislation that was set to get passed. Chuck Schumer filibustered it. This was when Democrats wanted to defund the police, and Schumer wanted to be able to attack Republicans during the election instead of solving problems. Yes, he used the same filibuster he now says is racist. Yes, Chuck Schumer is white. Yes, Tim Scott is the opposite. Also, for people who were concerned about social justice, neither he nor Nancy Pelosi could remember George Floyd's name.
Sen. Scott submitted an Op-Ed giving his side of the story to the New York Times. Here's where Bari Weiss comes in because she was at the Times when it happened. Weiss relayed a conversation that took place, (allegedly) discussing if they should run the Op-Ed or not.
JUNIOR NYT COLLEAGUE: I think we should run Sen. Scott's piece.
SENIOR NYT COLLEAGUE: Do you think the Republicans really care about minority rights?
This is Tim Scott:
JUNIOR NYT COLLEAGUE: I think Tim Scott cares about minority rights.
Again, this is Tim Scott.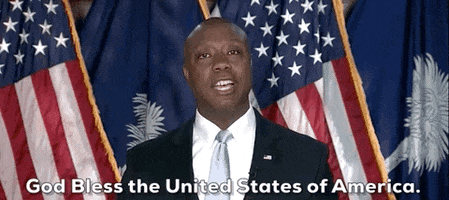 SENIOR NYT COLLEAGUE: Let's check with Senator Schumer before we run it.
A Republican senator wanted to submit an Op-Ed about a vital social issue because he felt that outlet's audience (the New York Times) was only getting a biased, less-than-honest side of the story. That outlet went to check with his Democratic opponent to see if it was okay first.
That is corporate media in all its glory. Next time there is a poll showing Americans view the media as the lowest form of life and NYT reporters ring their hands crying, "But why," tell them to check with Chuck Schumer.
The Louder with Crowder Dot Com Website is on Instagram now!Follow us at @lwcnewswire and tell a friend!
I ROASTED Congressman Eric Swalwell... | Louder With Crowderyoutu.be