Each day we overwhelm your brains with the content you've come to love from the Louder with Crowder Dot Com website.
But Facebook is...you know, Facebook. Their algorithm hides our ranting and raving as best it can. The best way to stick it to Zuckerface?
Sign up for the LWC News Blast! Get your favorite right-wing commentary delivered directly to your inbox!
International
Trans teacher with ginormous fake breasts sneaks into children's dance recital, asked to leave by parents
December 18, 2022
We've been having fun with the Kayla Lemieux story. There isn't a better example of the absurd things we are expected to tolerate in the name of tolerance than a female teacher who used to be a man, decided he's a woman, and parading around high school students with size Z chesticles and equally fake rock-hard nipples. But the rumors that s/he is a massive troll job are becoming more believable.
The latest story from the Daily Mail is that Kayla snuck into a children's dance recital inconspicuously. This is her being inconspicuous.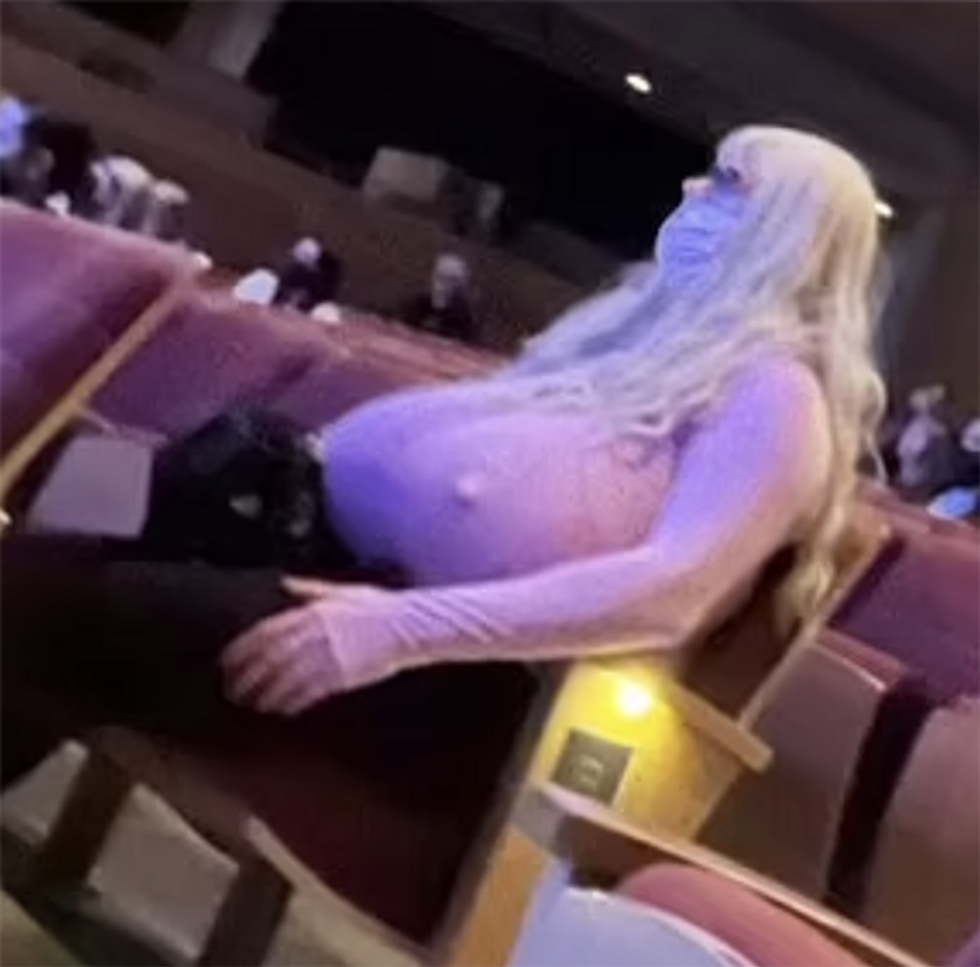 Lemieux sat in the front row watching the children dancing on stage. Eventually, she was confronted by concerned parents and asked to leave as she did not have a child involved in the show.
It's not that she snuck into the dance recital. It's not that parents confronted Kayla and told them to leave. It's that the incident took place in 2021... and we're only hearing about it now. The initial video that turned Kayla into the social media content ingénue her beautiful and brave self has become didn't go viral until September of 2022. And then each story since has gotten more ridiculous than the one before.
Last fall, the anon boards started to report the teacher -- when identifying as a male -- was almost fired for "toxic masculinity" and would tell his shop class of impressional young boys how silly the idea of things like gender-neutral bathrooms is. That wasn't redpilling enough, so "Kayla" was born.
He's now upping the ante to exploit the very clown world the school and society itself has created. His long game is most likely to get fired, then sue for discrimination.
The fact that America didn't learn of this Canadian import for a year is questionable. We might be a far superior country, but we all share the same internet. If Kayla is a based dude playing the long con, hats off to him(?). Though the only thing left would be for Kayla to pose in a bikini.
If not, then the Canadian public school system manages to be worse than what we have in America. And you should all be ashamed of yourself.
Editor's Note
LwC is on Substack now! Each day we overwhelm your brains with the content you've come to love from the Louder with Crowder Dot Com website.. but algorithms hide our ranting and raving as best they can. The best way to stick it to Big Tech? Subscribe to For the Content!
I'm Leaving The Blaze... | Louder With Crowderyoutu.be