Each day we overwhelm your brains with the content you've come to love from the Louder with Crowder Dot Com website.
But Facebook is...you know, Facebook. Their algorithm hides our ranting and raving as best it can. The best way to stick it to Zuckerface?
Sign up for the LWC News Blast! Get your favorite right-wing commentary delivered directly to your inbox!
joe biden
Rapper Drops Anti-Biden 'Let's Go Brandon' Track, Hits #1 on iTunes Hip Hop Charts
October 18, 2021
Mea culpa. I know you depend on me to be your LwC Senior F*ck Joe Biden Correspondent. I dropped the ball. It appears an anti-Biden track titled "Let's Go Brandon" dropped a week ago, and I'm just finding out about it now. Believe me when I say you can't be more disappointed in me than I am in myself.
The artist is Loza Alexander. He sampled the NBC Sports reporter who first said "Let's Go Brandon," found a dope beat, and threw some lyrics together. I'm not even sure if he's political as much as he just has a healthy dislike for either Biden or Brandon. The result is this joint that has hit #1 on iTunes Hip-Hop Charts! It's no Top Dolla' busting on the Young Bucks shoe collection. But Loza's definitely up there.
LETS GO BRANDON - Theme Song - Loza Alexander - (OFFICIAL MUSIC VIDEO)youtu.be
But we know what they sayin', though
You can hear thе chant in every post
Don't nobody want this commie 'causе we not in China
Everybody hated Trump, and now they out to catch a body
That's what they get for treatin' us like we in Squid Game
Dream light, mandate like he's insane
These times, people wakin' up to everything
Go Brandon, but we all know what the sayin' mean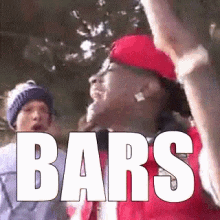 To recap how we got here. College football bros started chanting "F*ck Joe Biden" at games. Because it's fun, and just because Joe Biden sucks at life. The chant took off and could be heard anytime patriots gathered at an event. They were chanting it when Brandan Brown won his NASCAR race, where a reporter "thought" they were chanting "Let's Go Brandon." That's where Brandon became a thing. People started chanting either "F*ck Joe Biden" OR "Let's Go Brandon" depending on age or propensity for profanity. But we all know what each other means.
Now FJB (or LGB) is blowing up the charts. God bless America!
Get your content free from Big Tech's filter. Bookmark this website and sign up for our newsletter!