Elon Musk launches operation to troll Trump into returning to Twitter the only way he knows how... with memes
November 21, 2022
You may have logged off this weekend, but Elon Musk never logs off. And over the weekend he brought back to Twitter someone who rarely logs off himself, edgelord-in-chief Donald J. Trump. The rub is Trump doesn't seem to want to return to the bird app. Yet.
To recap, Trump was permanently banned from Twitter for some reason in January of 2021. He started his own social media app, TruthSocial. Over a year later, Elon Musk bought Twitter. He polled the audience if he should bring Trump back. When the audience voted yes, Elon reinstated Trump to the dismay of haters and losers.
The rub is that as of Monday morning, Trump has yet to return to spending his days live-tweeting cable news and retweeting anyone who says nice things about him. Elon is trying his best to entice Trump's return the only way he knows how to... saucy memes.
Elon shared a meme implying that Twitter is a loose woman shaking her ass in front of Trump, who is praying that he will not be tempted by the ass being shaken in front of him. I'm more of a boob guy myself, but I can understand Trump's perceived dilemma.
In another meme that Elon deleted for some reason, it presupposes Twitter is a bottle of opioids and Trump is an addict who has gotten himself off the junk. But all it takes is just one taste.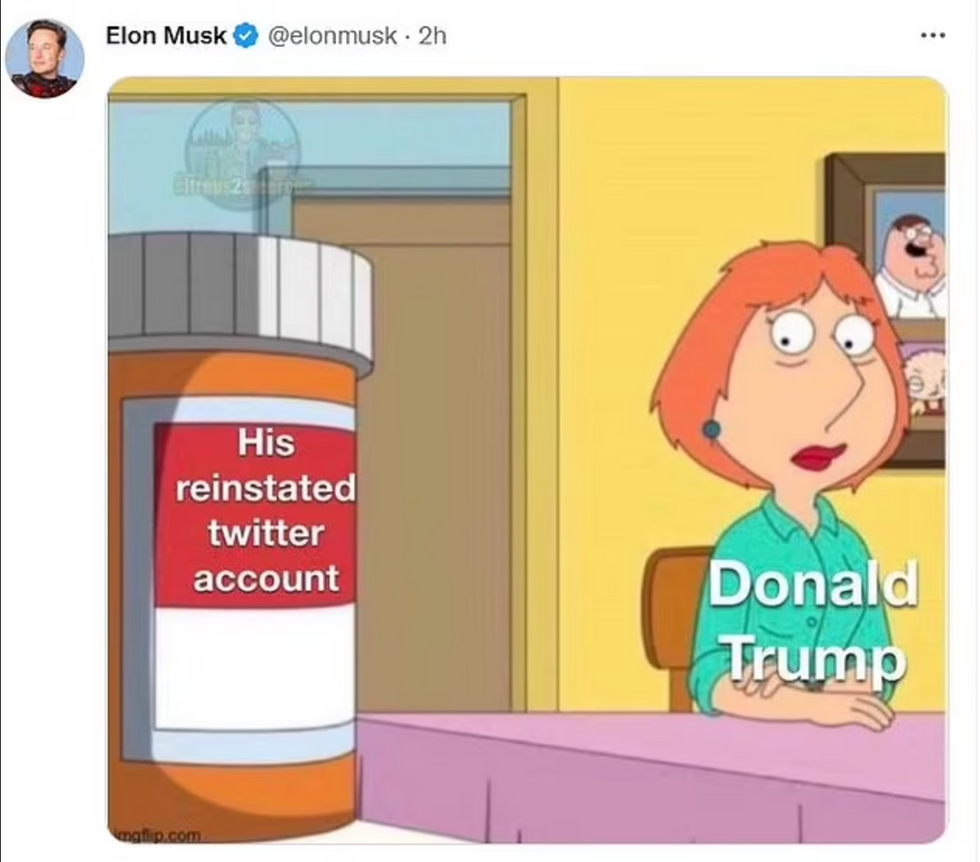 Donald Trump is standing his ground as of this writing. He does not see any reason to return Why would he? All the haters and losers who wan't Trump kept off Twitter keep tweeting screen captures of what Trump says on TruthSocial. They're doing all the work for him.
We'll see if Trump returns. I can understand him standing his ground. I can also see him coming back out of spite because "they" don't want him to. Whatever the former president's decision, Elon has a desktop folder full of memes and it's clear he is not afraid to use them.
Editor's Note
LwC is on Substack now! Each day we overwhelm your brains with the content you've come to love from the Louder with Crowder Dot Com website.. but algorithms hide our ranting and raving as best they can. The best way to stick it to Big Tech? Subscribe to For the Content!
Elon Musk NUKES Woke Twitter Employees! | Louder With Crowderyoutu.be