Elon Musk asks if a certain former president should be brought back to Twitter and the results are overwhelming
November 19, 2022
Elon Musk started reinstating banned and/or suspended Twitter accounts. At first, he was supposed to form a blue ribbon committee to determine what accounts to bring back. But with all the people he has been firing, he may have fired the person who was putting the committee together. On Friday, Elon started to take matters into his own hands.
The Babylon Bee is back. Jordan Peterson is back. Andrew Tate is back. And at the time, a decision wasn't made about former President Donald Trump. So Elon posted a poll.
As of 8:00 in the morning on Saturday, it was approaching TEN MILLION VOTERS. Overwhelmingly, Twitter users say to bring back Trump.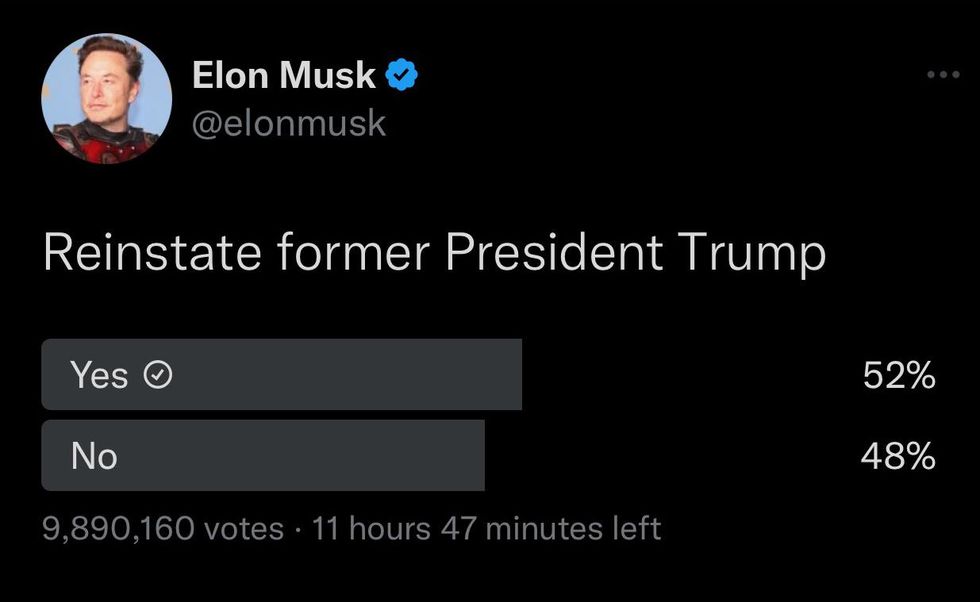 Of course, not everyone is on board with the idea.
But let's be honest with ourselves about these two.
Poll or no, Trump should just be brought back. And there are red flags conservatives should pay attention to about how serious Elon is about free speech.
I understand the reason for the poll. Elon wants the engagement and is all about that sweet, sweet content. We here at the Louder with Crowder Dot Com website are all about doing it for the content. But ten million responses are overwhelming. Critics will say the poll isn't scientific. Critics of those critics will ask how sciency their polls were during the midterms.
Trump is running for president. 52% say it's time. And all the Twitter employees who would be tasked to find mail-in votes have quit.
It's time, Elon. It's time.
Editor's Note
LwC is on Substack now! Each day we overwhelm your brains with the content you've come to love from the Louder with Crowder Dot Com website.. but algorithms hide our ranting and raving as best they can. The best way to stick it to Big Tech? Subscribe to For the Content!
BAN LIFTED: MONDAY, WE FIGHT LIKE HELL! | Louder with Crowderyoutu.be