YouTube Removed Our Lockdown Anniversary Video, Here's Our Response
March 18, 2021
On March 16, Louder with Crowder celebrated the one-year anniversary of "15 Days to Flatten the Curve." It was a year since "experts" told us we needed to shut down for fifteen days. Steven and the gang felt the anniversary called for a party. Sadly, the entire episode has been removed from YouTube. "But why" you ask. Let's skip down memory lane for that. Remember Dr. Erickson and Dr. Massihi? It's okay, they've also been removed from YouTube. They were the two California doctors who spoke out against COVID restrictions all the way back in April of 2020. Since they also questioned the tactics surrounding COVID, while actually speaking about their actual experiences in the medical field, their video was labeled misinformation and YouTube removed any uploads of it. That now includes OUR show for showing a clip of the forbidden video. The Big Tech company claimed the Louder with Crowder episode "LOCKDOWN ANNIVERSARY! Reviewing ALL the Lies and the Liars Who Told Them!" violated its guidelines and was removed from the platform. Though the episode can be seen in its entirety if you're a Mug Club subscriber.
YouTube claims our video broke its COVID-19 medical misinformation policy. This is going to be good, so grab a snack. Here's the part relevant to this issue of our video's banishment:
Denial that COVID-19 exists
Claims that people have not died or gotten sick from COVID-19
Claims that the virus no longer exists or that the pandemic is over
Claims that the symptoms, death rates, or contagiousness of COVID-19 are less severe or equally as severe as the common cold or seasonal flu
Claims that the symptoms of COVID-19 are never severe

There is also an "Educational, documentary, scientific or artistic content (EDSA)" policy that states YouTube may allow "content that violates the misinformation policies noted on this page if that content includes context that gives equal or greater weight to countervailing views from local health authorities or to medical or scientific consensus. We may also make exceptions if the purpose of the content is to condemn or dispute misinformation that violates our policies. This context must appear in the images or audio of the video itself. Providing it in the title or description is insufficient."
We added the bolded sentences for reasons which will become clear as we skip down the trail of insanity.
Let's look at the offending clip in question, shall we? For those of you who are Mug Club members, we're listing the time stamps so you can play along. Never say we don't love our audience.
24:20 – We begin with Steven stating the WHO position that COVID's death rate is 3.4% and exceeds that of the flu. This is what the screen capture looks like. We'd add video but... can't.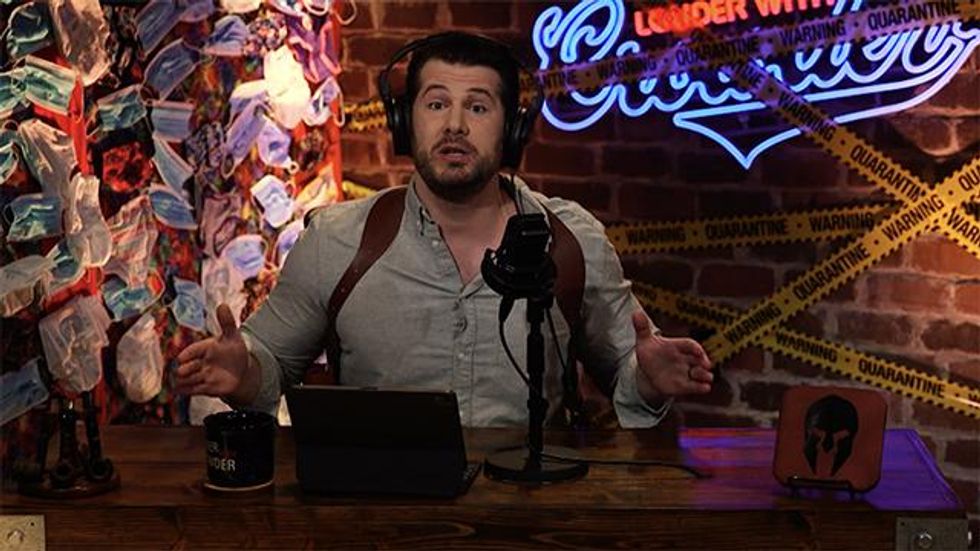 24:24 – There is a clip showing a news broadcast reporting that the WHO considers the mortality rate of COVID to be 3.4%: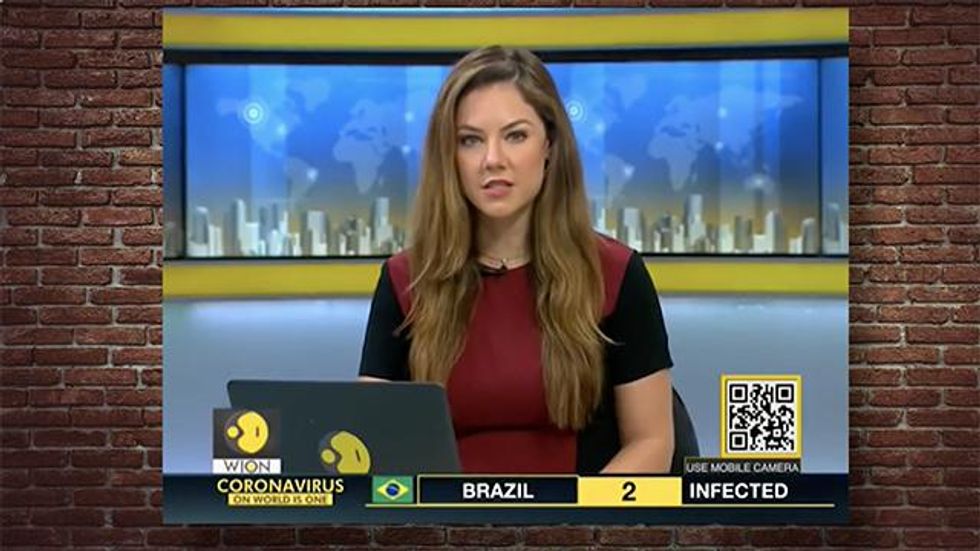 24:30 – There is a clip showing another news broadcast reporting that the WHO considers the mortality rate of COVID to be 3.4%: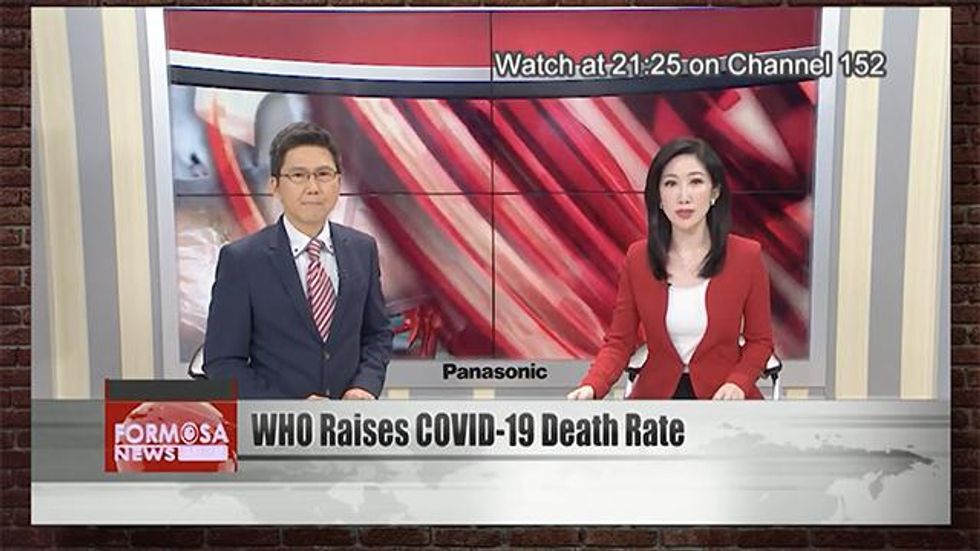 24:39 – There is a clip showing a Bloomberg News report that the WHO considers the mortality rate of COVID to be 3.4% and "much more lethal" than the flu: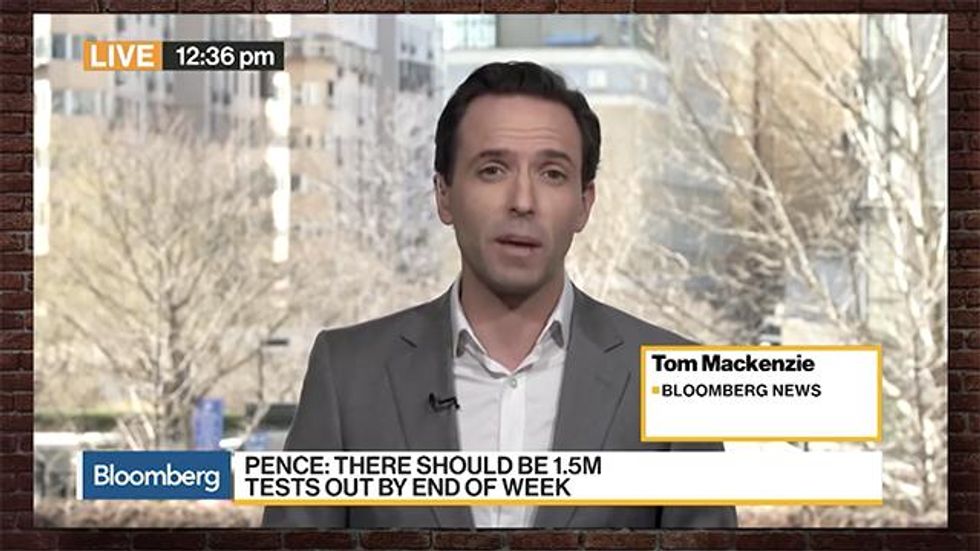 Are you sensing a pattern here? Good, but there's more.
24:47 – There is a clip showing WHO Director General Dr. Ghebreyesus presenting at a WHO press conference stating that the mortality rate is 3.4% for COVID and alleging that the seasonal flu kills less than 1%: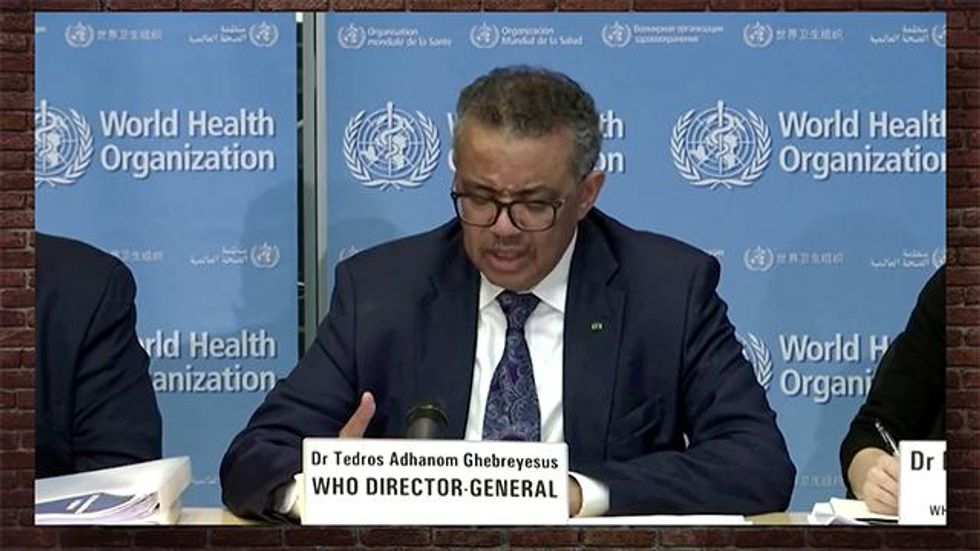 25:06 – There is a clip from Fox News, where the interviewing anchor states that the WHO has reported the COVID mortality rate as being 3.4%, then asking President Trump's opinion on that, and the president disputes the figure: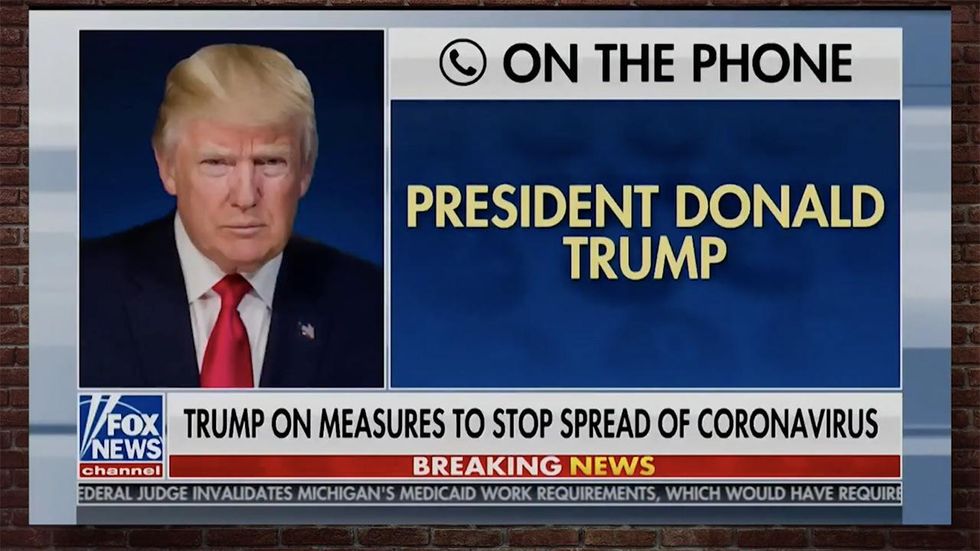 That's SIX "countervailing views." Steven, the WHO, and four news agencies. It was only after that context was provided that the show went on to provide counter-evidence from COVID tracking data websites that use the CDC and Johns Hopkins as their data sources.
25:28 – We presented a Worldometers overlay showing a 1.8% COVID mortality rate, on screen for less than 3 seconds, which uses CDC and other governmental agency data regularly relied on by the New York Times and other news organizations.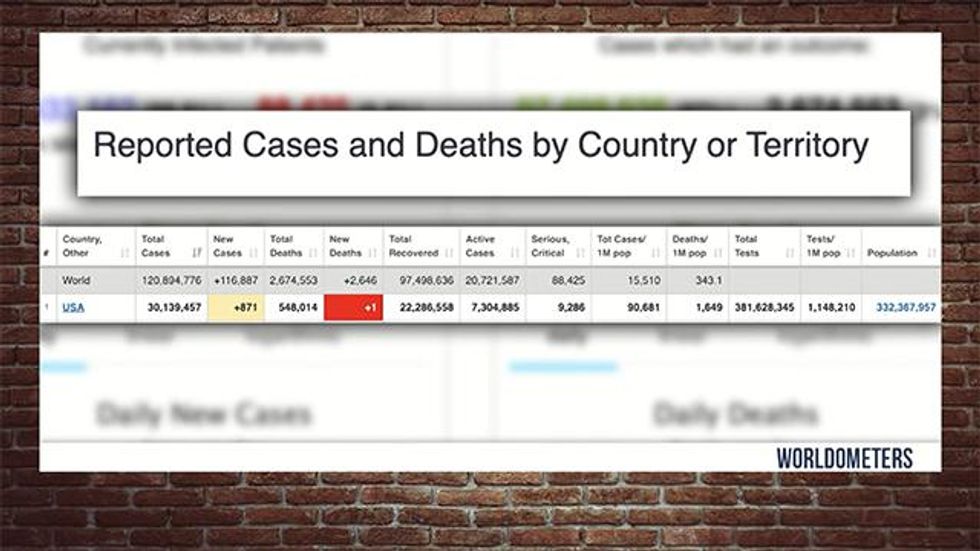 25:49 – Next, there was a COVIDUSA.net overlay showing a 0.162% COVID mortality rate, on screen for less than 1 second, which is sourced from the CDC/Johns Hopkins.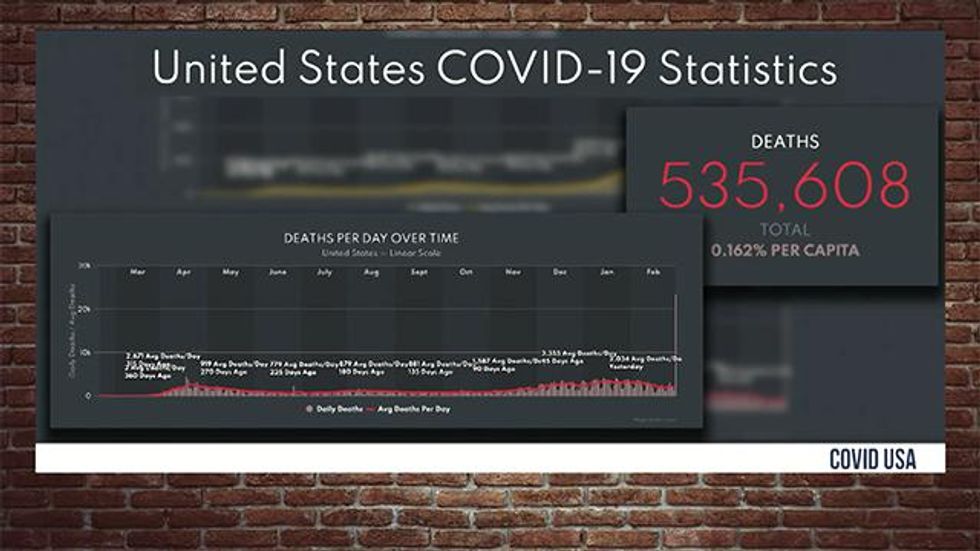 25:56 – Co-host Gerald Morgan says the WHO was correct that the COVID mortality rate was at or greater than the flu rate for those over 40, but disputes that COVID mortality rate is greater than the flu for those under 40, particularly infants. Here's the face Gerald makes during the video.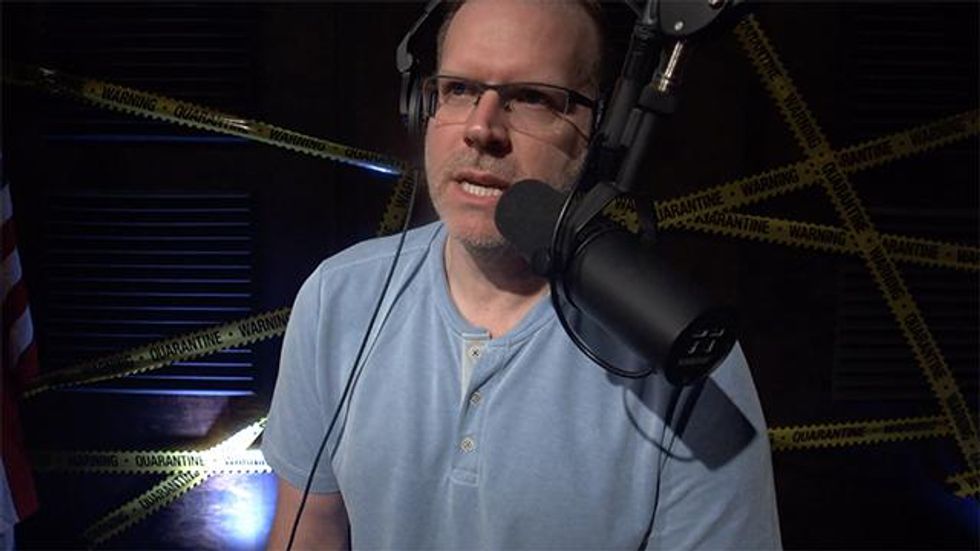 26:39 – Steven introduced the Erickson/Massihi video as being banned from YouTube and Facebook for making statements counter to the WHO narrative: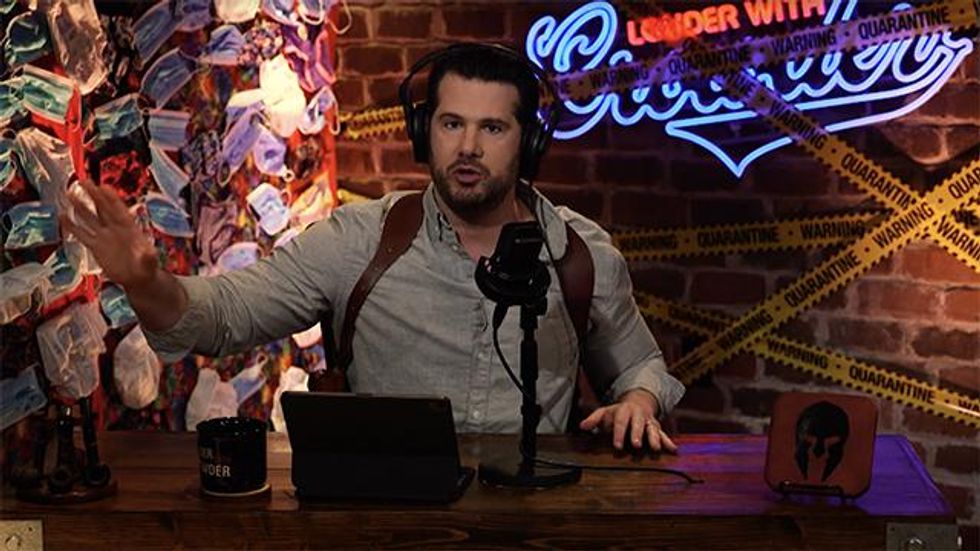 27:36 – At the conclusion of the Erickson/Massihi clip (which only gives 1-2 sentences at all about mortality rates of COVID vs. the flu), Steven again reiterates that this video was banned in 2020 as being "misinformation" despite the statements then matching data seen today about those mortality rates.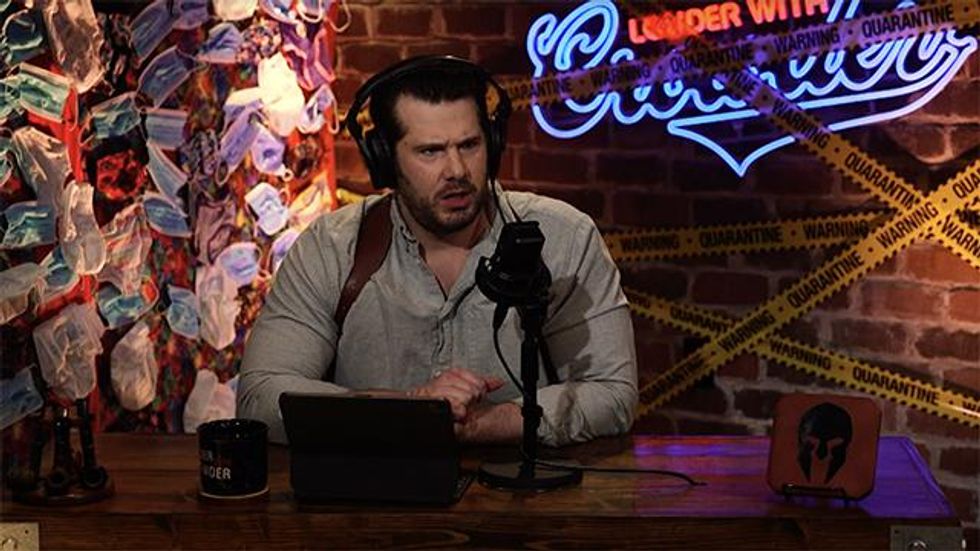 Still with us? Great.
Attorney Bill Richmond sent YouTube a detailed email with all this information contending:
Context was abundant,
Countervailing views were thoroughly mentioned by Steven,
The countervailing views handily satisfy the EDSA exception.
Did YouTube review the whole episode to see that Louder with Crowder had presented the information it presented? YouTube claims the show was reviewed in its entirety. Our contention is that doesn't seem to be the case. This was YouTube's response: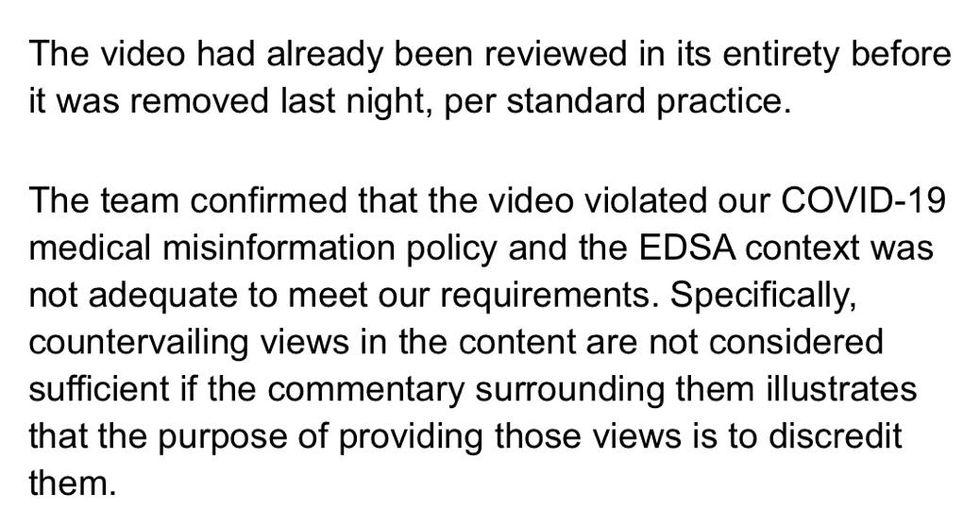 The video had already been reviewed in its entirety before it was removed last night, per standard practice.
The team confirmed that the video violated our COVID-19 medical misinformation policy and the EDSA context was not adequate to meet our requirements. Specifically, countervailing views in the content are not considered sufficient if the commentary surrounding them illustrates that the purpose of providing those views is to discredit them.
Basically, even though we proved that we were well within YouTube's guidelines and backed up that assertion with links, timecodes, and verified data, YouTube insists that we broke its guidelines anyway. Why? Because the commentary "surrounding them" didn't discredit them. It seems like for YouTube, there's only one conclusion one is allowed to draw when it comes to COVID-19 policies. And any other conclusion drawn is to be stricken from existence.
Riddle me this: does the above response from YouTube look like a response from a publisher? Or a platform? Think about it.
Then think about this for a second. Go back through this article and replace "COVID-19" with global warming, gender theory, abortion. Just think of it as a mental exercise to see how this slope gets slicker by the day. Should YouTube be allowed to exercise this kind of power over public discourse like this?
The answer here is a simple one. YouTube should reinstate the video. Failure to do so violates YouTube's own stated policies and YouTube's enforcement actions in similar circumstances. If YouTube refuses to reinstate the video, other action will need to be taken.