Each day we overwhelm your brains with the content you've come to love from the Louder with Crowder Dot Com website.
But Facebook is...you know, Facebook. Their algorithm hides our ranting and raving as best it can. The best way to stick it to Zuckerface?
Sign up for the LWC News Blast! Get your favorite right-wing commentary delivered directly to your inbox!
#YouTube2020ElectionBlacklist: Alarming Update on Election Meddling
October 03, 2019
If you need to get yourselves caught up, check out #YouTube2020ElectionBlacklist: Big Tech Maybe Trying to Swing an Election and We Need Your Help and watch this video if you haven't already:
A lot of people ask to see the evidence of such claims. Which we think is rather fair. A lot of you, and I mean A LOT of you (note the all caps, you know I'm serious) have sent screen captures of what's going on with the YouTubes. Bear in mind, all of these screen captures were accurate at the time of their snapping.
The problem of searching "Steven Crowder" or "Steven Crowder + Video Title" or "Steven Crowder + term readily associated with Steven [like 'change my mind'] seemed limited only to the United States.
Now we all admit we're not SEO engineers or experts of any kind. But it struck us as rather odd search results yielded more accurately and more favorably for us in places like Argentina.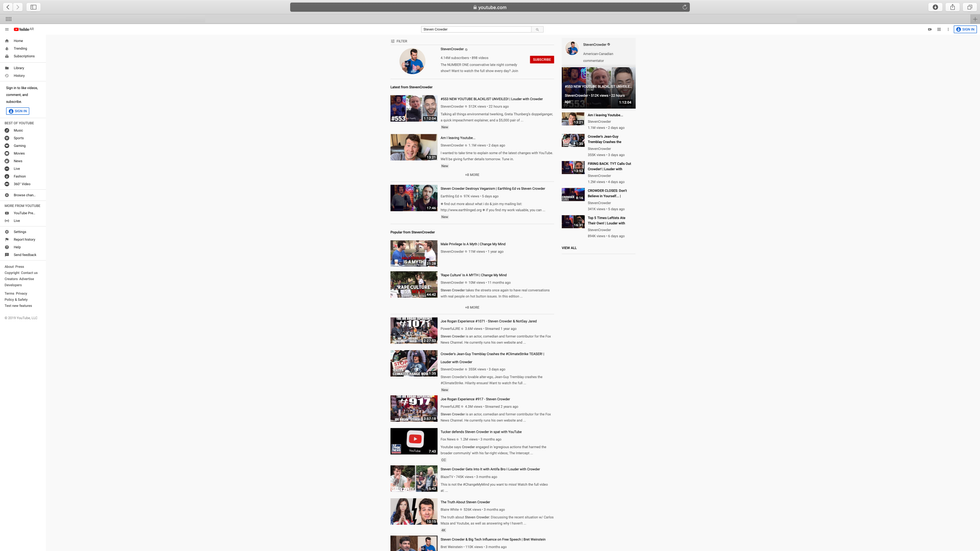 VPN Argentina "Steven Crowder" general search
"But Courtney, why is this so big?"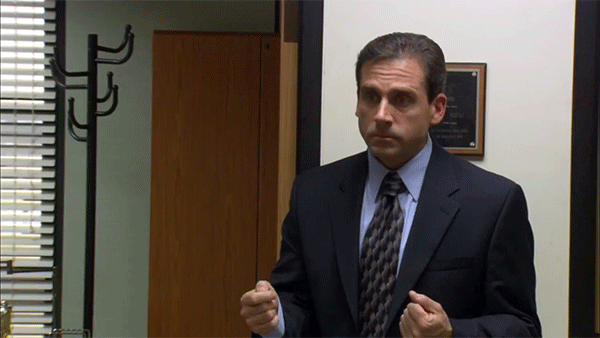 We had to zoom way out so you could easily see the list of results since the results and where "Steven Crowder" fits into them is rather the whole point.
Now here's "Steven Crowder Change my Mind" from Argentina: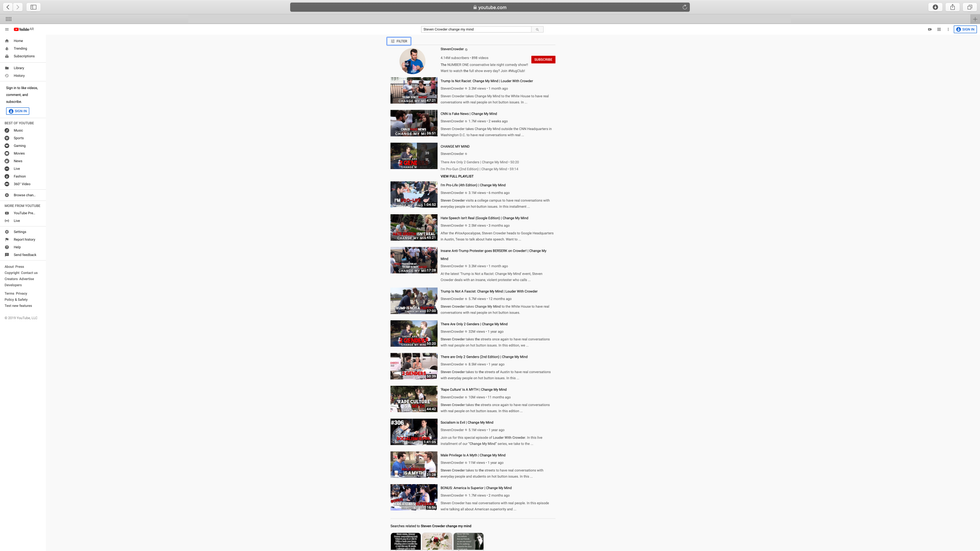 VPN Argentina "Steven Crowder Change my Mind" general search
So in Argentina, land of beef and Nazis (name that movie), our nombre y videos pop up muy rapido at el toppo de listo. And Beto thought he hand the corner on the Spanglish marketo. Move over, hombre.
Now let's compare and contrast to how those same searches do in El Estados Unidos, where it really matters.
As of September 30th, here are the results for "Steven Crowder Change my Mind."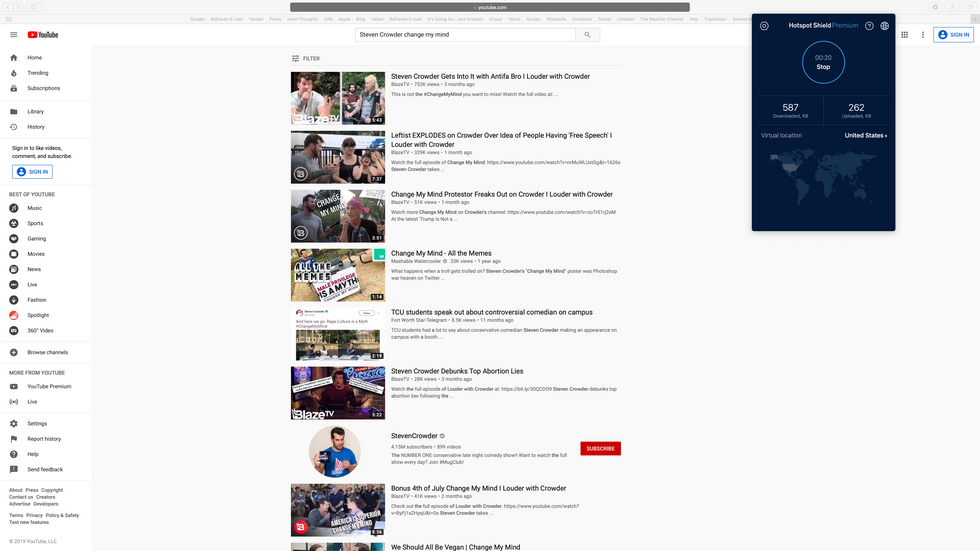 United States search results "Steven Crowder Change my Mind" September 30, 2019
We at Team Crowder posted videos and screenshots on September 30th. Hundreds of thousands of views on YouTube, thousands of retweets, and now the search results look like those below. YouTube also spoke with Half-Asian Bill Richmond. We report, you decide.
Check out the change in how videos appear now: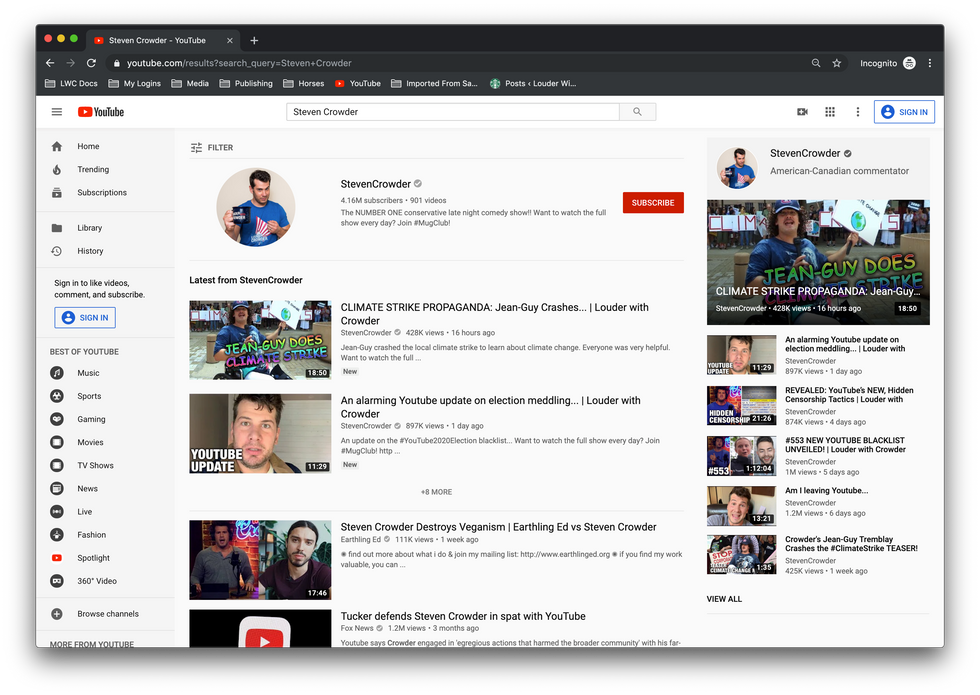 "Steven Crowder" general search as of Oct. 2, 2019 from Incognito window on Courtney's computer.
But "Steven Crowder Change my Mind" is still rather crappy. Here's a full three screen captures, with my browser window, showing how far down the video list goes and STILL no "Steven Crowder Change my Mind" episodes. The filter, by the way, is set to "relevance" and nothing else.
Scrolling....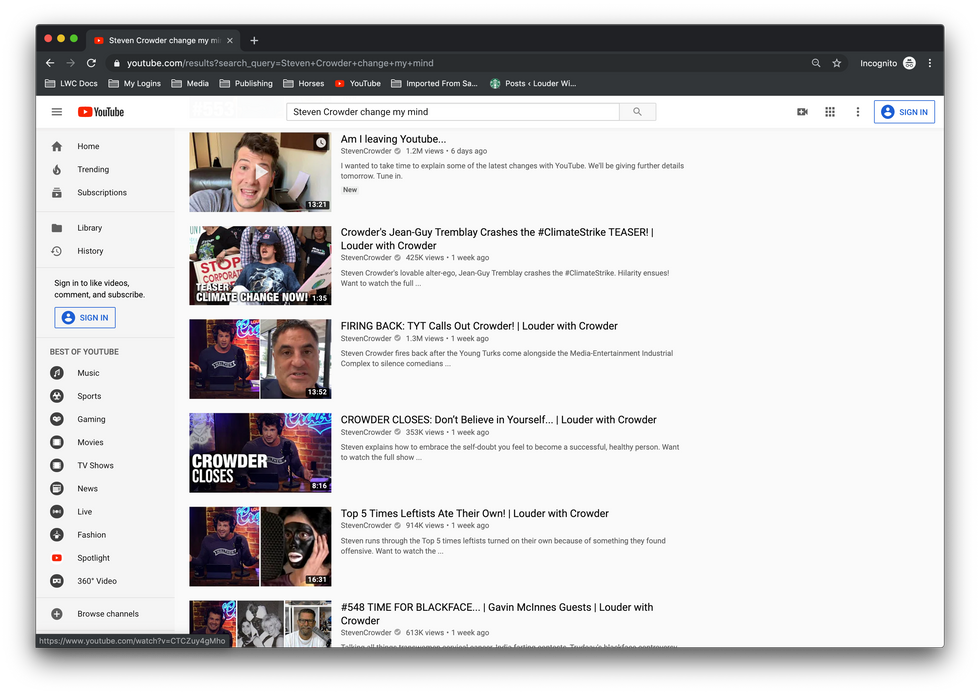 Still scrolling...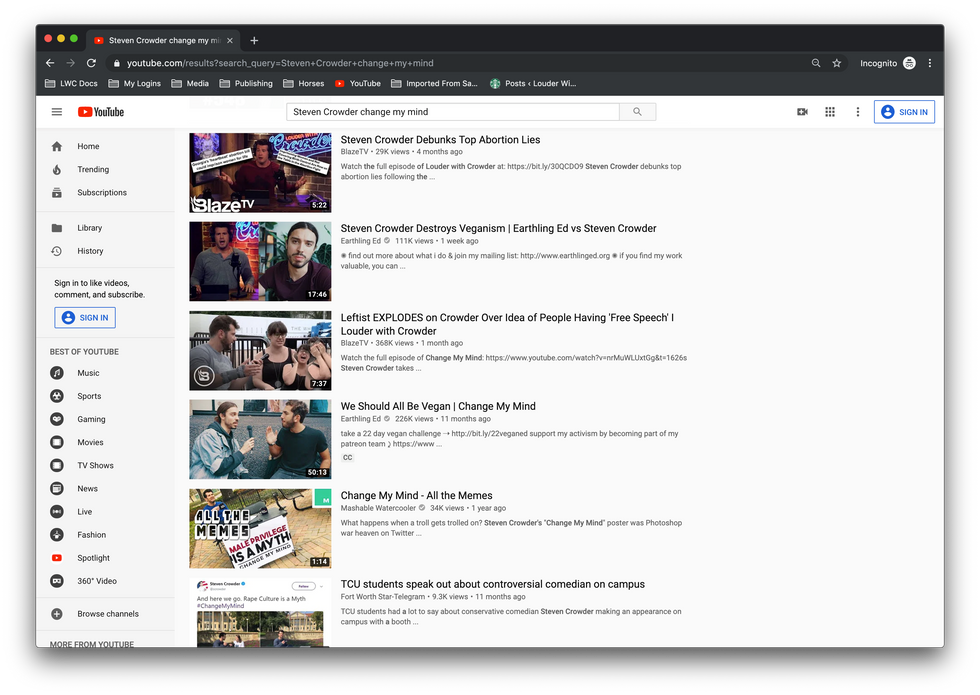 Still scrolling...
And there we have some Change my Minds... from channels not Steven Crowder. The above screenshots are from today. So...
Here's the thing, you can test this one for yourself and compare/contrast your own results. On Twitter, use the hashtag #YouTube2020ElectionBlacklist and we may check in from time to time. Try to include the full-screen capture, including the browser and the URL path, as well as what country you're in while searching.
We're still working behind the scenes and will keep you updated on this story as it unfolds. Make sure to sign up for our email list, bookmark this website, and check back here and with YouTube for news.
NOT SUBSCRIBED TO THE PODCAST? FIX THAT! IT'S COMPLETELY FREE ON BOTH ITUNES HERE AND SOUNDCLOUD HERE.