Tucker Carlson trolls gullible reporter into believing he's running for president, then hits him with a harsh truth
May 12, 2023
If the plan is to slander, shame, or in other ways "own" Tucker Carlson during his downtime, it's not working. "Someone" had been leaking videos of Tucker to Media Matters in an attempt to embarrass him. The only effect is that it made him more likable. Including, mind you, to people who didn't like him before.
I'm not sure where these text messages fall, but they definitely make Tucker more endearing. Mattathias Schwartz is a journalismer for left-wing tabloid "Business Insider." He shot his shot and asked Tucker if he was running for president.
Tucker answered... yes?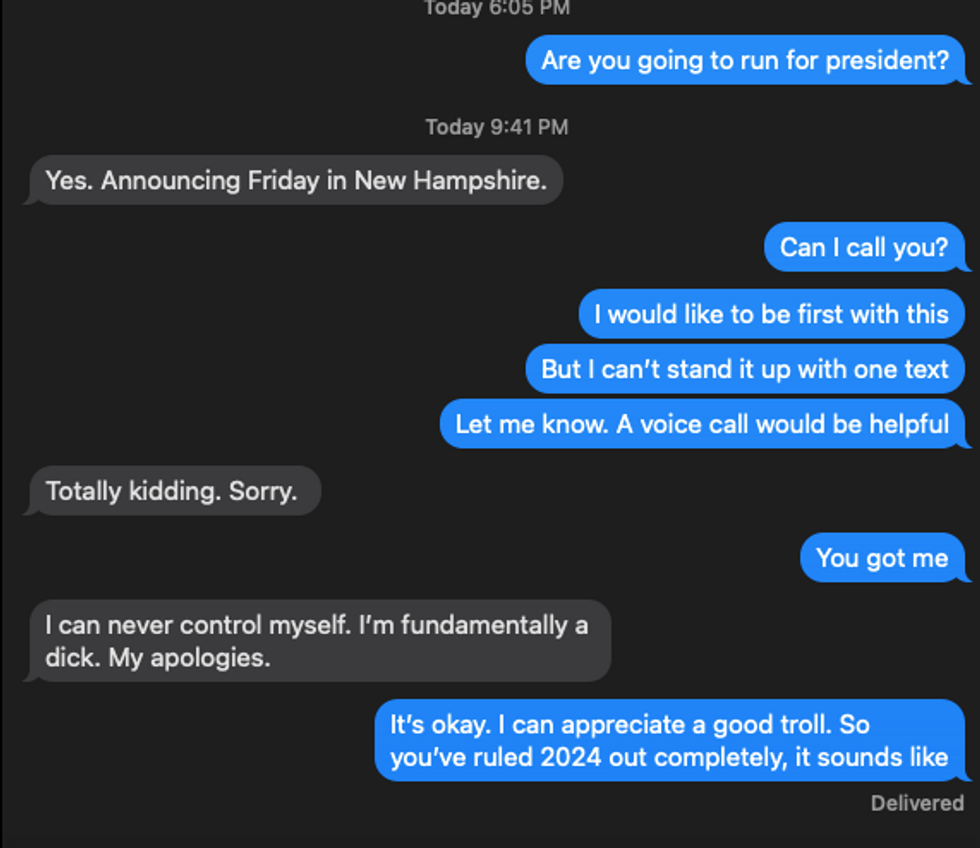 Tucker was of course joking, and the journalismer was a good sport about it. Appreciating a good troll is part of the business. Every time I see a new video about a leftist freak out or some new pronoun or -ism that dropped, I need to take a moment to decide I'm being pranked.
But this quote from Tucker is the part making all the headlines.
I can never control myself. I'm fundamentally a dick.
I'm not sure if others covering this think it's an "own" and/or that it falls in line with all the "embarrassing" videos that Fox News totally isn't leaking to Media Matters. But on behalf of Tucker's fans.
1. He is a dick.
2. We all know he's a dick.
3. Him being a dick is one of the reasons we love him so.
Another win for Carlson.
><><><><><><
Brodigan is Grand Poobah of this here website and when he isn't writing words about things enjoys day drinking, pro-wrestling, and country music. You can find him on the Twitter too.
Facebook doesn't want you reading this post or any others lately. Their algorithm hides our stories and shenanigans as best it can. The best way to stick it to Zuckerface? Bookmark LouderWithCrowder.com and check us out throughout the day! Also, follow us on Instagram and Twitter.