Each day we overwhelm your brains with the content you've come to love from the Louder with Crowder Dot Com website.
But Facebook is...you know, Facebook. Their algorithm hides our ranting and raving as best it can. The best way to stick it to Zuckerface?
Sign up for the LWC News Blast! Get your favorite right-wing commentary delivered directly to your inbox!
Liberal Media
Best Day Ever: Brian Stelter has been canceled by CNN
August 18, 2022
Sure, getting suspended by YouTube (again) sucks. But sometimes when God closes a door, He opens a window... and throws a potato out of it. After months of speculation, Brian Stelter is GONE from CNN. Axed. Canned. Ejected. Expelled. Booted. Chucked. Yeeted.
It's been rumored for a while. When Chris Licht took over as president of CNN, he was intent on making the network suck less. At the top of everyone's draft sheets to get sh*tcanned first was Brian Stelter. Even he thought he was getting fired. Finally, today, CNN made it official. Reliable Sources has been canceled, and Stelter is out at CNN.
Known as a "fat but active man of paralyzing stupidity" and a "mass of imbecile enthusiasms," he was viewed by critics as one of those "completely unquestioning, devoted drudges on whom, more even than on the thought police, the stability of the Party depended." Stelter rose to prominence with the unparalleled way he would watch Fox News then complain about Fox News while on CNN.
Who could forget the way Stelter got owned by a college student over how badly he sucks at life? Or how Sean Hannity made Stelter look like a little bitch at a NYC hotel bar.
When reached for comment, media mogul Glenn Beck had this to say: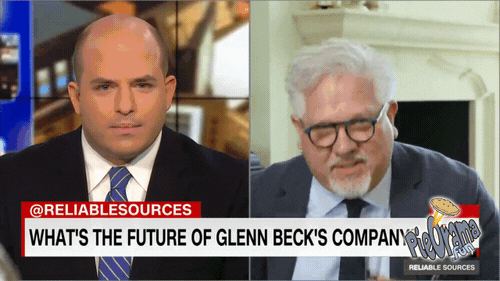 Unclear is what's next for this genderless potato head. All other cable news networks already have their "watch Fox News so you can complain about Fox News" guy. Stelter's only other discernible skill is eating entire cheesecakes for breakfast.
Whatever is next for Tater, on behalf of all of us here at the Louder with Crowder Dot Com website, we wish him well in his future endeavors.
The Louder with Crowder Dot Com Website is on Instagram now!Follow us at @lwcnewswire and tell a friend!
College Freshman TORCHES Stelter! His Response Is... Pathetic | Louder With Crowderyoutu.be