Each day we overwhelm your brains with the content you've come to love from the Louder with Crowder Dot Com website.
But Facebook is...you know, Facebook. Their algorithm hides our ranting and raving as best it can. The best way to stick it to Zuckerface?
Sign up for the LWC News Blast! Get your favorite right-wing commentary delivered directly to your inbox!
Liberal Media
College Bro Who Roasted 'Groveling Eunuch' Brian Stelter Over Fake News Speaks Out: 'There Was No Remorse'
April 09, 2022
Christopher Phillips was this week's MVP. He was the college bro who roasted Brian Stelter like a potato over CNN's fake news. As soon as the incident happened, you had to know Phillips had a missed call from Tucker Carlson's producer. After all, Potato Stelter is obsessed with Carlson to the point of stalking. Tucker finds it all amusing. Of course, he would want the kid who went viral embarrassing Tater to tell him more.
Phillips wasn't expecting a straight answer (no pun intended) from Stelter, but he was disappointed CNN's Cheif Media Content Creator wouldn't acknowledge a few simple facts.
College student who questioned Brian Stelter speaks outyoutu.be
"There was no apology. There was no remorse whatsoever. It's just, you know, I don't know what news network you're talking about. That's not mine when in reality, he said these things on CNN. It's all documented."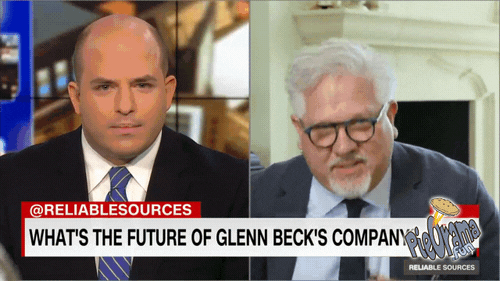 To recap, a bunch of Never Trumpers and assorted progressive douchelords held a "Disinformation and the Erosion of Democracy" conference at Phillips' college. Stelter was a featured speaker because when you think disinformation, you think Brian Stelter. After days of whining about right-wing media, Stelter got blasted for a litany of CNN fake news examples: the Russian collusion hoax, the Jussie Smollett hoax, smearing Justice Kavanaugh as a rapist, smearing Nick Sandmann as a white supremacist, and the Hunter Biden laptop. The only thing missing was Kyle Rittenhouse.
As of this writing, Brian Stelter has yet to comment on the embarrassing incident. Stelter tends not to know things happening in the world until he sees them happen on Fox News. Not even Brian watches CNN. Maybe now that Tucker Carlson reported on a college bro torching Brian Stelter live on stage, Brian Stelter will report on a college bro torching Brian Stelter live on stage.
The Louder with Crowder Dot Com Website is on Instagram now!Follow us at @lwcnewswire and tell a friend!
Brian Stelter CAUGHT Red Handed! | Louder With Crowderyoutu.be