Each day we overwhelm your brains with the content you've come to love from the Louder with Crowder Dot Com website.
But Facebook is...you know, Facebook. Their algorithm hides our ranting and raving as best it can. The best way to stick it to Zuckerface?
Sign up for the LWC News Blast! Get your favorite right-wing commentary delivered directly to your inbox!
Education
Teachers' Union Pres Tries Virtue Signalling Her Ukraine Support, It Turns Into an Embarrassing Epic Fail
March 16, 2022
Teachers' unions are despicable. Led by people like Randi Weingarten, the unions have made it their raison d'etre to screw with their students and give parents the middle finger. Mask mandates, Critical Race Theory, and censorship: The unions have thrown their weight behind it all, if not led the charge. And now, they want you to know they support Ukraine.
Well, they tried to support Ukraine, but like with most things, the people of the American Federation of Teachers are incredibly stupid and outrageously oblivious of their stupidity.
In a post to Twitter, AFT President Randi Weingarten and Executive VP Evelyn DeJesus stood proudly with a sign that said "We stand with Ukraine." The background was supposed to be the Ukraine flag. It was supposed to be, but because the unions are imbeciles, it's actually the Ukraine flag flipped upside down.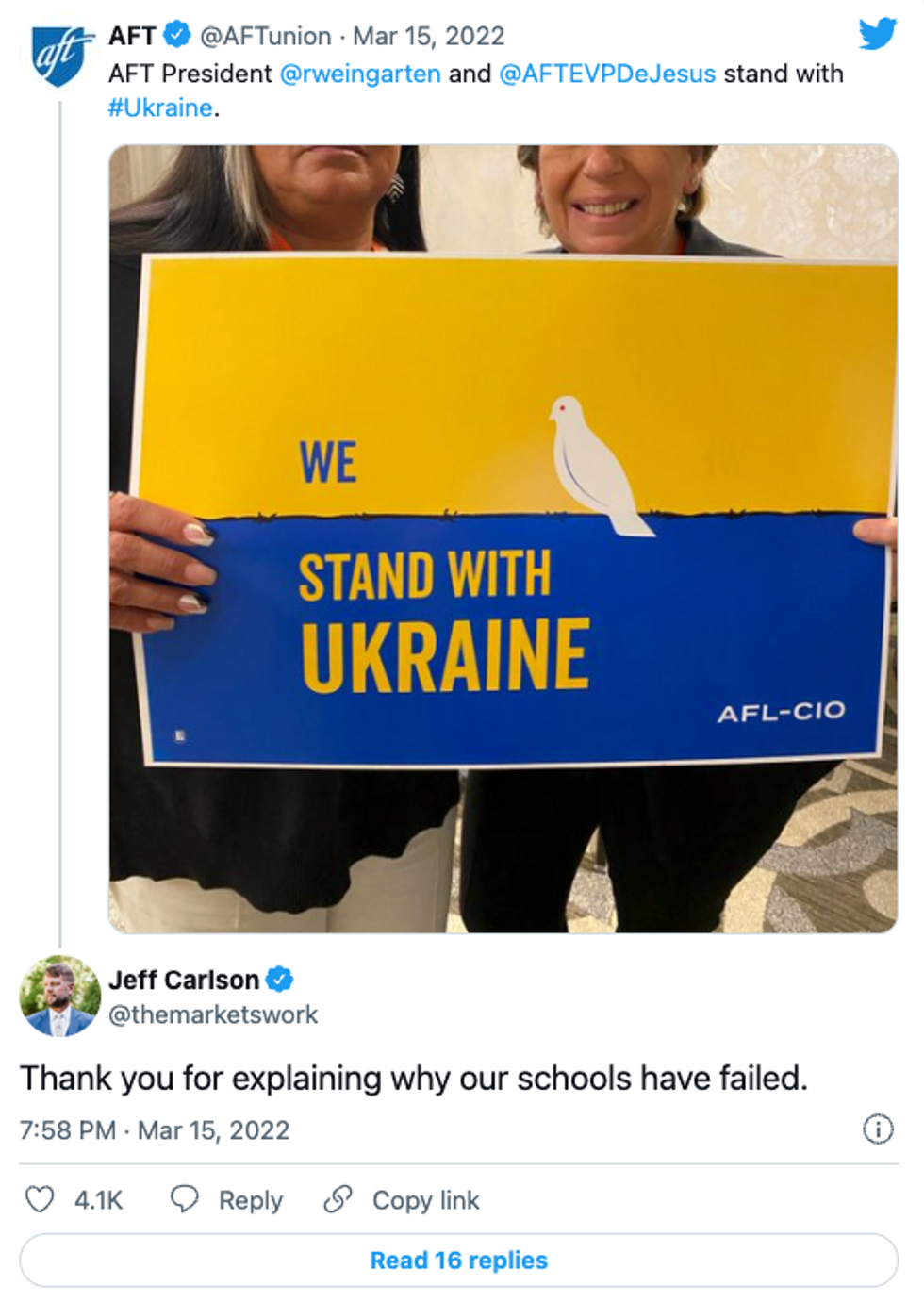 They've since deleted the Tweet, but luckily, the Post Millennial still had it available.
These people believe they know better than you how to educate your children. They can't even manage to make a simple poster without f*cking it up, but twelve years with them will leave your children well-adjusted and prepared for the real world... Forgive me, but if these people can't even use Microsoft Paint successfully, I hardly doubt they can be trusted with anything else.
This isn't the first time a teachers' union has demonstrated just how lacking they are in the intelligence department. Not long ago, another union sent out a letter that was rife with mistakes in spelling, grammar, and mechanics. If they had attempted to turn it in for a freshman-level composition exercise, it would have failed.
The teachers' unions continue to demonstrate just what they exist for: political messaging. Either they're forcing their political messaging on your children in the classroom, through donations to Democratic politicians, or they're holding up poorly constructed signs; the unions don't exist to teach. They exist for politics.
The Louder with Crowder Dot Com Website is on Instagram now!Follow us at @lwcnewswire and tell a friend!
Peak Clown-World: White House Briefs Dim TikTok "Stars" About Russia/Ukraine | Louder With Crowderwww.youtube.com