Each day we overwhelm your brains with the content you've come to love from the Louder with Crowder Dot Com website.
But Facebook is...you know, Facebook. Their algorithm hides our ranting and raving as best it can. The best way to stick it to Zuckerface?
Sign up for the LWC News Blast! Get your favorite right-wing commentary delivered directly to your inbox!
Politics
A Republican could upset the NEW YORK governor's race if these early voting numbers hold up
November 03, 2022
Allow me to let you in on a secret. If you took away New York City, New York would be the purplest state in the country. In fact, you could probably get away with just yeeting Manhattan and Brooklyn. The rest of the state is normal, Everywhere Else USA. Democrats have remained in control due to decades of using social issues to manipulate NYC voters to vote against their best interests. That's why Kathy Hochul is panicking like Andrew Cuomo caught with his hand up someone's blouse.
Councilman Joe Borelli (representing the Slums of Shaolin) shared the early vote totals compared to where they were two years ago. NYC is SIGNIFICANTLY underperforming the rest of the state.
NYC is significantly … SIGNIFICANTLY…
Underperforming in early voting when compared to 2020. Draw your own conclusions as to why Hochul is panicking. pic.twitter.com/ahkR3Cdcgw
— Joe Borelli (@JoeBorelliNYC) November 2, 2022
Here's the chart: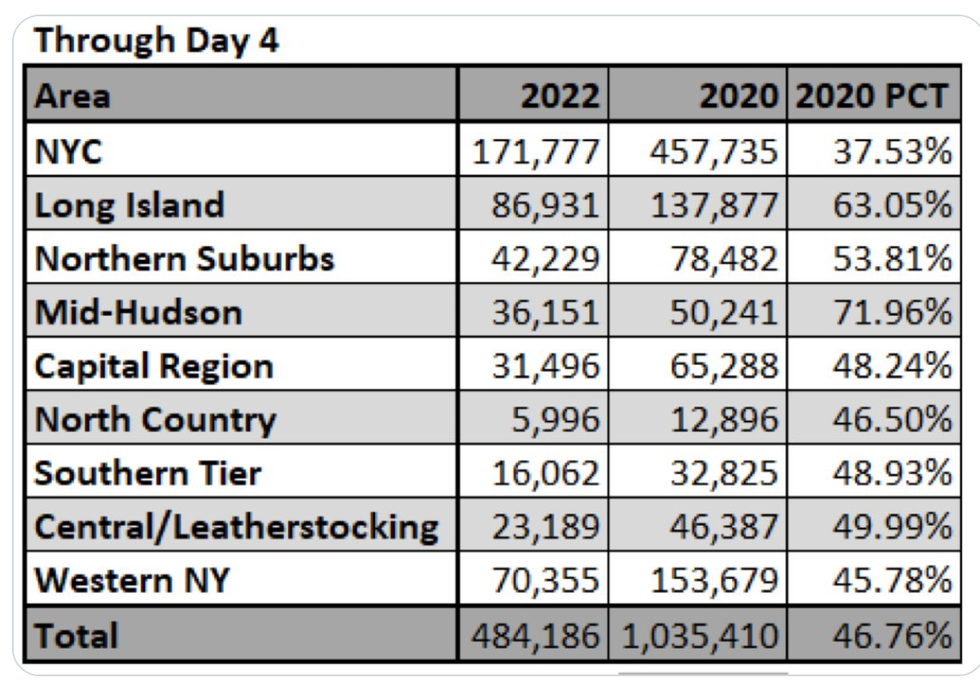 It isn't quite an apples-to-apples comparison. It's a presidential year vs a midterm year (there was no early voting in 2018). One could assume Long Island and Mid-Hudson are higher than the rest of the state because that's where the competitive congressional races are. NYC is still 10% LESS than two years ago compared to most of the other regions. NYC is also the one reliable Democrat stronghold. Turnout is WAY down in the area Democrats need it to be through the roof.
Maybe everyone is waiting until next Tuesday. Perhaps Hochul's "all abortion, all the time, always" messaging isn't working in the region as she was expecting. It could be that crime is so bad in NYC, people are afraid to leave their homes.
What I do know is that if a Republican can squeak by NYC with only 35% of the vote, they'll win statewide. If NYC turnout stays like this, Congressman Lee Zeldin is -- GOD WILLING -- our next Governor.
I say this as someone who has worked on the GOP side for the last two statewide election cycles. There hasn't been this much palpable energy for a statewide Republican candidate in decades. There is a reason Kathy Hochul is panicked. These early voting numbers are another example as to why.
Editor's Note
LwC is on Substack now! Each day we overwhelm your brains with the content you've come to love from the Louder with Crowder Dot Com website.. but algorithms hide our ranting and raving as best they can. The best way to stick it to Big Tech? Subscribe to For the Content!