Each day we overwhelm your brains with the content you've come to love from the Louder with Crowder Dot Com website.
But Facebook is...you know, Facebook. Their algorithm hides our ranting and raving as best it can. The best way to stick it to Zuckerface?
Sign up for the LWC News Blast! Get your favorite right-wing commentary delivered directly to your inbox!
Politics
Leaked memo shows NYPD being told gun owners should be assumed guilty until proven otherwise
September 06, 2022
The Supreme Court ruled that it is unconstitutional for states to require applicants to prove they have "proper cause" to ask for a gun permit. New York governor Kathy Hochul responded with new soon-to-be unconstitutional gun laws. According to a leaked memo, that includes a directive for law enforcement to assume guilt unless proven otherwise.
Upon passing the new laws that went into effect last Thursday, Hochul--and I'm paraphrasing--said she don't need no stinkin' facts to violate your second amendment. You have to turn over your social media history. There are a bunch of "gun-free zone" signs hanging up in Times Square. And according to a leaked memo from the NYPD legal bureau (courtesy of Project Vertitas) legal handgun owners are to be treated as criminals.
🚨🚨🚨 Leaked internal memo uncovered by Project Veritas shows that Governor Hochul in New York has told police that "anyone carrying a firearm is presumed to be carrying unlawfully until proven otherwise." pic.twitter.com/2MwYqT6KrW
— Gun Owners of America (@GunOwners) September 1, 2022
Third key point: "Anyone carrying a firearm is presumed to be carrying unlawfully until proven otherwise."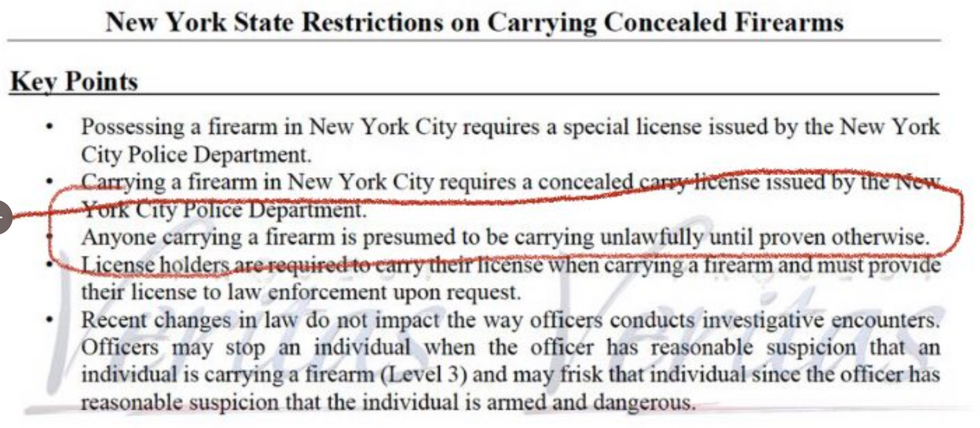 This is the same New York City where the mayor said he'll be sending cops door to door to enforce the new laws. Those cops are being told to assume guilt until the person can prove they aren't guilty.
The same New York City where actual criminals are caught, released without bail, and allowed back on the streets to commit worse crimes. If YOU are a legal gun owner, you are considered a criminal until you prove you are not criminal.
On an unrelated note, Kathy Hochul says people who don't agree with her don't belong in New York and should move to Florida. That sounds like a better idea with each passing day.
The Louder with Crowder Dot Com Website is on Instagram now!Follow us at @lwcnewswire and tell a friend!
WAIT! How Much is Illegal Immigration Costing YOU?! | Louder With Crowderyoutu.be