Watch: LeBron James is big mad reporters haven't asked him about what a racist Cowboys owner Jerry Jones is
December 01, 2022
LeBron James lashed out at reporters after a game. There was a sixty-five-year-old photo of Dallas Cowboys owner Jerry Jones standing outside an Arkansas protest in the 60s. The Washington Post made the leap that the sixty-five-year-old photo is why there has never been a black Dallas Cowboys coach. LeBron was never asked about it by reporters. However, those same reporters couldn't wait to ask him about his peer Kyrie Irving sharing an "anti-semetic" link on his Instagram page.
James wanted to know why.
I was wondering why I haven't gotten a question from you guys about the Jerry Jones photo, but when the Kyrie thing was going on, you guys were quick to access questions about that... and I know it was years and years ago, and we all make mistakes. I get it. ... was just kind of disappointed. I haven't received that question from you guys.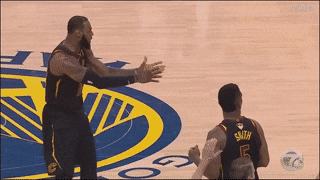 Let me say both controversies are equally stupid. And prime examples of why journalism is the least respected institution in America.
The Jerry Jones one is because two white progressive reporters wanted to virtue signal about the lack of black NFL coaches, so they dug up a photo of the 80-year-old Jones when he was 15 and stood in the crowd as a group of African-American students entered a school and other white people protested.
The Kyrie Irving drama? He shared a link to a documentary that is available for purchase on Amazon that critics say is anti-semetic. And because it was so soon after the initial Ye drama, reporters were in a frenzy. The media is also still angry at Kyrie that he stood up for medical freedom, which was also a stupid controversy.
As for why the media didn't ask Lebron about a sixty-five-year-old photo of a football coach but did ask him about one of his current basketball peers on the court? I'm guessing because LeBron plays basketball and not football.
Editor's Note
LwC is on Substack now! Each day we overwhelm your brains with the content you've come to love from the Louder with Crowder Dot Com website.. but algorithms hide our ranting and raving as best they can. The best way to stick it to Big Tech? Subscribe to For the Content!
Jim Carrey & Alyssa Milano Have PSYCHOTIC Twitter Breakdowns! | Louder With Crowderyoutu.be