WaPo thinks you're all stupid, wants you to nominate Joe Biden's favorite GOPer as our presidential candidate
January 08, 2023
The Washington Post wants Republicans to nominate former Maryland Governor Larry Hogan as our presidential nominee, and say we're making a big mistake if we don't. This concept was expressed in an OpEd that I'm sure wasn't planted by Hogan's consultants, if they didn't straight up write the piece themselves.
Nope.
If Mr. Hogan is headed for political oblivion — and that remains an "if," for he has been counted out prematurely before — that would be his party's loss. He remains among the relatively few top-tier elected Republicans who can claim to hold a traditionally conservative, pro-business, anti-tax record untainted by dalliance with the "big lie" that voting fraud played a role in 2020 elections.
I'll be charitable because I would like a robust debate before we nominate who goes up against Ol' Puddinghead. Hogan has a story to tell. He was a successful and popular two-term Republican governor in a blue state. Plus while Trump and DeSantis battle for the base, Hogan has the squishy RINO lane all to himself. We'll call it the Jeb Bush Memorial Highway.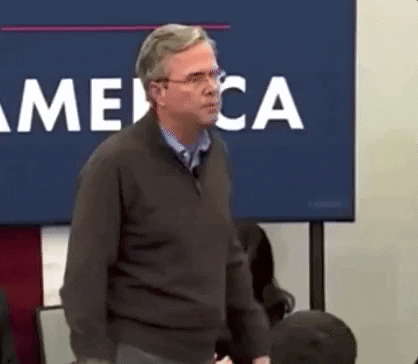 However, you'll forgive me if I believe the Washington Post's intentions to be less than noble. They want us to nominate a guy who, when Joe Biden lashes out at the GOP as being semi-fascist, Larry Hogan is one of the only people he can name as a "good" Republican. A "good" Republican, who he can count on to attack other Republicans if it gets him on television. This is the same Larry Hogan who attacked Florida's Parents Rights in Education Act, then admitted to never reading the bill or knowing much about it.
WaPo is setting the John McCain trap. John McCain was the "good" Republican in 2008. Something I remember first hand, because McCain is one of the reasons I first became interested in politics. He was also my first introduction into who and what the media actually is. McCain was the "good" Republican in 2008 that the GOP had to nominate to stick it to the radical, far-right, talk radio choice... Mitt Romney. Let that one percolate. Then recap what happened four years later.
Within 48 hours of McCain getting the nomination, the media coverage was all about his age, his expensive shoes, and demanding he drops everything he was doing to call out any single person at a rally who made have said something mean about Barack Obama. Or held up a critical sign.
WaPo doesn't want Larry Hogan as the future of the GOP. They want him as a reliable stooge to attack anyone right-leaning on demand and to make things easier for the democrats.
Editor's Note
LwC is on Substack now! Each day we overwhelm your brains with the content you've come to love from the Louder with Crowder Dot Com website.. but algorithms hide our ranting and raving as best they can. The best way to stick it to Big Tech? Subscribe to For the Content!
SKETCHY AF: Twitter's Justification for BANNING Donald Trump! | Louder With Crowderyoutu.be