Each day we overwhelm your brains with the content you've come to love from the Louder with Crowder Dot Com website.
But Facebook is...you know, Facebook. Their algorithm hides our ranting and raving as best it can. The best way to stick it to Zuckerface?
Sign up for the LWC News Blast! Get your favorite right-wing commentary delivered directly to your inbox!
Socialism
Catholic University Speaker Calls on Christians to 'Ethically Lie' While 'Crucifying Whiteness'
April 25, 2022
The left would love nothing more than to destroy the church. It has become a centerpiece of the leftist movement and for good reason. The Christian faith teaches us there exists objective moral truth, God made men and women (two genders) in His image, and life begins at conception. Of course, there's even more the left finds problematic, but those might be the big three.
So, the left has to destroy the church. So long as the faithful remain, the left will always have an opposition—the Soviet Union banned religion—which is exactly why Miguel De La Torre went all-in to call for a rejection of "white Christianity" during his recent talk at Carlow University.
Now, to put this into context, Carlow University is a Catholic university… And they knew exactly what De La Torre was going to talk about, as much is made perfectly clear in the description of the event on the university's website.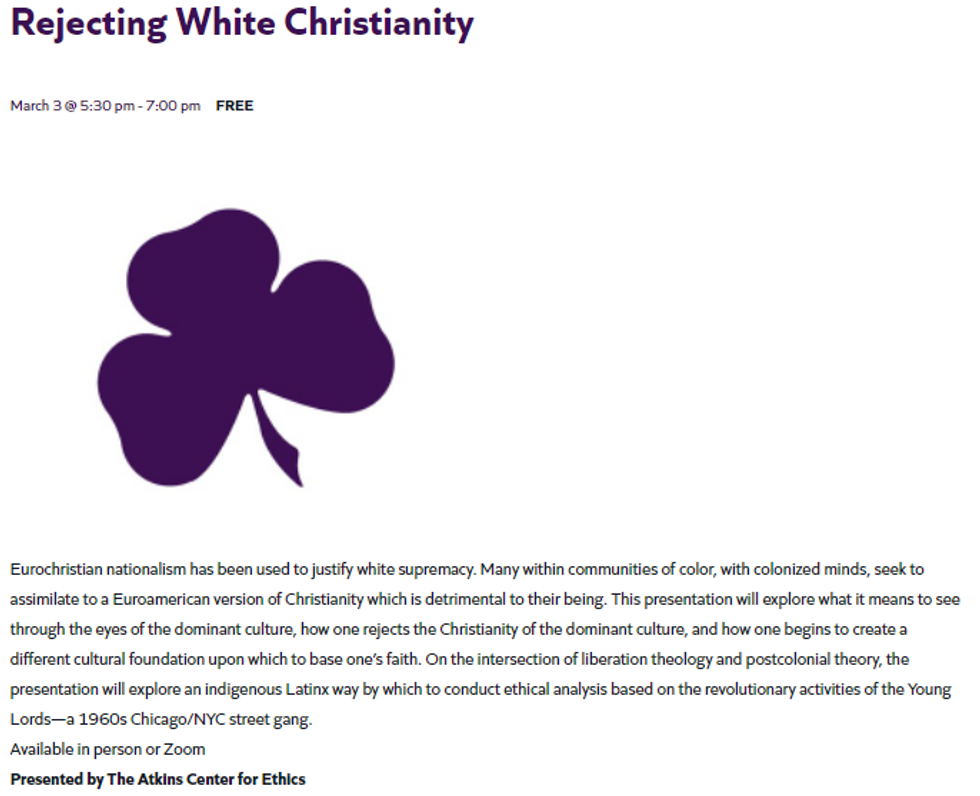 "Euro-Christian nationalism has been used to justify white supremacy. Many within communities of color, with colonized minds, seek to assimilate to a Euro-American version of Christianity which is detrimental to their being. This presentation will explore what it means to see through the eyes of the dominant culture, how one rejects the Christianity of the dominant culture, and how one begins to create a different cultural foundation upon which to base one's faith."
The event was held on March 3, reports The College Fix, De La Torre described white as being not a skin color but an "ontological concept" (i.e., it's a collection of concepts regarding a state of being).
"Those of us who are colored, some of us can also be white. But the good news is there is salvation. We [who are colored] have to crucify our colonized minds, and for our white brothers and sisters, they need to crucify their whiteness."
Now, this isn't the first time we've heard this type of language. Recently, a church told parishioners to give up whiteness for lent.
De La Torre also told Christians to reject hope. He said, "We embrace Euro-centric concepts like hope because it helps to pacify the oppressed during their oppression. It leads to spiritual liberation and ignores physical liberation." This is cribbed directly from Marx, who described religion as the opiate of the masses, preventing the proletariat from rising up because religion teaches that they can look forward to the rewards of Heaven.
Instead of hope, De La Torre would like Christians to embrace hopelessness to propel them into action. And by action, he means to lie, cheat, and most importantly, steal. No, literally.
He discussed "how to ethically lie so we can discover what is true, how to ethically steal so we can fee those who are hungry […] [and] how to disrupt the structures that have trained us to oppress ourselves."
"What we need is restitution."
What he's talking about is simply Marxism. That's it. He wants Christianity destroyed and replaced with Marxism. We've known this forever. This is nothing revelatory. But this idiot has chosen to be quite explicit. In fact, in addressing the topic of God in an alleged lecture about Christianity—I say "alleged" because it is simply Marxism dressed up to be a critique of Christianity—he says he's not concerned with God's role in any of it. He is only concerned with "dealing with what's going on."
He's just another radical leftist academic pushing for the same tired, Marxist dribble they've been pushing for decades.
Whiteness isn't some complicated conceptual state, it's a category to label opposition to the Marxist line. Hope doesn't prevent people from acting toward achieving, it's a drug keeping the revolution at bay. And God doesn't matter because all that is or will be is here and now, which is why you have to overthrow the bourgeoisie immediately!
All of this propaganda was invited into a Catholic institution. They've invited the fox into the hen house. The wolf doesn't even need to wear sheep's clothing because the sheep simply don't care what's going on anymore. This will be how the church is destroyed. This will be how the Marxists win. I'd start paying attention, y'all.
The Louder with Crowder Dot Com Website is on Instagram now!Follow us at @lwcnewswire and tell a friend!
OUTRAGEOUS! Try Not to Laugh as We Try and Get Kicked Off TikTok! | Louder With Crowderwww.youtube.com