Watch: Biden becomes living meme as he says dumb thing about economy, tries to save Dems from LOSING Oregon
October 16, 2022
Joe Biden flew to Oregon because Democrats are at risk of losing the Pacific Northwest. Let me repeat that. After less than two years of Democrat control led by the people who control Joe Biden, Democrats are at risk of losing one of the bluest regions in the country. Less than thirty days out from election day, Oregon is where they felt the President of the United States should be spending his time.
To drive home how bad things are going for Democrats, here is their leader turning himself into a living meme.
I won't clutter this with statistics. As you get back from your second job you had to take to make ends meet, you can look at your 401K and the receipts from grocery shopping over the weekend to call bullcookies on Biden. I'm sure the people of Portland don't think the economy is strong as hell while homeless people are turning their front lawns into urinals.
There's just something about Biden eating a waffle cone that looks familiar...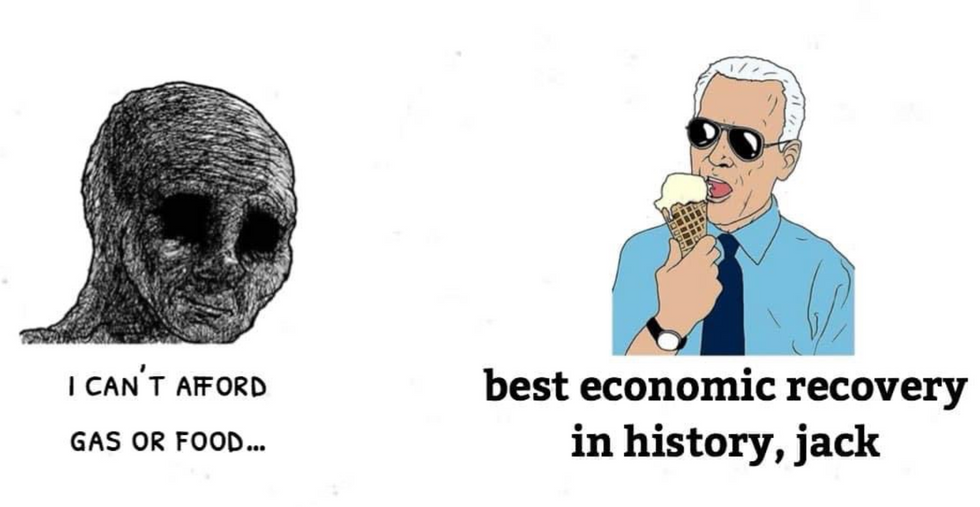 Someone call the Washington Post to drop a fact check on these fools before things go too far...
To recap, Joe Biden, while chomping away on ice cream, told the American people that the economy is strong as hell. The economy is so strong as hell that Joe Biden needed to travel to OREGON because his party is at risk of losing a governor's race and a US Senate seat. The only thing more shocking would be if Democrats were at risk of losing New York...
Well, f*ck.
Exit question: Did Joe Biden turn himself to a living meme on accident? Or did someone at the White House hear the rumor that Leonardo DiCaprio has it written into his contract that every movie needs to have one scene people can turn into a meme? I'm leaning toward the latter.
Facebook doesn't want you reading this post or any others lately. Their algorithm hides our stories and shenanigans as best it can. The best way to stick it to Zuckerface? Bookmark LouderWithCrowder.com and check us out throughout the day!
Also follow us on Instagram, Twitter and Gettr!
SURPRISE: I'm Pregnant, UNDERCOVER at Planned Parenthood | Louder With Crowderyoutu.be