Each day we overwhelm your brains with the content you've come to love from the Louder with Crowder Dot Com website.
But Facebook is...you know, Facebook. Their algorithm hides our ranting and raving as best it can. The best way to stick it to Zuckerface?
Sign up for the LWC News Blast! Get your favorite right-wing commentary delivered directly to your inbox!
Did AOC's Dress Designer Steal Her Design from a Single Mother? It Sure as Heck Looks That Way
September 15, 2021
Popular social media influencer Rep. AOC stunned the world by showing up at the Met Gala in a "Tax the Rich" dress. Maybe not stunned "the world" as much as stunned people who are stunned by these things. The Met Gala is an elitist $30,000 a ticket "fundraiser." Showing up in a dress that implied the guests at that "fundraiser" aren't giving her enough of their money showed much bravery and such AOCness.
There was a controversy over how the social media influencer, who has a side hustle as a member of Congress, was able to attend a $30,000 "fundraiser" as a guest. Now there is new drama. Did the dress designer steal the logo from a single mother? Scroll through the photos of this Instagram post. Because it sure as sh*t looks that way. (h/t Barstool)
According to The Velvet Bandit, "all of my paste-ups are handpainted, and after my Tax the Rich I put up in Sausalito went viral on Tiktok, I began selling stickers and shirts. And low and behold, this dress bears the same likeness as my handwriting." She also mentioned that she is a single mother and a lunch lady. In other words, she is a member of the working class. The same working-class AOC pretends she is a part of. Yes, even while strutting around a $30,000 a plate dinner. Wearing a logo on her back that looks a lot like this: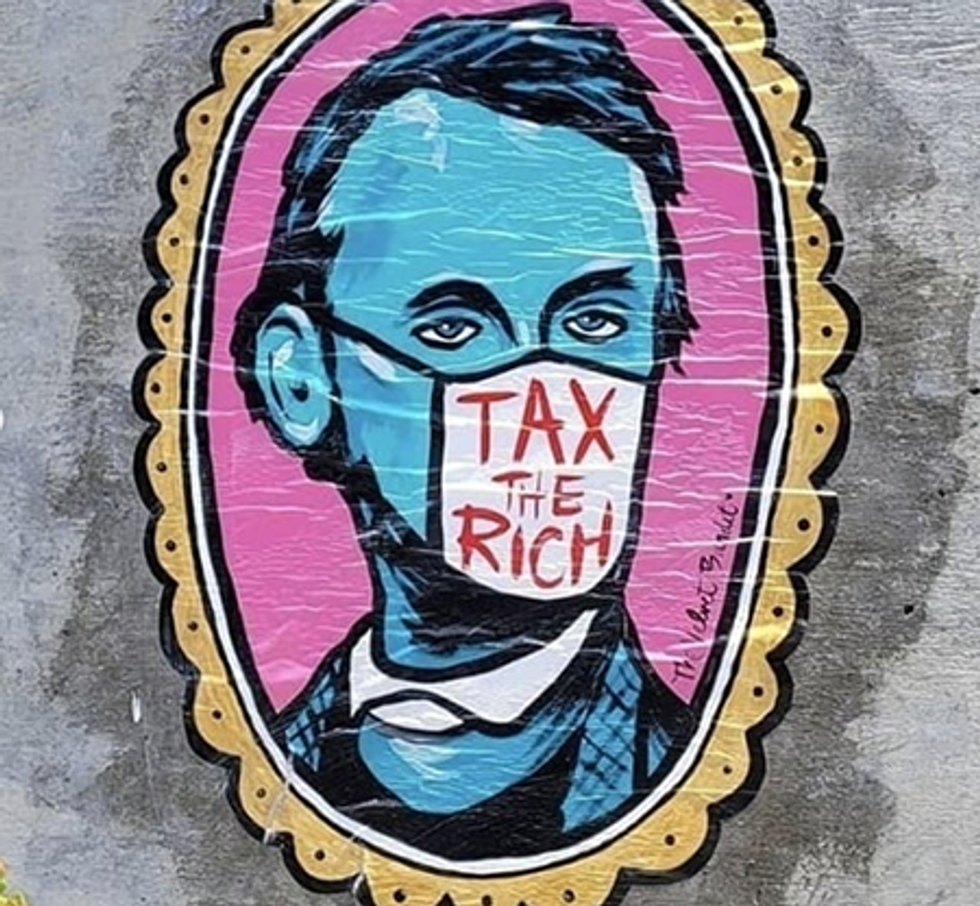 The Velvet Bandit is hoping to get the attention of social media influencer Rep. AOC and the designer. She needs help because, as a single mother and a lunch lady, she doesn't have the time during the day or the ability to reach out to celebrities. I know President Portnoy has given his thoughts on the dress. Maybe he can give Tucker Carlson a call and the two of them can help publicize this on The Velvet Bandit's behalf.
Let me be clear about something. Only because, Rep. AOC sends her stans to report people who are mean to her on social media. There is no reason to believe Rep. AOC knowingly stole this artist's logo. Nor is there any reason for her to believe the designer did. I mean, the design DID go viral. And Rep. AOC is, like, a super popular social media influencer and stuff. But there is a lack of evidence that would pass Facebook's "independent" "fact" checkers that there was malice involved. I'm sure there is a perfectly logical explanation for this. Maybe they both downloaded the same free font.
Get your content free from Big Tech's filter. Bookmark this website and sign up for our newsletter!
AOC Says "Tax the Rich"...at the MET GALA?! | Louder With Crowderyoutu.be