Each day we overwhelm your brains with the content you've come to love from the Louder with Crowder Dot Com website.
But Facebook is...you know, Facebook. Their algorithm hides our ranting and raving as best it can. The best way to stick it to Zuckerface?
Sign up for the LWC News Blast! Get your favorite right-wing commentary delivered directly to your inbox!
The trailer for the live-action Winnie the Pooh horror movie 'Blood and Honey' dropped and... dude
August 31, 2022
VOTE IN THE LWC 2024 GOP STRAW POLL! CLICK HERE!
I don't know where the trend started that we need gritty remakes of childhood classics. But, this is a thing we do now. The latest entry to the genre is the childhood classic Winnie the Pooh, which turns him into a loveable, huggable psychopath in Blood and Honey. It looks like something that if the Toxic Avenger read a story to children, this would be the story. When I first read about it, I was hoping it wasn't true. Now, there is a trailer.
Why is Winnie the Pooh killing people?
"Pooh, Piglet, Eeyore, we were friends for many years, and they're out there"

Watch the disturbing new trailer for Winnie the Pooh: Blood and Honey, which takes a violent new turn on the classic story. pic.twitter.com/IRMtrJazDD
— IGN (@IGN) August 31, 2022
As far as I can tell, it's not unlike my favorite meme.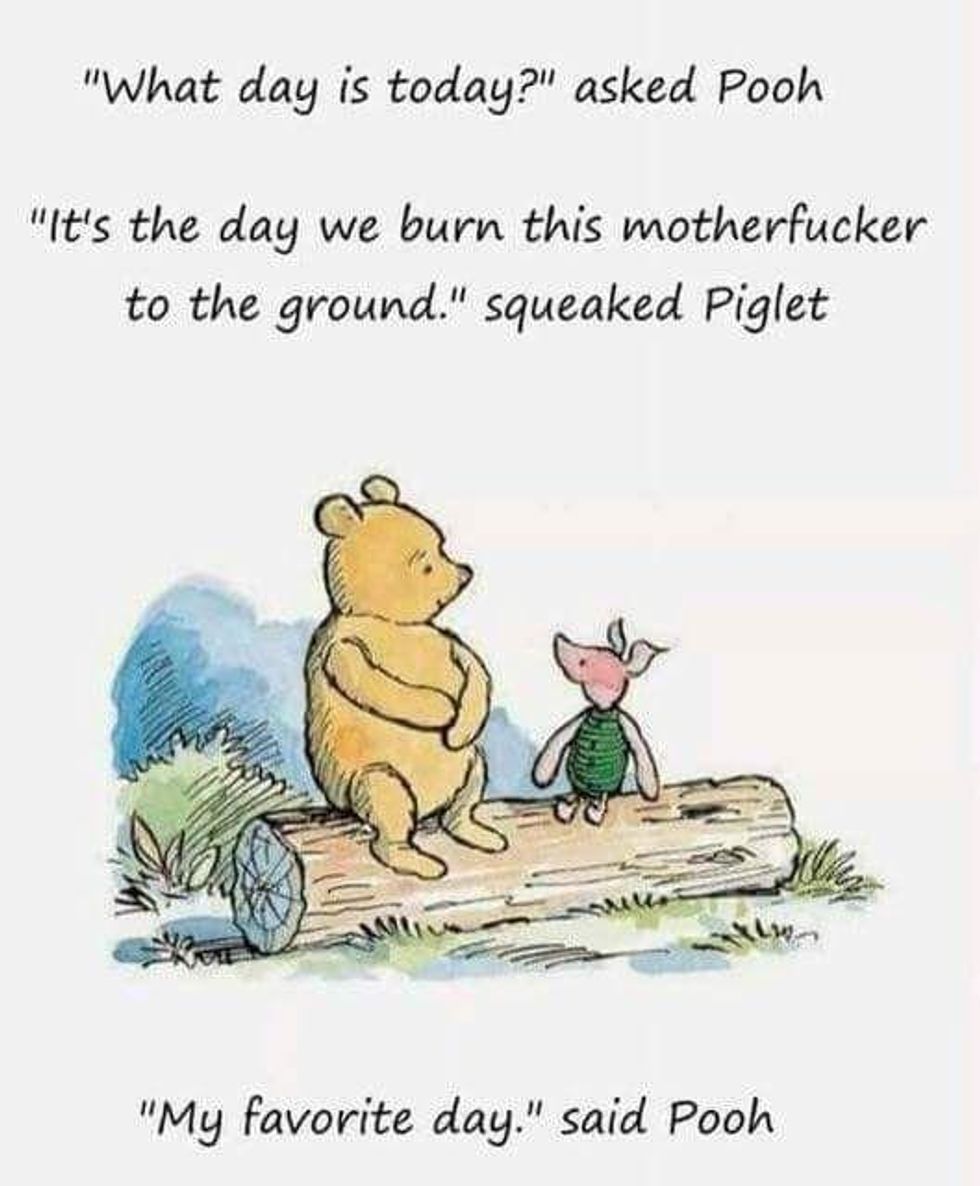 Christopher Robin left his friends behind and met a girl. Winnie the Pooh doesn't handle rejection well. Something snapped in Pooh Bear. Then when Christopher Robin took his fiance to meet his friends, it was too little too later. Pooh was out for blood. And honey.
Piglet is still with him, though he's gone berzerk, as well. It doesn't look like Eeyore survived. Whether he died of natural causes or Pooh couldn't take his "woe is me" schtick anymore is unclear. Maybe Pooh and Piglet gave him the "squeal like a pig" treatment from Deliverance. We don't talk about what happened to Eeyore.
There is also a group of hot chicks in a house. Not sure of the connection, other than every movie should have a group of hot chicks in a house. Pooh and Piglet don't want them there. There might be a social justice message about deforestation or gentrification.
Not sure when the movie is being released. I only know I'll be hate watching it.
><><><><><><
Brodigan is Grand Poobah of this here website and when he isn't writing words about things enjoys day drinking, pro-wrestling, and country music. You can find him on the Twitter too.
Facebook doesn't want you reading this post or any others lately. Their algorithm hides our stories and shenanigans as best it can. The best way to stick it to Zuckerface? Sign up for our DAILY EMAIL BLASTS! They can't stop us from delivering our content straight to your inbox. Yet.