Each day we overwhelm your brains with the content you've come to love from the Louder with Crowder Dot Com website.
But Facebook is...you know, Facebook. Their algorithm hides our ranting and raving as best it can. The best way to stick it to Zuckerface?
Sign up for the LWC News Blast! Get your favorite right-wing commentary delivered directly to your inbox!
Mugger Threatens Female MMA Star Polyana Viana Who Kicks His Sorry Ass
January 07, 2019
Polyana Viana now sits atop my spirit animal totem after she thoroughly kicked a mugger's ass. She's a UFC strawweight fighter, meaning she's about 115 pounds on any given day. Bear that in mind because unlike a gratuitous nude scene, this matters to the plot. Polyana was sitting near her apartment waiting for an Uber when a soon to have his butt whooped idiot sat beside her. Imma let Polyana finish:
"When he saw I saw him, he sat next to me," Viana said. "He asked me the time, I said it, and I saw he wasn't going to leave. So I already moved to put my cell phone in my waist. And then he said, 'Give me the phone. Don't try to react, because I'm armed.' Then he put his hand over (a gun), but I realized it was too soft.

"He was really close to me. So I thought, 'If it's a gun, he won't have time to draw it.' So I stood up. I threw two punches and a kick. He fell, then I caught him in a rear-naked choke. Then I sat him down in the same place we were before and said, 'Now we'll wait for the police.'"
"Now we'll wait."
But wait, it's better:
"I was fine," Viana said. "I was fine because he didn't even react after. Since he took the punches very quickly, I think he was scared. So he didn't react anymore. He told me to let him go, like 'I just asked for the time.' I said, 'Asked for the time my ass,' because he saw I was very angry. I said I wouldn't let go and that I was going to call the police.
At which point our victim of a bitch-beating agreed, yes, please call the police. This is how he looked after the quick encounter. You tell me if this isn't a face only a mother could love: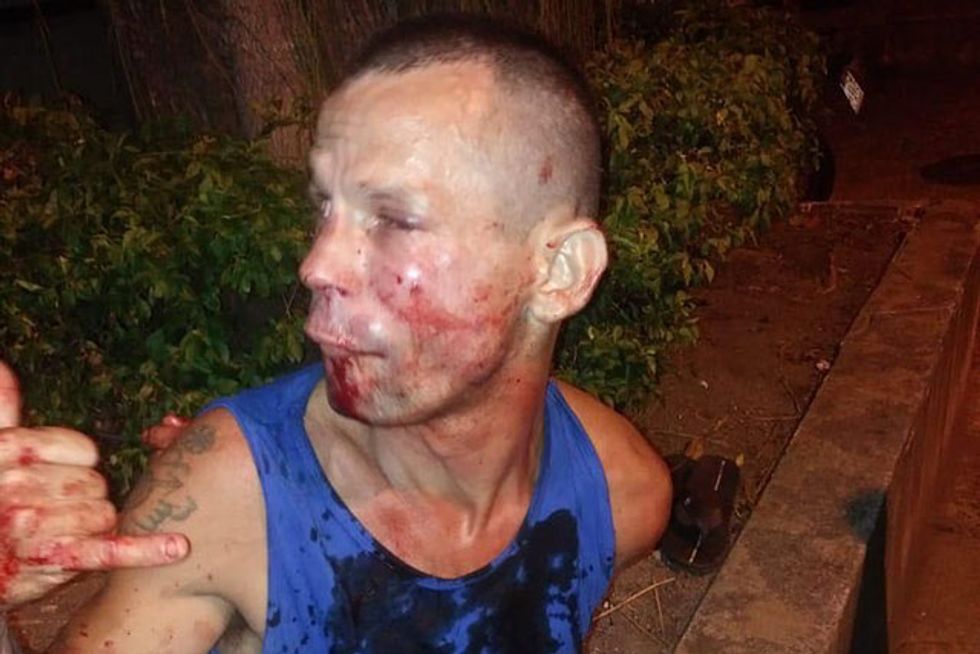 He got to visit the emergency room, where he likely had to admit he got beat up by a 115-pound girl. Ouchtown, bro.
What's our lesson here? Firstly, don't assume just because your mark is a woman that she'll be an easy, pliable target who's content with being some damsel in distress. Second, expertly trained fighters, as Polyana here clearly is, are in a position most women are not: that of sizing up their opponent quickly and knowing, based on his size, body language, and likely an inability to fight back (the "gun" was made of cardboard, but maybe it identified as a Walther) how to proceed. Had the man a real gun, Polyana may not have delivered an ass-kicking but just the phone. Thirdly, having a method of fighting back is always beneficial. Polyana had her MMA skills. Other women have weapons from which they deliver not punches or kicks, but hollowpoint bullets. Related An Escaped Inmate Broke Into a Woman's House. But She Had a Gun.
I'm not going to turn this into a lesson how women are "just as strong as men." They're not. Polyana had the element of surprise against what looks like, at least from the photos, a wimpy incel type. Had the man asking for the phone been someone like Dwane "The Rock" Johnson, we wouldn't be here.
Still, Polyana Viana is not a victim and wasn't going to be made into one. Regardless of her pound for pound strength, she's still a badass in my book.
NOT SUBSCRIBED TO THE PODCAST? FIX THAT! IT'S COMPLETELY FREE ON BOTH ITUNES HERE AND SOUNDCLOUD HERE.